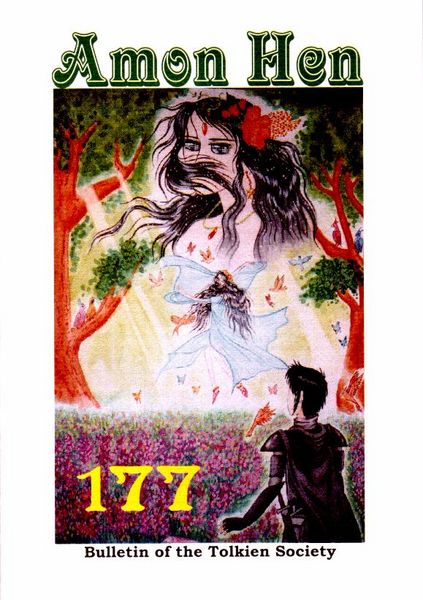 Reprinted by kind permission of The Tolkien Society and the named cover artist(s) - all rights reserved.
Cover: Untitled (Beren encounters his Tinuviel)
By: Octo Kwan
Editorial
By: Andrew Butler
Contents
Middle-earth Doorways Stoneware Plaques
By: Mike Stone
Bywater Announcements
By: Malcolm Lindley
Artwork: Galadriel
By: Neil Loughran
Announcements
Summertime, or, The Great Escape
By: Beruthiel's Pet
"SFX" Magazine Advert.
Report: TS Seminar 2002
By: Laura Marples
Report: Sarehole Plaque Unveiling
By: Chris Crawshaw
Report: DVD/Video Launch & Christopher Lee Signing
By: Andrew Butler
Crossword Solution
By: Michael Kennedy
Artwork: Ambush
By: Mike Johnson
Whither My Destiny Takes Me - Part Two
By: Alex Hall
Artwork: (sorry, can't manage to translate this one)
By: Eleonora Yaskovskaya
Behind Glass Doors
By: Sally Kennett
Review: Meditations on Middle-earth
By: Christopher Kreuzer
Review: Lord of the Rings: The Mythology of Power
By: Neil Mercer
Quiz: Complete the Sentences
By: Paul Cockburn
Letters
Artwork: Hobbit Dowager
By: "Nick Done"
News From Fangorn
By: Kim Mantas
Mathom
By: Mark Waller
Member Profile - David Klingman
Sally's Snippets
By: Sally Kennett
Artwork: The Gift
By: Nilah Romaine
New Members
Answers to Complete the Sentences Quiz
By: Paul Cockburn
Tolk Folk/Committee
Additional decorative artwork/vignettes
By: SST and Chris Leaper
Amon Hen Issues
2
,
3
,
4
,
5
,
6
,
7
,
8
,
9
,
10
,
11
,
12
,
13
,
14
,
15
,
16
,
17
,
18
,
19
,
20
,
21
,
22
,
23
,
24
,
25
,
26
,
27
,
28
,
29
,
30
,
31
,
32
,
33
,
34
,
35
,
36
,
37
,
38
,
39
,
40
,
41
,
42
,
43
,
44
,
45
,
46
,
47
,
48
,
49
,
50
,
51
,
52
,
53
,
54
,
55
,
56
,
57
,
58
,
59
,
60
,
61
,
62
,
63
,
64
,
65
,
66
,
67
,
68
,
69
,
70
,
71
,
72
,
73
,
74
,
75
,
76
,
77
,
78
,
79
,
80
,
81
,
82
,
83
,
84
,
85
,
86
,
87
,
88
,
89
,
90
,
91
,
92
,
93
,
94
,
95
,
96
,
97
,
98
,
99
,
100
,
101
,
102
,
103
,
104
,
105
,
106
,
107
,
108
,
109
,
110
,
111
,
112
,
113
,
114
,
115
,
116
,
117
,
118
,
119
,
120
,
121
,
122
,
123
,
124
,
125
,
126
,
127
,
128
,
129
,
130
,
131
,
132
,
133
,
134
,
135
,
136
,
137
,
138
,
139
,
140
,
141
,
142
,
143
,
144
,
145
,
146
,
147
,
148
,
149
,
150
,
151
,
152
,
153
,
154
,
155
,
156
,
157
,
158
,
159
,
160
,
161
,
162
,
163
,
164
,
165
,
166
,
167
,
168
,
169
,
170
,
171
,
172
,
173
,
174
,
175
,
176
,
177
,
178
,
179
,
180
,
181
,
182
,
183
,
184
,
185
,
186
,
187
,
188
,
189
,
190
,
191
,
192
,
193
,
194
,
195
,
196
,
197
,
198
,
199
,
200
,
201
,
202
,
203
,
204
,
205
,
206
,
207
,
208
,
209
,
210