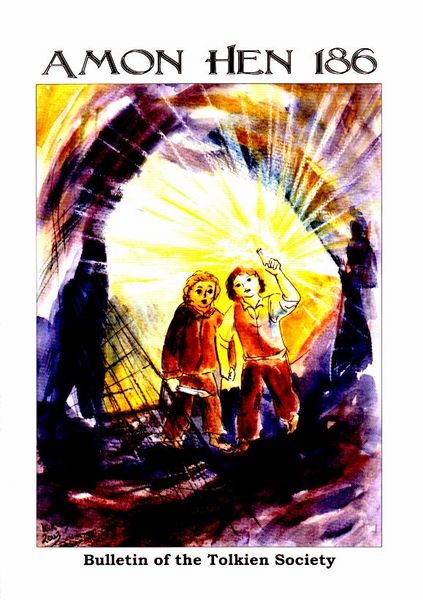 Reprinted by kind permission of The Tolkien Society and the named cover artist(s) - all rights reserved.
Cover: Frodo & Sam
By: Katrin Kunde
Editorial
By: Andrew Butler
Contents
Advertisement: Mithril Armoury
Bywater Announcements
By: Malcolm Lindley
Advertisement: Big Heart Holidays
Announcements
AGM Announcement
Seminar Announcement
Oxonmoot Announcement
Questionnaire Regarding Oxonmoot in 2005
2005 Announcement
Dates For Your Diary
Marquette Conference Announcement
Tolkien's Fifty Years Announcement
Chesterton Institute Conference Announcement
The Hall of Fire
By: Lynn Forest-Hill
Hollywood's Golden Boys?
By: Beruthiel's Pet
An Unexpected Journey or LA and Back Again
By: Richard Crawshaw
Can We Have Our Book Back?
By: Alan K. Wheatley
So what has PJ done for us?
By: Marion Kershaw
Behind Glass Doors
By: Sally Kennett
Eadfrith's Boggarts
By: Alex Hall
Review: Untangling Tolkien
By: Heidi Ortmann
Review: Battlelore: Sword's Song
By: Michael Cunningham
Letters
Mathom
By: Tom Davidson
News From Fangorn
By: Kim Mantas
Member Profile - Anke Collier (nee Buttner)
Artwork: Luthien & Huan
By: Neil Loughran
Sally's Snippets
By: Sally Kennett
New Members/Committee
Amon Hen Issues
2
,
3
,
4
,
5
,
6
,
7
,
8
,
9
,
10
,
11
,
12
,
13
,
14
,
15
,
16
,
17
,
18
,
19
,
20
,
21
,
22
,
23
,
24
,
25
,
26
,
27
,
28
,
29
,
30
,
31
,
32
,
33
,
34
,
35
,
36
,
37
,
38
,
39
,
40
,
41
,
42
,
43
,
44
,
45
,
46
,
47
,
48
,
49
,
50
,
51
,
52
,
53
,
54
,
55
,
56
,
57
,
58
,
59
,
60
,
61
,
62
,
63
,
64
,
65
,
66
,
67
,
68
,
69
,
70
,
71
,
72
,
73
,
74
,
75
,
76
,
77
,
78
,
79
,
80
,
81
,
82
,
83
,
84
,
85
,
86
,
87
,
88
,
89
,
90
,
91
,
92
,
93
,
94
,
95
,
96
,
97
,
98
,
99
,
100
,
101
,
102
,
103
,
104
,
105
,
106
,
107
,
108
,
109
,
110
,
111
,
112
,
113
,
114
,
115
,
116
,
117
,
118
,
119
,
120
,
121
,
122
,
123
,
124
,
125
,
126
,
127
,
128
,
129
,
130
,
131
,
132
,
133
,
134
,
135
,
136
,
137
,
138
,
139
,
140
,
141
,
142
,
143
,
144
,
145
,
146
,
147
,
148
,
149
,
150
,
151
,
152
,
153
,
154
,
155
,
156
,
157
,
158
,
159
,
160
,
161
,
162
,
163
,
164
,
165
,
166
,
167
,
168
,
169
,
170
,
171
,
172
,
173
,
174
,
175
,
176
,
177
,
178
,
179
,
180
,
181
,
182
,
183
,
184
,
185
,
186
,
187
,
188
,
189
,
190
,
191
,
192
,
193
,
194
,
195
,
196
,
197
,
198
,
199
,
200
,
201
,
202
,
203
,
204
,
205
,
206
,
207
,
208
,
209
,
210