Beyond Bree Calendar 2012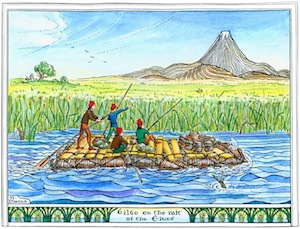 Beyond Bree is pleased to present its 2012 Calendar featuring art focused on the Elves of Tolkien's Middle-earth. The calendar will feature classic art from Beyond Bree's past as well as new works by a host of artists from around the globe, including:
and more!
The colour and black-and-white calendar will have both Middle-earth dates and real world holidays. It will be 11 x 8 1/2 inches, opening to 11 x 17 inches.
Pricing: $20 plus shipping - USA $2.00, the rest of the world $5.00.
PayPal orders will also be taken with a $1.00 surcharge. Send PayPal payments (in USD) to: beyondbree@yahoo.com
Send check or money order (in USD, drawn on a US bank) to: Nancy Martsch, PO Box 55372, Sherman Oaks, CA 91413, USA; or send currency (at your own risk, in a sturdy envelope).
For more details, please e-mail beyondbree@yahoo.com
About BEYOND BREE "Beyond Bree" is the newsletter of the JRR Tolkien Special Interest Group of American Mensa (Mensa is a high-IQ society). Subscriptions are open to all lovers of Tolkien's Middle-earth, Mensan and non-Mensan alike. "Beyond Bree" is published once a month, in both paper and electronic format. Subscriptions cost $15 per year USA (paper), foreign $20; electronic $10. Back issues are also available. To pay by PayPal: pay to
beyondbree@yahoo.com
, add 50c ($1 foreign) for PayPal fee. To pay by mail: make check or money order (in US dollars, drawn on a US bank) payable to Nancy Martsch, PO Box 55372, Sherman Oaks, CA 91413, USA. A typical issue of "Beyond Bree" is 12 pages long, contains short articles on JRR Tolkien and his works; reviews of books, games, films, events by, about, or inspired by JRR Tolkien and his works, and general fantasy which might be of interest to the Tolkien fan. Also readers' views; fan publications, news, art, occasional poetry & puzzles. We seldom publish fiction. Since we are too widely scattered to meet in person, "Beyond Bree" carries news of conventions and gatherings where the Tolkien fan might find others of similar interests. And, if readers have questions about Tolkien or his works, we try to answer them. You can learn more about us at our website at
http://www.cep.unt.edu/bree.html