Black and White Ogre Country Review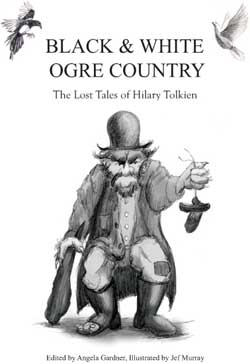 Reviewed by Jason Fisher
Tolkien, Hilary. Black & White Ogre Country: The Lost Tales of Hilary Tolkien. Ed. Angie Gardner. Illus. Jef Murray. Moreton-in-Marsh, U.K.: ADC Publications Ltd, 2009. Hardcover, vii + 73 pp.

It's best to judge Black & White Ogre Country not by its length but by its charm, a quality suffusing nearly every one of the volume's eighty of so pages. The bulk of this slim book transcribes a notebook of the reminiscences of Hilary Tolkien, younger brother of J. R. R. Tolkien. In the notebook, he recorded — years later, "after World War II" (iv) — childhood stories of a fictionalized but semi-autobiographical nature. Hilary's notebook lay forgotten for many years, but it was recently unearthed in an attic by his grandson, Chris, the son of Hilary's eldest child, Gabriel. Ironically, a grandson of Ronald (J. R. R.) Tolkien — Simon, the eldest son of Christopher Tolkien — has also been in the news recently with the publication of his second novel. But lest this review devolve into a hobbit-like discussion of "the small doings of their fathers, grandfathers, and great-grandfathers, and remoter cousins to the ninth degree", let me move on.

The book consists of three parts. First, a short introduction establishes the context for Black & White Ogre Country and gives some idea of the provenance of Hilary's notebook. This section includes reproductions of the front and back of the notebook as well as one of its internal pages, on which the author sketched the two titular ogres. Angie Gardner's acknowledgements, it deserves mention, are accompanied by a wonderful photograph of the young Ronald and Hilary. It was evidently taken at the same time as the photograph in The Tolkien Family Album (21), as the two children are dressed alike. In the photo previously published, Hilary holds a ball; however, in the photo accompanying Black & White Ogre Country, Ronald holds a doll and Hilary what looks like a toy dog. A long foreshadowing of Tom Bombadil and Roverandom, perhaps.

The second, and largest, section of the book consists of Hilary's stories, transcribed by the editor and beautifully illustrated by Jef Murry. This fictionalized semi-autobiography of Hilary's early years comprises three parts. These are titled differently, depending on where you look. The table of contents indicates the stories are: (i) "Bumble Dell: Black & White Ogres", (ii) "Black & White Witches", and (iii) "Other Stories". Internally, the first story is simply called "Bumble Dell". The front and back of Hilary's autograph notebook each show variations in each, including "Black & White Witch" (singular).

The stories are quite charming in their way, particularly for how they nostalgically recall the penultimate fin de siècle — a time when the countryside was still unspoiled and peopled with colorful local characters who would "pinch your shoes" (2), when one had to walk miles out of the way for fresh milk (38), and when the great railroads had not yet yielded up the hills and dales to the first motorcars (then only just appearing). It was a time, moreover, when the imaginations of children could turn the nearby farmers and villagers into ogres, witches, and ghosts.

The final part of the book, the back matter, consists of a reproduction of Hilary Tolkien's signature, a short glossary of the topical references and Arcadian vocabulary salted into the stories, and a brief biographical sketch of Hilary. All these are valuable, the last most of all. The sketch includes salient and judiciously selected details, accompanied by photographs, paintings, and letters — including an extract from a previously unpublished letter by J. R. R. Tolkien (70–1).

Black & White Ogre Country is not a scholarly book. It would be unfair to fault its editor for any missed opportunities along such lines, particularly when she, with Neil Holford, is preparing a bona fide biography of Hilary Tolkien (due this summer). However, for such a short book, there is ample grist for the milling. To give just one example: "bumble", Hilary's word for the great blackberries that grew in the wooded hollow the Tolkien brothers called "Bumble Dell" (4). It seems likely to me that this geographical "bumble" is related to J. R. R. Tolkien's Bimble Bay. In Hilary's case, Bumble Dell reflects an idealized corner of England, to which he desperately clung by an act of memory alone; in Ronald's case, Bimble Bay represented the loss of the same, due to "progress" (so-called). J. R. R. Tolkien's Glip, a forerunning of Gollum, may share some imaginative roots with the boys' Black Ogre of Sarehole. His "Old Crabbier" (earlier, "Poor Old Grabbler") may do likewise, but the poem remains unpublished.

In sum, this short but delightful book is well worth reading. It will take you no more than an afternoon, but I can think of few better ways to while away the time than by returning, however briefly, to a simpler time of "less noise and more green", when the path to the local blackberry patch led straight through the territory of wild ogres.
Find Black & White Ogre Country at Rowns.com - Tolkien bookseller