Auction date: 11th June 2008
380.
Tolkien (J.R.R.)
The Lord of the Rings
, 3 vol., comprising
The Fellowship of the Ring
, map of the Shire, folding map at end, spotting to endpapers, splitting, 1 f. detached with tape to inside margin, backstrip crudely attached to covers, 1954;
The Two Towers
, folding map, spotting to later ff., lacking backstrip, 1955;
The Return of the King
, folding map, second state with sagging text on p.49, spotting to endpapers, backstrip becoming detached, 1955, first editions , previous owner's name on front free endpaper, original cloth, worn and marked, 8vo .
est. £600 – £800
Sold for £750
381.
Tolkien (J.R.R.)
The War of the Ring
, 1990;
Sauron Defeated
, 1992;
Morgoth's Ring
, small tear near head of jacket spine, 1993, edited by Christopher Tolkien, first editions , vol.VIII, IX & X respectively of the History of Middle Earth series, original boards, dust-jackets, near fine copies, 8vo (3)
est. £200 – £300
Unsold
382.
Tolkien (J.R.R.) and E.V.Gordon, editors
.
Sir Gawain & The Green Knight
, first edition , frontispiece, original green cloth, gilt, crudely rebacked with cloth, 8vo, Oxford, 1925.
est. £100 – £150
Unsold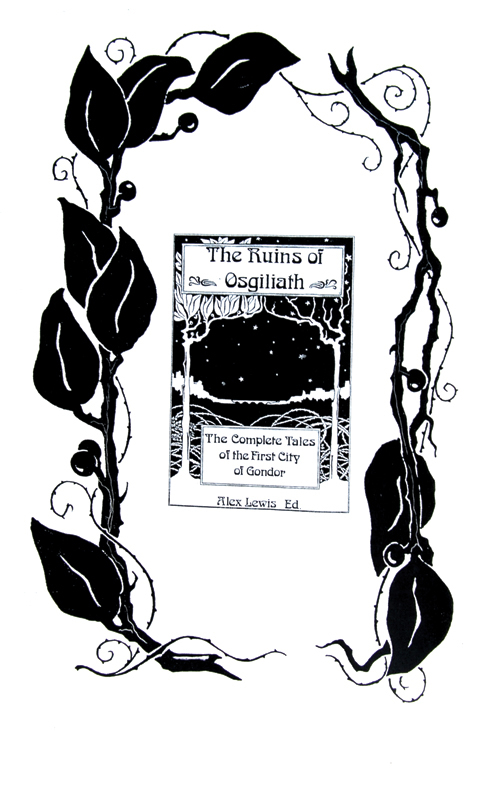 383.
Tolkien (J.R.R.).- Lewis (Alan, editor )
The Ruins of Osgiliath
, number 59 of 100 copies signed by the editor and artist, decorations, illustrations and bookplates by Ruth Lacon, introductory letter loosely inserted, original cloth, lettered in silver, a fine copy, folio, Shropshire, 1995.
est. £250 – £350
Unsold