Auction date: 16th October 2008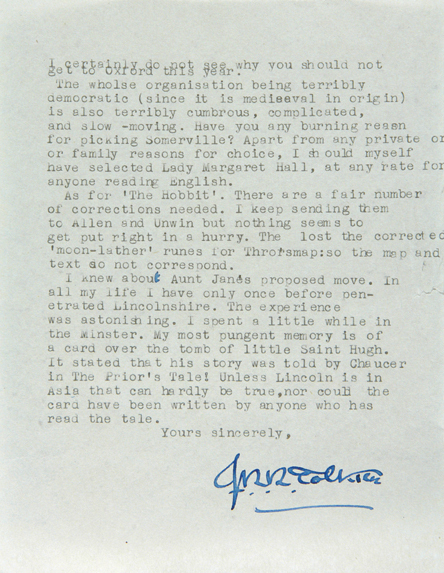 246.
Tolkien (J.R.R., author and philologist, 1892-1973)
Typed Letter signed to a female ?member of his family, 1p. only, 8vo, n.p., n.d. , answering an enquiry about
The Hobbit
, "As for 'The Hobbit'. There are a fair number of corrections needed. I keep sending them to Allen and Unwin but nothing seems to get put right in a hurry. The[y] lost the corrected 'moon-lather runes' for Thror's map: so the map and text do not correspond", commenting on her choice of an Oxford College, "The whole organisation being terribly democratic (since it is medieval in origin) is also terribly cumbrous, complicated, and slow-moving. Have you any burning reason for picking Somerville? Apart from any private or family reasons for choice, I should myself have selected Lady Margaret Hall, at any rate for anyone reading English", and news about Aunt Jane's move to Lincolnshire, "In all my life I have only once before penetrated Lincolnshire. The experience was astonishing. I spent a little while in the Minster. My most pungent memory is of a card over the tomb of little Saint Hugh. It stated that his story was told by Chaucer in the Prior's Tale! Unless Lincoln is in Asia that can hardly be true, nor could the card have been written by anyone who has read the tale", very small tear in right hand margin not affecting text.
est. £300 – £400
Unsold -
this item was identified as a forgery
, and removed from the sale.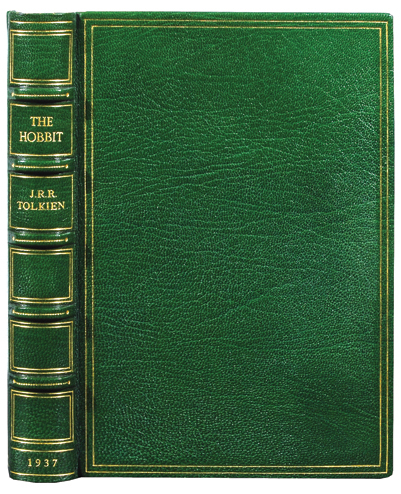 783.
Tolkien (J.R.R.)
The Hobbit, or, There and Back Again
, first edition , first impression , frontispiece and illustrations by the author, maps and original cloth covers and spine bound in at end, slight loss panel of original upper cover at lower fore-corner, light ink name on one map, bookplate with monogram on preliminary blank f., internally very good, bound in full green morocco with gilt borders, lettering and spine compartments, by the Chelsea Bindery, g.e., fine, matching green morocco-tipped cloth slip-case, 8vo, 1937.
est. £3000 – £4000
Sold for £3000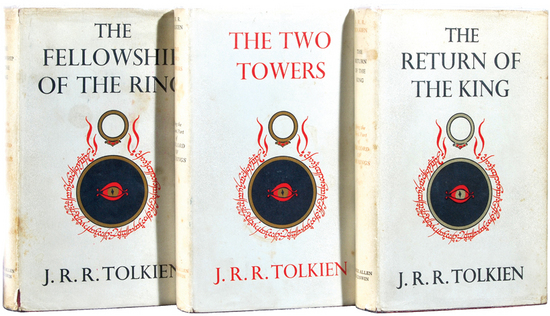 784.
Tolkien (J.R.R.)
The Lord of the Rings
, 3 vol., first editions , first impressions , vol.III third state (with sagging text and number '4' on p.49), folding maps, light spotting to endpapers, last few ff. and extreme edges, ink ownership inscription on front pastedowns, original cloth, in very good condition, dust-jackets, light marking and spotting, most visible on vol.I, vol.III with tear at lower fore-edge of lower panel with resultant creasing, vol.I with slight loss to corner-tips and 2 small splits, overall a good set, 8vo, 1954-55.
est. £4000 – £6000
Unsold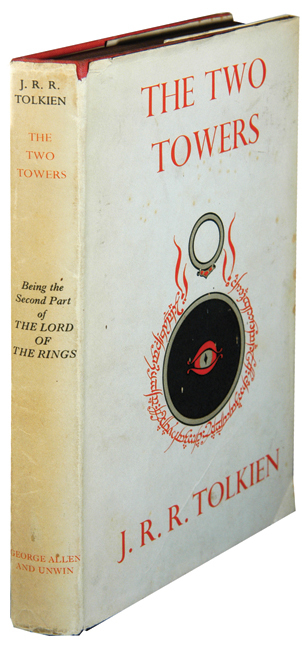 785.
Tolkien (J.R.R.)
The Two Towers
, first edition , second impression, folding map, browning to free endpapers, spotting to extremities, small ink name on front free endpaper, original cloth, cocked, a few small marks, bump to foot of lower cover, dust-jacket, slight spotting, spine slightly browned, small tear to 1 corner, rubbed and chipped at others, 8vo, 1955.
est. £200 – £300
Sold for £340