Auction date: 6th November 2008
399.
Tolkien (J.R.R.)
The Adventures of Tom Bombadil
, first edition , illustrations by Pauline Baynes, five full-page and some in text in colour, original pictorial boards, dust-jacket slightly soiled and worn, 8vo , 1962.
est. £150 – £200
Sold for £260
918.
Tolkien (J.R.R.)
The Lord of the Rings
, 3 vol., comprising
The Fellowship of the Ring
, map of the Shire, folding map at end, 1954;
The Two Towers
, folding map, 1955;
The Return of the King
, folding map, third state with sagging text on p.49, and '4' under left handside of text, 1955, first editions , previous owner's name on front free endpaper of
The Return of the King
, original cloth, some foxing to fore-eges and endpapers, all with dust-jackets, worn and supported on verso with tape, 8vo.
est. £1000 – £1500
Sold for £1000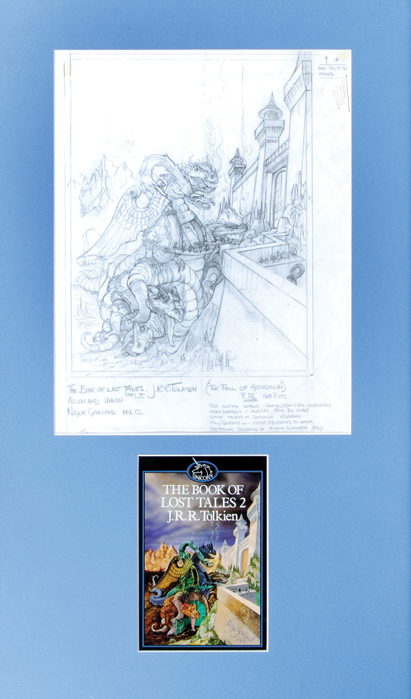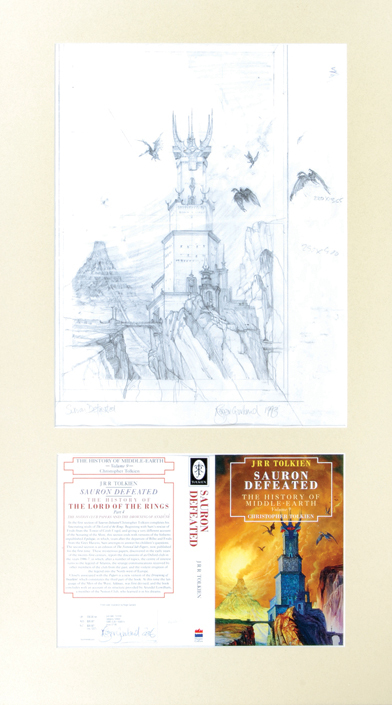 919.
Tolkien (J.R.R.).- Garland (Roger, artist )
The Book of Lost Tales 2
, original pencil design for the artwork on the paperback edition, depicting 'The Fall of Gondolin', signed by the artist in pencil and with his notes & title in lower margin, 310 x 240 mm., 1985;
The History of Middle-Earth vol.9: Sauron Defeated
, original pencil design for the artwork on the paperback edition, depicting Barad-dûr and the nazgul with Orodruin in the background, signed in pencil beneath, 350 x 225 mm., 1993, slight creasing, both with card window mounts with an example of each paperback cover similarly mounted below, framed & glazed (2)
est. £1500 – £2000
Unsold