Sale Date: 19 June 2008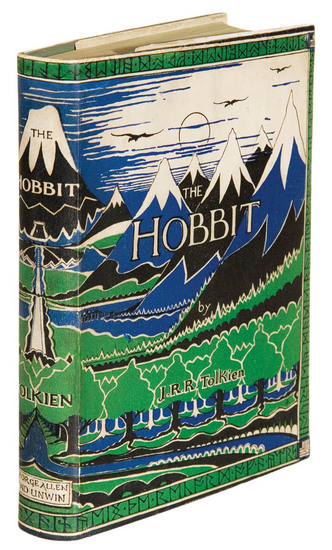 275. TOLKIEN, J.R.R. The Hobbit, Or There and Back Again. London: George Allen & Unwin Ltd, 1937. 8vo. Map endpapers and illustrations by the author. Original pictorial green cloth in dust jacket, custom half morocco folding case. Condition: light spotting to fore-edge; scarce jacket with light restoration to folds and spine ends. First edition, one of only 1500 copies of this cornerstone of modern fantasy literature.
est. $22,000 – $28,000
Sold for $40,000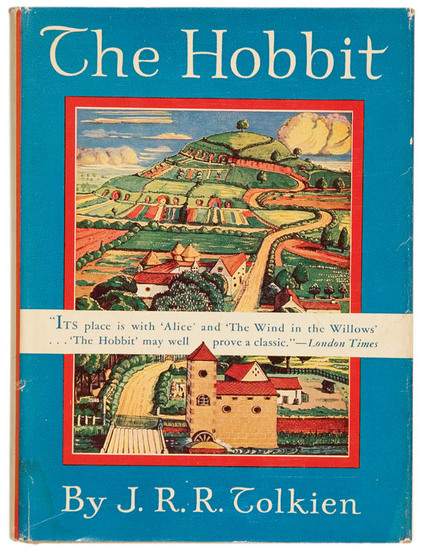 276.
TOLKIEN, J.R.R.
The Hobbit
. New York: Boston Houghton Mifflin, 1938. 8vo. Map endpapers and illustrations by Tolkien. Original blue-lettered and orange-stamped tan cloth in dust jacket. Condition: tiny chips at corners of wholly unrestored jacket, very faint tidemark at foot of spine panel barely visible to edges of front and rear panel, small loss (5 x 15 mm.) at head of spine panel, light intermittent creasing, but generally a very presentable copy. First American edition.
est. $6000 – $8000
Sold for $10,000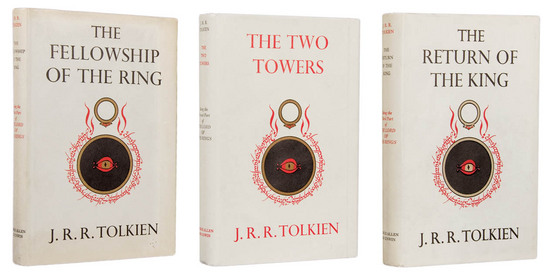 277. TOLKIEN, John Ronald Ruel. The Lord of the Rings London: London: George Allen & Unwin Ltd. 1953 - 1954 . 3 volumes, 8vo. With maps at rear of each volume. Original red cloth with gilt spine titles in light gray dust jackets. The individual volumes are as follows:The Fellowship of the Ring, (1953), The Two Towers. (1954). The Return of the King (1954); all housed in a custom red half-morocco slipcase. Condition: some light offsetting from glue to endpapers and a small spot to spine cloth of first title, else a very fine set.
First editions of the most beloved work of fantasy in modern literature. Originally begun as a sequel to Tolkien's earlier success, The Hobbit, the present title soon grew far beyond that basis and took its author 12 years to write. Tolkien drew on numerous Norse and Germanic mythologies as well as Shakespeare and the Arthurian legends to construct his pre-History of the Age of Middle Earth. Basis for the Oscar-winning films of Peter Jackson, bringing a new generation of readers to the lands of Middle Earth, Tolkien's work is also responsible for inspiring the role-playing games of the 1970's and 1980's.
est. $18000 – £20000
Sold for $30000