Barbara Remington painted the covers for the first Ballantine Paperback editions of The Hobbit and The Lord of the Rings. Artwork was reused in puzzles, posters... Be sure to read Connecting with History - An Interview with Barbara Remington for a lot more information on the background story around her "Middle-earth Mural" commission.
"The Boggle Shop" was run by Barbara Remington. "She sold all sorts of artsy things including "soft sculpture" bats. She had on display a chess set she and her husband had made based on Tolkien characters." (Ed Meskys, The View From Entropy Hall #12) This chess set can be seen in the photo gallery for AFA (Artists For Art) at this website: Barbara Remington July 2005 Show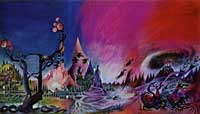 Barbara Remington's "Middle-earth Mural"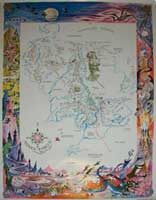 Barbara Remington's "Map of Middle-earth"