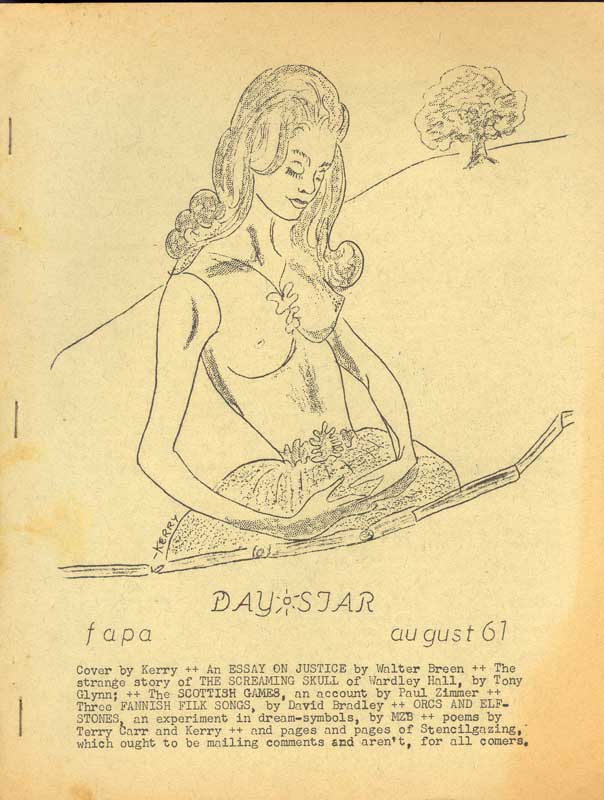 Marion Zimmer Bradley, ed.
colored paper, staple-bound
cover illustration by Kerry
Contents
"Essay on Justice" by Walter Breen
"The strange story of The Screaming Scull by Wardley Hall", by Tony Glynn
"The Scottish Games" by Paul Zimmer
Three fannish filk songs, by David Bradley
"Orcs and Elfstones", by Marion Zimmer Bradley
poems by Terry Carr and Kerry
The only major Tolkien related content in this issue is the "Orcs and Elfstones" piece, 5 pages long. In the introduction, MZB calls this essay "a postscript, or perhaps a prescript, to
The Jewel of Arwen
, which I wrote for Pelz's Tolkien-fan zine
I Palantir
." It describes a dream she had in Tolkien's world while she was reading the books. Some elements of the dream contain elements from the Return of the King, before she had read the book. There is also a short letter section that discusses the clothing Tolkien describes for the Hobbits, but also comments that the reader is never given a description of what Aragorn wears.