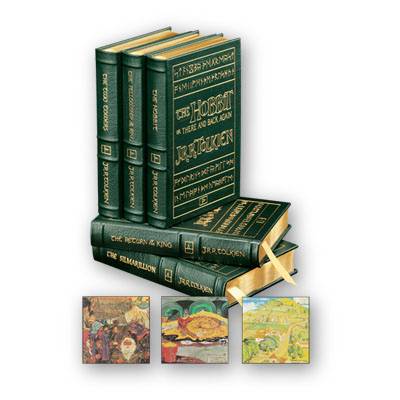 The Fellowship of the Ring
each volume with frontispiece art by Michael Hague
Folding maps printed in black and red are included in each book. They unfold to a 19" x 16" size and can be removed from the book.
Only available as a set from the publisher. During the late 1980's these were only available through the Masterpieces of Fantasy subscription series. Since 1999 these have only been available from Easton Press as a part of a set of five books (also including The Hobbit and The Silmarillion).
These have been continuously in print since 1984. According to Easton Press, there is no way to tell the difference between copies produced between 1984 and the present.
Currently available from Easton Press at $59 per book $69 per book [Updated 2011 from 2008 prices] (when bought as a set)
Publisher indicates that 10,000+ sets have been produced so far
Easton Press has publications rights from the Tolkien Estate for the next five years or so, and plans to renew indefinitely (according to Easton Press, the Estate is very pleased with the quality of the books and the relationship with Easton Press so no interruptions are envisioned).
A new edition with reset text (based on the latest revisions) is planned sometime in the future, but is not yet scheduled.