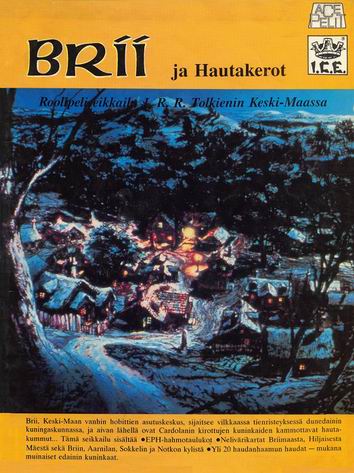 "Bree and the Barrow-Downs"
Published 1993 by ACE PELIT
Brii ja Haurakerot
sijoittuu
Hobitista
ja
Taru Sormusten Herrasta
tuttuun
Keski-Maahan
. Brii, Keski-Maan vanhin hobittien asutuskeskus, sijaistsee vilkkaassa tienristeyksessä dunedanin kunungaskunnassa, ja aivan lähellä ovat Cardolanin kirottujen kuninkaiden kammottavat hautakummut...
nelivärikartat Brimaasta, hiljaisesta Mäestä sekä Briin, Aarnilan, Sokkelin ja Notkon kylistä
Yli 20 haudanhaamun haudat – mukana muinaisen edainin kununkaat.
Brii ja Hautakerot
sisältää:
Edainin kuninkaiden ja Cardolanin ruhtinaiden kirotut hautakummut.
Ilkeän Cormacin ja hänen pienen rosvojoukkonsa.
Kuusi sivua värikarttoja.
Yksityiskohtaisia hautakumpujen karttoja ja kuvauksia.
(Images and text used with kind permission of
www.icewebring.com
)