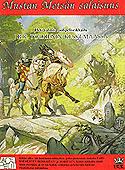 "Woses of the Black Wood"
Published 1992 by ACE PELIT
Kolme alku- tai keskitason seikkailua, jotka perustuvat teoksiin Taru Sormusten Herrasta™ ja Hobitti™. Kukin seikkailu toimii myös yksinään, ja ne voi valmistaa pelattavaan kuntoon muutamassa minuutissa.
Vuosien mittaan Bor Leathin ihmiset ovat tottuneet vaaroihin, jotka olisivat liikaa monille rohkeimmista. Nyt yössä kulkee uusi kauhu, Pystytkö sinä karkoittamaan Bor Leathin kummituksen? Kymmenen mailia Bor Leathista pohjoiseen on yrttitieteilijä Coelin mökki. Hänen ystäviään ovat seudun eläimet, jotka suojelevat häntä Mustan Metsän vaaroilta. Mikä odottaa Seikkailuissa Cabdenin tienoille? Metsäläiset asuvat suuressa luolastossa, joka ulottuu syvälle puuttomien kukkuloiden alle. Siellä ovat heidän salinsa ja aarteensa, muinaisen varauden viimeiset jäänteet. Uskallatko kohdata Paljaiden Vaarojen metsäläiset?
(Images and text used with kind permission of www.icewebring.com)