The Lord Of The Rings Collectible Electric Train Collection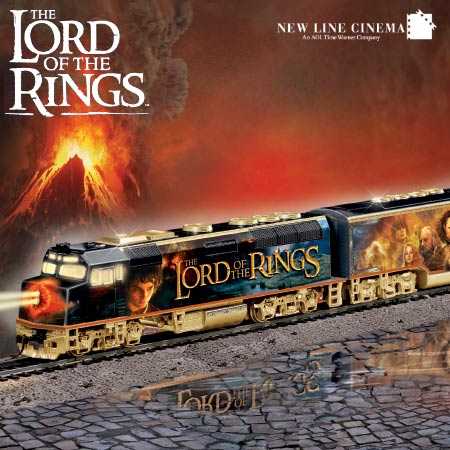 Manufactured by Hawthorne Village
From the press release: "Few movie epics have gripped an audience's imagination more than The Lord of the Rings™ trilogy. Now Hawthorne Village is proud to bring you an exclusive Market First, The Lord of the Rings™ electric train set, designed to whisk you away to a secret world of wizards, hobbits and elves, good and evil, and pulse-pounding battles.
You'll feel as if you've been transported to Middle Earth with this illuminated collectible Lord of the Rings™ memorabilia, emblazoned with heroic scenes and characters from the movie, including Frodo, Aragorn, Gandolf, Legolas, and more!"
Don't you feel transported to Middle Earth[sic]?