Middle-earth Role Playing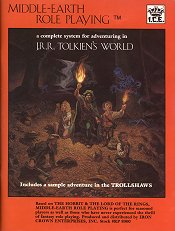 1984
#8000
128 pp.
Design and development: S. Coleman Charlton
ISBN: 0-915795-18-3
A complete system for adventuring in J.R.R. TOLKIEN'S WORLD
Includes a sample adventure in the TROLLSHAWS
Based on THE HOBBIT and THE LORD OF THE RINGS. Perfect for seasoned players as well as those who have never experienced the thrill of fantasy role playing.
Role playing is a type of game which allows a person to assume the role of a character in a "living" novel. MIDDLE-EARTH ROLE PLAYING, M.E.R.P. for short, provides the structure and framework for role playing in the greatest fantasy setting of all time... J.R.R. TOLKIEN'S MIDDLE-EARTH.
MERP contains in one book all of the components required to play a fantasy role playing game:
a complete character development systems covering Hobbits, Elves, Dwarves, etc.
realistic yet playable rules for combat
a simple but comprehensive magic system; detailed guidelines for gamemasters
material covering poisons, healing, weather, magic items, MIDDLE-EARTH creatures, encounters and much more.
MIDDLE-EARTH ROLE PLAYING can be used with a wide variety of game aids, including the MIDDLE-EARTH GUIDEBOOK and POSTER/MAP, a series of specific adventure modules, a series of general campaign modules, and ROLEMASTER, IRON CROWN'S FRP game system.