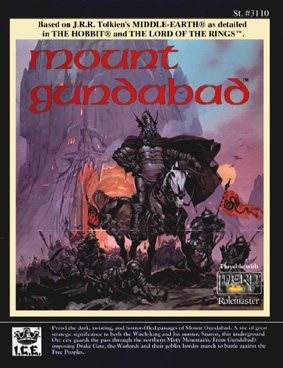 1989
#3110
ISBN: 1-55806-069-3
Author: Carl Willner
71 pp.
Prowl the dark, twisting, and horror-filled passages of Mount Gundabad. A site of great strategic significance to both the Witch-king and his master, Sauron, this underground Orc city guards the pass through the northern Misty Mountains. From Gundabad's imposing Drake Gate, the Warlords and their goblin hordes march to battle against the Free Peoples.
Explore the grim Halls of the goblin city where Orc-lords struggle for power. Crawling with soldiers, captured slaves, and monsters from the mysterious Underdeeps, Mount Gundabad's cavern is steeped in danger and adventure.
MOUNT GUNDABAD includes:
11" x 17" FULL-COLOR MAP depicting the region.
A CROSS SECTION of the fortress city.
DETAILED LAYOUTS of the Spires of Gundabad and the Drake Gate and comprehensive maps route maps of the Pits, the Mines, and the Fungi Caves.
DETAILED INFORMATION on the Orcs, Men, chambers, passages, treasures, politics, and warcraft found in the underground fortress.
STATS AND BACKGROUND INFORMATION for key figures like the Lord of the North, the Goblin-king that rules all the Orc tribes in the Grey and Misty Mountains.