Lord of the Rings Adventure Game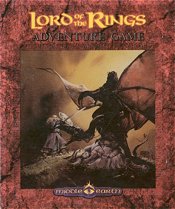 Authors: Jessica M. Ney, S. Coleman Charlton
A sword rang as it was drawn. "Do what you will; but I will hinder it, if I may."
" Hinder me? Thou fool. No living man may hinder me!"
Then Merry heard of all sounds in that hour the strangest. It seemed that Dernhelm laughed, and the clear voice was like the ringing of steel. "But no living man am I! You look upon a woman. Éowyn am I, Éomund's daughter. You stand between me and my lord and kin. Begone, if you be not deathless! For living or dark undead, I will smite you, if you touch him." - J.R.R. Tolkien, The Return of the King In the Lord of the Rings Adventure Game, you'll follow in the footsteps of all the great heroes of legend. As a mighty Elven Warrior or a deft Hobbit Scout, you'll enjoy hours of adventure in the magical, mythical world of J.R.R. Tolkien. Wasn't The Hobbit a great read, and The Lord of the Rings unsurpssable? Perhaps you've even imagined your own adventures in Middle-earth - dreaming of great deeds performed and impossible quests accomplished. Now you can do more than dream. ALL FANTASY FANS CAN PLAY!
Everyone who loves fantasy fiction can play the Lord of the Rings Adventure Game. The storytelling format means you learn as you play. No weighty tome of rules. You'll start your first adventure as soon as you open the box! THE ADVENTURE KEEPS GOING!
Look for sequel adventures when you're ready for more excitement.
Darker than the Darkness
picks up where "Dawn Comes Early" ends, taking your characters to a chilling confrontation on the downs. INSIDE THE BOX:
A Complete Adventure - "Dawn Comes Early" lets you learn the rules as you play
Rules - The Guidelines are a short and snappy summary of all the rules (or guidelines!) and tell you how to customize your characters as your adventures progress
Color Map - Follow your adventurers in their travels through Tolkien's world on this map of northwestern Middle-earth
Adventure Map - The map of Bree-land shows adventure sites for "Dawn Comes Early"
Floorplans - These plans depict details of the sites where you'll confront your enemies
Characters - Character fold-outs supply all the information you'll need to play your hero or heroine
Playing Pieces - Dozens of standup figures represent your characters and their foes