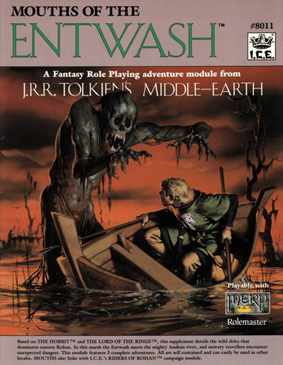 1988
#8011
ISBN: 1-55806-010-3
Author: Graham Staplehurst
39 pp.
This module also links with the RIDERS of ROHAN campaign module.
This supplement details the wild delta that dominates eastern Rohan. In this marsh the Entwash meets the mighty Anduin river, and unwary travellers encounter unexpected dangers. This module features 3 complete adventures. All are self-contained and can easily be used in other locales.
Delve into the swampy forests surrounding the treacherous MOUTHS OF THE ENTWASH! For almost two hundred miles the southern channel of the river winds through bog, marsh, fen and breckland, continually splitting and rejoining itself. Here you'll find a host of peculiar creatures and foul denizens - including the hideous undead known as Mewlips. This module contains the history of the places, people, creatures, and treasures found in the region, together with 3 exciting adventures, each of which can be set up in only minutes.
MOUTHS OF THE ENTWASH features:
2 FULL-COLOR MAP PAGES: including a regional map and a map of the area around Micandor's Tower
MAJOR LAYOUTS: of the towns and villages of the Entwash delta
3 COMPLETE ADVENTURES: smuggler's intrigue in "The Water of Life"; a murder mystery entitled "Micandor's Tower"; and a horror tale called "The Lost Ring"
STATISTICS: for all of the garrisons, NPC's, beasts, and monsters