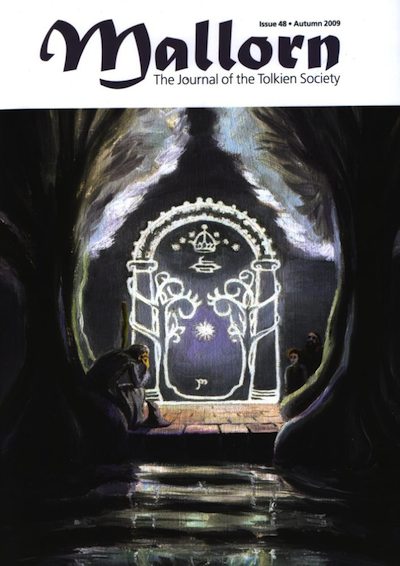 A4 stapled paperback, glossy
"Tolkien of the Many Names"
"A year in study": Tolkien Studies: Volume 6
"Views of a lost world": Black and White Ogre Country: The Lost Tales of Hilary Tolkien
"Tales of the past": The Legend of Sigurd and Gudrún
"A taste of foreign country": Paths of Exile
"Hunting Peter Jackson": The Hunt for Gollum
"What's in a name?": The Tolkien Name in History, The Suffield Name in History and The Origins of JRR Tolkien in Bloemfontein
"The desire of a tale-teller"
"Frodo as the scapegoat child of Middle-earth"
"The Stone of Erech and the Black Stone of Ka'aba: meteorite or 'meteor-wrong'?"
"Questing for 'Tygers': a historical archaeological landscape invesiation of J.R.R. Tolkien's real Middle-earth"
"Dawn of the Wolds of Rohan"
"Sarehole Dreams (Tom Bombadil Alive and Well)"
"David Eddings (1931-2009)"
Phyllis Berka, John Gilbey, Becky Hitchen, Glendon Mellow and Jef Murray