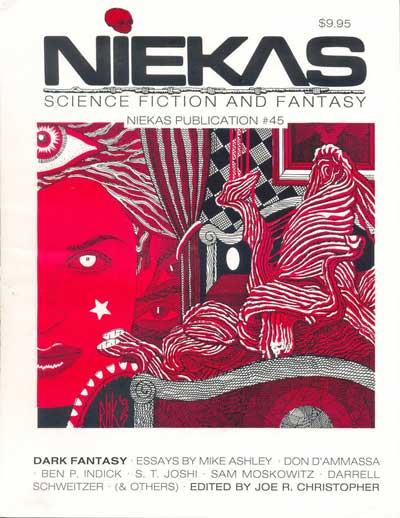 Edited by Joe R. Christopher
photo-offset, glossy card stock cover, perfect-bound
special issue devoted to Dark Fantasy - Essays on Gothic and Modern Horror Fiction.
Contents
Highlights include Marion Zimmer Bradley's "Bloodthirsty for Power: Vampirism in Hambly's Those Who Hunt the Night"
Ben Indick's "H. P. Lovecraft and Stephen King: A Pair of New Englanders"
S. T. Joshi's "The Weird Work of L. P. Hartley."
Other contributors:
Mike Ashley, John Boardman, Mary Ann Brandenburger, Anne Jannet Braude, Bruce Byfield, J. Jordan Cannady, Margaret L. Carter, Stephanie Chidester, Don D'Ammassa, James David Fay, W. Paul Ganley, Cynthia Whitney Hallett, Marsha Jones, Robin M. Latimer, Fred Lerner, Tamar Lindsay, Pat Matthews, Ed Meskys, Sam Moskowitz, Sheryl A. Mylan,
Andrew J. Offutt, Nancy-Lou Paterson, Darrell Schweitzer, Tom Whitmore and Catherine Jewel Wilterding.