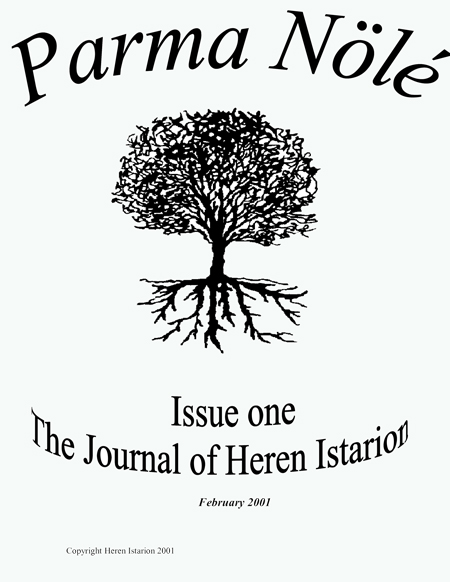 Contents
Not attributed, front cover
The Staff at Heren Istarion, p. 1
The Naming of a NY Smial and the meaning of Parma Nölé
By: Anthony S Burdge, pp. 2-4
By Anthony S Burdge , pp. 5-6
Art - La Dama Blanca de Rohan
Biblical Allusions within The Lord of the Rings
By Daniel Zachari'ah, pp. 7-10
Welcome to Tolkien Jeopardy!
By Roseane Daniello, p. 11
The Lord of the Rings Movie Trailer Review (April 2000 preview)
By Daniel Zachari'ah, pp. 12-13
Art - (One Ring inscription)
By J. Dianne Gammon, p. 14
Ad - Forbidden Planet, p. 14
A Question posed to Sir Ian McKellen
By Roseane Daniello, p. 15
Answers to Tolkien Jeopardy
By Roseane Daniello, p. 16
Coming Next Issue - p. 17
Art - An Unexpected Party
By Tom Frick, p. 19 (back cover)
Review
(by Jeremy Edmonds) I liked following Anthony's thought process on how the names for Heren Istarion and Parma Nölé were decided on. If you don't read carefully, you may not realize that Heren Istarion was founded as a Smial of
The Tolkien Society
- it is only mentioned by inference. My particular copy has some formatting issues (in particular, from page 6 on the text is centered rather than left justified, but that may not be in every issue) but the issues are minor and all in all it is a very nice looking first issue for a fanzine, with 80% or so focused on the upcoming
Fellowship of the Ring
movie.
Daniel's Biblical article offers a tantalizing glimpse of the scholarly direction the fanzine wants to go, offering a small handful of scene comparisons between Biblical events and scenes in The Lord of the Rings. The Jeopardy! questions are reasonably difficult - good luck answering them all without peeking! Daniel's movie review is a bit light (not having downloaded this particular trailer myself, I am left after reading the review with no real impression of what was shown in the trailer.) The energy and enthusiasm shine through clearly though, and I can remember the anticipation felt waiting for the first movie to be released. Roseane emailed a question to Ian McKellan concerning the physical demands of the Gandalf role, and got a response back, reprinted here. The art in the issue looks very nice - a few pieces have a clear anime influence in my mind, some are clearly reprints of web artwork (the tree logo for example), and the two pieces by Tom Frick look to be very nice, but I only have a photocopy and they did not reproduce extremely well.