Limited Edition - The Guardian and The Thief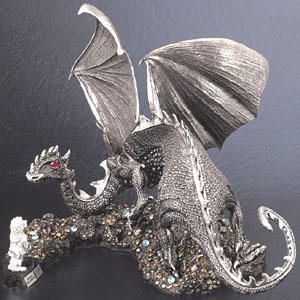 "The Royal Selangor Limited Edition pewter sculpture entitled The Guardian and The Thief captures the scene when Smaug, the Guardian of the Treasure of the Lonely Mountain, discovers Bilbo in his lair. Smaug's blood-red crystal eyes search endlessly for the intruder but Bilbo, though quaking with fear at the onset of the meeting, is protected by his magic ring that renders him invisible.
Smaug's immense bat-like wings loom across the treasure of the dwarves, countless gems, gold and more in mounds stretching across the floor of the Great Hall.
After this initial fight, the clever hobbit engages Smaug's curiosity with some clever repartee. It is through this banter and an immense amount of flattery that Bilbo discovers Smaug's one weakness - a patch on the left side of the dragon's chest, unprotected by its armour of iron scales and hard gems.
This sculpture is available as a strictly limited edition of only 500 pieces worldwide."
Royal Selangor Limited Edition Sculptures