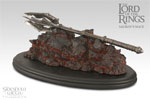 Item No. 8704
Limited Edition of 3500
$75 Retail
Artist: Dave Tremont
11.5" x 7.5" x 4.5"
10 pounds
"The embodiment of all evil in Middle-earth, the Dark Lord, Sauron strides into battle in his hideous black armour, a towering pillar of malice in man-form, wielding his wicked mace. Wrought by fell means and infused with spells of devastation, the Dark Lord is impervious to all harm while the power of the One Ring is his. When Sauron confronted the Last Alliance of Elves and Men, he decimated the ranks of both races with his great mace, destroying those within its reach and intimidating all those who dared to stand against him.
Product Details:
Like our miniature helms, the mace is cast in heavy metal.
The mace is sculpted in 1/6 scale, matching the scale of our previous weapon set products.
The volcanic rock base is slightly translucent, creating a fiery glow (this product does NOT include any light-up feature)
The mace is permanently attached to the rock base. It is non-removable.
Each base bottom features product information, a print of the artist's signature, and hand-numbered edition information."