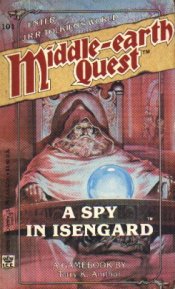 1988
#1
ISBN: 0-425-11231-4
Author: Terry K. Amthor
200+ pp.
A GAME where YOU adventure in MIDDLE-EARTH!
Since your apprenticeship began, you have worked for the powerful and revered wizard, Saruman the White. But of late, you have grown troubled by what you see and hear within his mighty fortress of Isengard. Orcs and wild men gather inside. You have seen Saruman poised over the great seeing-stone exulting over scenes of battle. Has Saruman surrendered his will to the evil Sauron, Lord of the Rings? Can you warn the White Council before all is lost? YOU control your destiny in this intriguing first gamebook of the MIDDLE-EARTH QUEST series!
In the MIDDLE-EARTH QUEST series you can
Play a ready-to-run character
Create your own character using the QuestGame system
Generate your own MIDDLE-EARTH ROLE PLAYING (MERP) character.
Further Information
Book is pocket sized paperback (7"x4").
You create a character using a system called QuestGameTM (Basic or Advanced) or you can use a pre-generated character
The book is divided into numbered sections. You read them as indicated by the text according to your actions. In A Spy in Isengard, you can also read sections as indicated in the numbered map provided. This way you read sections according to your actions and according to the areas you move into.
There are optional rules and guidelines on how to use a MERP character at the end of the book.
There's also a MERP Stats Table for all creatures appearing in the book at the end

Included are two maps:
Color map depicting the area around Isengard with a numbered hexagonal grid
B&W map depicting the Tower of Orthanc's interior (7 levels)