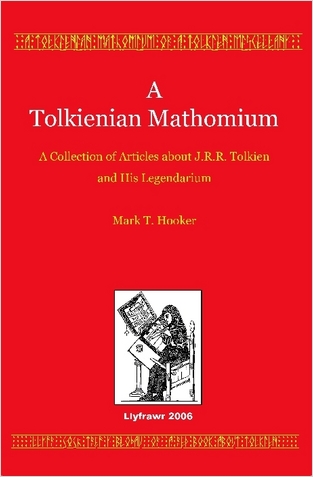 "A Collection of Articles about J.R.R. Tolkien and his Legendarium"
Layout, faux-rune text, design by Mark T. Hooker
Cover, some interior artwork from public domain (out of copyright)
Also includes interior artwork by James Dunning (pp. 6, 178, 202)
Index, appendices, bibliographic references
"The artifacts of Middle-earth are the products of the mind; words and names, rather than skeletons and pottery shards. The purpose of this study is to offer the reader a glimpse into the things that make up the words that are a part of Tolkien's Legendarium.
Llyfawr is proud to announce that The Raynor Memorial Library at Marquette University and the Thuringian University and State Library at Jena, Germany have added a copy of A Tolkienian Mathomium to their collections." (from original product description)
Table of Contents:
What is a Mathom (previously unpublished)
The Linguistic Landscape of Bree (published in Beyond Bree 2002, in Russian in Palantir No. 31, 2002)
Esgaroth (previously unpublished)
The Linguistic Landscape of Tolkien's Shire (Presented at MythCon XXXV 2004, "Dwaling" in Palantir No. 42, 2004)
The Water (previously unpublished)
Stock (previously unpublished)
"And why is it called the Carrock?" (published in Beyond Bree Nov 2001, Palantir No. 34, 2002)
In Search of the River Lune (published in Beyond Bree Apr 2002, Lembas No. 104, 2002)
In League with Miles (previously unpublished)
Fractured Fairy Tales from Middle-earth (published in Beyond Bree June 2004, Lembas No. 117, Palantir No. 43, 2004)
Tolkien's Use of the Word "Garn!" (Translation Journal v 9 No. 2, 2005, Lembas No. 120, 2005)
Spit, Spat, Splittle: Those Whom Tolkien Wouldst Belittle (published in Beyond Bree May 2005)
The Leaf Mold of Tolkien's Mind (published in Beyond Bree Apr 2005)
Frodo Quatermain (Parma Nole No. 13, 2005)
Tolkien and Haggard: Immortality (previously unpublished)
Tolkien and Haggard: The Dead Marshes (previously unpublished)
The Feigned-manuscript Topos (previously unpublished)
In a Hole in the Ground There Lived a ... (published in Beyond Bree Nov 2002, Palantir No. 35, 2002)
In a Fogou in the Ground There Lived a Cornish Hobbit (previously unpublished)
A Tale of Tolkien's Woods (previously unpublished)
The Bounders (published in Beyond Bree May 2006)
The Cinematographer of Waverly (Performed at MythCon XXXV 2004, published in Beyond Bree Oct 2004)
Estel (previously unpublished)
Bracegirdle (published in Beyond Bree Mar 2006)
Whence an Oliphaunt? (published in Beyond Bree Feb 2006)
Tolkien in Chinese: A Thesis Review (Translation Journal, vol 8, No. 3, 2004)