Interesting eBay Auctions
1 ... 89 90 (91) 92 93 ... 147
By
Morgan


---
Another BookPeople Hobbit with the dj, for a good price:
http://www.ebay.co.uk/itm/The-Hobbit- ... ction&hash=item58a2e4131c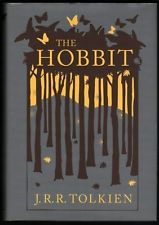 ---

Seller: kjc1987 (93)
Ended Aug 10, 2013
£320.00
[15 Bids]
---

Seller: ardy007 (516)
Ended Aug 20, 2013
£30.00
[0 Bids]
By
Jlong


---
By
garm


---
The stickers look okay to me - I have some items myself which have these. As Christina Scull said in her Tolkien Collector essay about this subject; having a label is a fair indication that an item came from Tolkien's library, but the absence of one doesn't mean it didn't!

I have a copy of the 'Losenger' offprint which,, it says here in a pencilled note, came from Tolkien's library. But that doesn't mean that he necessarily looked at this one, or handled it - he'd have been sent some copies to give to colleagues. I expect he might have had a small boxful of these offprints, judging by the amount I've seen for sale over the years.

1 ... 89 90 (91) 92 93 ... 147