By
Gondor2NYC


21 Jul, 2007
2007/7/21 16:50:48 (GMT) Greenwich Mean Time, London, Dublin, Lisbon, Casablanca, Monrovia
---
Obviously owners of the 1st edition of The Hobbit aren't carrying that around in their bag to read on thet rain or on the beach. But, it would be interesting to see which editions/years/paper vs. hard we read. Do you have one set of the series that you go back to time and time again or do just pick at random from the more modern, less antiquarian editions on your shelf?

Mine are just these from when I read them for English Honors in Highschool (late 90s) that I bought off of a graduating senior who probably did the same before me. (image attached)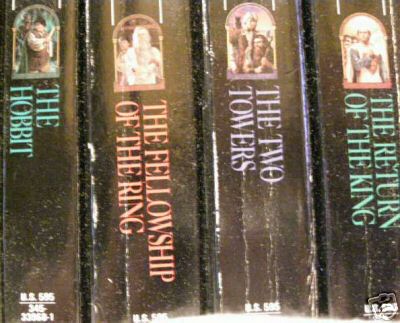 Parmastahir

22 Jul, 2007
2007/7/22 1:52:17 (GMT) Greenwich Mean Time, London, Dublin, Lisbon, Casablanca, Monrovia
Mine are a set of the Ballantine paperbacks (FotR 9th printing, TT 15th printing, RotK 7th printing). They were given to me by a dormitory mate at college who said "Here. Read these!" I have put a tick mark or date inside each time that I have read them. They are dog-eared and worm-eaten (literally), paint splattered (a long story), and the spines are held together with wide packaging tape. But they are like old friends and I would not trade them for a rare limited-edition, leather-bound set.

Away from The Green Hill Country,

Parmastahir

Urulókë

22 Jul, 2007
2007/7/22 8:23:25 (GMT) Greenwich Mean Time, London, Dublin, Lisbon, Casablanca, Monrovia
My parents had a set of '60s US hardcovers that I grew up reading. I picked up a set of paperbacks (the same 50th anniversary black paperbacks you've pictured, Gondor, with the Michael Herring artwork) in '87 and read them to death (though I do think I have them around here somewhere still). Now when I re-read I grab a set of paperbacks from the garage - it is interesting to read the various different editions, though I've never read closely enough to pick up on the minor changes amongst the various Ballantine editions, for example. I still get a warm fuzzy feeling going back and reading one of the blue cloth hardcovers, though...

In regards to the Michael Herring art - I was offered the original artwork back about a year ago (it is still available online if you dig a little bit) and found myself feeling not at all interested. My least favorite of the Ballantine paperback artwork, and I was quite surprised at how long they lasted...

skwishmi

22 Jul, 2007
2007/7/22 22:38:19 (GMT) Greenwich Mean Time, London, Dublin, Lisbon, Casablanca, Monrovia
Oh how fun!
My reading copy of The Hobbit is a Book Club 50th Collector's Edition - this is really only read out loud to kids, so I wanted something that looks very special (but isn't really).
I completely thrashed my dad's early 70's Lord of the Rings paperbacks as a teenager, stole them when I moved out, and finally passed what was left of them on a few years ago. Now it's an early US 2ed. set - which I love for the great gold lettering on the spines, and the Eyes of Sauron in colored foil to match the topstain. The covers look great but there are no jackets and other flaws - I have another set of these that are not read, though really I think the readers look better on the shelf - what was up with the awful jackets on those gorgeous books, anyway?
Maybe I'm an oddball in the collecting world - I read hardcovers, and most of my reading copies of other Tolkien titles are first printings that were just like new when purchased (I can hear you cringing

). The reason really is that my collection is less about age, rarity or market value and more about attractive presentation...
Cheers!

David O.

25 Jul, 2007
2007/7/25 3:35:18 (GMT) Greenwich Mean Time, London, Dublin, Lisbon, Casablanca, Monrovia
My reading copies are the Quality Paperback Book Club editions with Tolkien's cover art. They are nice trade paperbacks that have the same pagination as the HMs and Unwins, and they hold up pretty well even after many readings. My old '78 HM boxed set is my other reading copy, the one that I used from age 13 until about 35 when I retired them and switched to paperbacks.

Mithrennaith

15 May, 2008
2008/5/15 16:44:41 (GMT) Greenwich Mean Time, London, Dublin, Lisbon, Casablanca, Monrovia
Aye, well, for a very long time my reading copies were the 1979 Unwin Paperbacks series (Hob, LotR, Sil, two vol. of small tales and a matching design but larger format Foster) and the Unicorn UT. So long that in fact FotR, RotK, Sil and Foster have come apart and UT almost.

In the later nineties I switched over to a HC one volume paperback for LotR (Howe's Gandalf cover).

Nowadays, my reading copy of LotR is a HM one volume paperback 50th anniversary, for Sil it is a first Billing printing A&U hardbound, since I've got two of those (one thrown in with a first edition LotR I bought at an auction). For Foster it's a 1978 A&U hardbound as well. For Hob I don't really have a reading copy, when I want to look up something I get out a 2nd annotated edition (hardbound). And I still use my old dilapidated UT.

I have bought better preserved copies of all the ruined paperbacks (exept Foster, I've got a Ballantine paperback of that, Hildebrant cover, and a Ted Nasmith HC hardbound), to stand on my shelf for old time's sake.

My HoMe 12 has also fallen apart, and 10 and 11 are about to, so in Moreton I bought a 3rd/3 volume HC hardback on the cheap, as a copy lacking the overall title page/copyright page was on offer.

Note that my reading is nearly all done in English - I have quite a few copies of all Dutch translations, but I don't really read them. When I do, I use an india paper Spectrum hardbound (2001 printing of 1996 second revision text) of LotR and the matching boxed set of Hob(2000 second revision text)/Sil(2000 first revision text)/UT(2000 printing of 1998 first revision text). When I need to check on the 2003 third revison texts of LotR and Hob I usually very carefully open the Alan Lee illustrated editions, issued in 2003 as a boxed set only, for which those revisions were specifically made. I do so certainly for the appendices, as all subsequent editions either lack appendices or include the 1996 text of those.

O, and I do have a dilapidated Dutch Hob from childhood, 1975 Prisma paperback with a Shire banquet on the covers. Must have read that to that state in the four years before I switched over to English - and the rest. I found it back about four years ago in my mother's garage.