Bonhams Auction March 21, 2018 - 1st/1st Hobbit no DJ
By
Urulöké


Feb 28
---
The following auction at
Bonhams
in their London, Knightsbridge location, on March 21, 2018 has two lots of potential interest to Tolkien collectors.
FINE BOOKS AND MANUSCRIPTS INCLUDING SYLVIA PLATH AND TED HUGHES
The Property of Frieda Hughes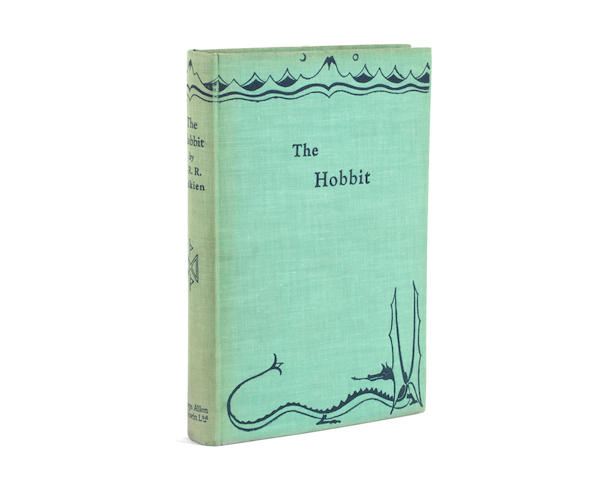 Lot 291
TOLKIEN (J.R.R.)
The Hobbit or There and Back Again
, FIRST EDITION, FIRST IMPRESSION, frontispiece and 9 plates or illustrations (all but one full-page), map endpapers (printed in red and black) by the author, publisher's green cloth, lettered and decorated in dark blue, top edge green, slightly leaning, spine a little dulled but generally clean [Hammond A3(a)], 8vo, George Allen & Unwin, [1937]
£ 2,000 - 3,000
US$ 2,800 - 4,200
The second lot I believe is estimated based on the value of the signature (Ted Hughes) so probably not something of interest here, but I am sharing it for completeness.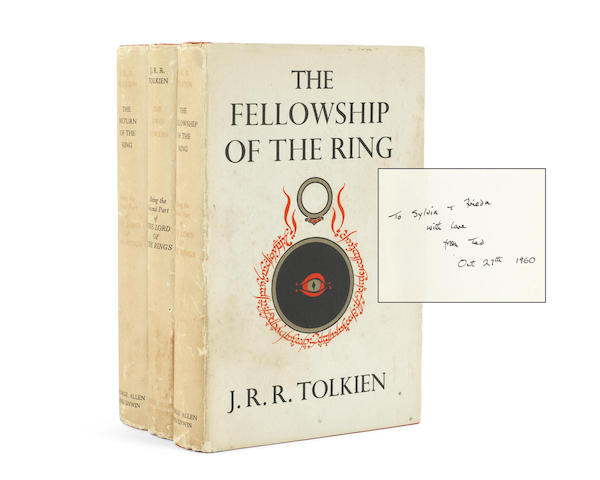 Lot 335
TOLKIEN (J.R.R.)
The Lord of the Rings, 3 vol., FIRST EDITIONS, later impressions, EACH VOLUME INSCRIBED BY TED HUGHES TO SYLVIA PLATH ON HER BIRTHDAY ("To Sylvia & Frieda with love from Ted, Oct. 27th 1960", on front free endpapers), 3 folding maps printed in red and black, publisher's cloth, dust-jackets (spines darkened, a few small stains on upper covers), 8vo, George Allen, [1960]
£ 4,000 - 6,000
US$ 5,600 - 8,300