(1)
2
---
Day one
I landed in Heathrow at 1:30 PM local time on Thursday May 31st after a fast but uneventful 10 hour flight - fast in that we had a tail wind and so were approximately 40 minutes early. I managed perhaps 3 hours of sleep for the overnight flight, but excitement kept me going for the full afternoon and evening reasonably well.
The airport necessities thankfully went extremely smoothly - I was able to get off the plane, through immigration and customs and to the Central Bus Station by 2 PM and thus catch the 2:20 express bus to Oxford. My plans for lodging were to share an AirBnB house in Headington with friends from the US and UK, so I let them know I was on the bus and coming. Lynn Maudlin was coordinating much of the logistics, and let me know Bruce Meyer's flight had been delayed and to see if we could find each other. Sadly, I saw no sign of him and didn't get a response to my text message, so I settled in for a quiet 90 minute bus ride.
To my surprise Bruce got on at the Terminal 5 stop! We hadn't seen each other since The last Mythopoeic Conference in Berkeley five or six years previously, so we had a wonderful chat for the ride into Headington, discussing recent acquisitions for our collections and what we hoped to do and see this weekend.
Bruce and I arrived in Headington around 3:45 and made our way on foot from the bus stop to our temporary residence, a local landmark called The Shark House. It is so called because there is a 10-12 foot long shark sculpture sticking out of the roof and visible from quite some distance - making it quite easy to find!

I will add a picture soon as I forgot to take one upon arrival.
We were greeted by Lynn at the door, and came in to say our hello's to many of our fellow travelers -
Aelfwine
(Carl Hostetter), Jason Fisher, Pat and Trevor Reynolds, and David Bratman. This was my first time meeting Pat and Trevor, which was quite a pleasure! I have known of them through the Tolkien Society for many years, but this was our first opportunity to chat. Everyone else I was friends with already through the Mythopoetic Society and prior MythCon meet ups.
After an hour and a half of wonderful and wide ranging discussions (I distinctly recall Jason's pleasure at being able to have a good discussion of the merits of various citation methodologies with this crowd), and a quick shower and change into more appropriate attire, five of us set off in the rain for the invite-only reception and opening ceremony at the Weston Library at 6 PM.
Beren
(Pieter Collier) was waiting for me at the entrance with my badge already in hand, as he and I had agreed - he was responsible for my invitation to the reception, for which I am extremely grateful! As the others in our group found their badges as well, Pieter and I went inside and immediately found Marcel Aubron-Bülles, another mutual friend whom I have known for years online but never met until now!
The reception was open for mixing and chatting from 6 until 6:30 before the opening speeches, and there were approximately 300 people attending so there was absolutely no way to even figure out who all was attending, let alone have any significant conversations, but it was quite fun and I had the chance to say hi to many wonderful people including a five minute chat with Priscilla Tolkien, and briefer pleasantries with Alan Lee, Brian Sibley and David Weeks, David Brawn from HarperCollins, Ian Collier, Alan and Louise Reynolds, Wayne Hammond and Christina Scull, Cathleen Blackburn from the Estate, Tim Tolkien and a few other family members from Hilary's side, and many others. Also seen from a distance were Baille, Royd and Michael Tolkien, Verlyn Flieger, Tom Shippey and a few more people I hoped to greet but never managed to.
At 6:30 or so, Richard Ovenden, Librarian at the Bodleian gave a speech to kick things off, thanking everyone involved from all over the world in the multi-year effort to bring this exhibition together, before handing the podium over to Michael Tolkien for the official opening statement. Both were great speakers. With the official opening done, we were allowed to view the exhibition and take advantage of the museum shop for the remainder of the evening.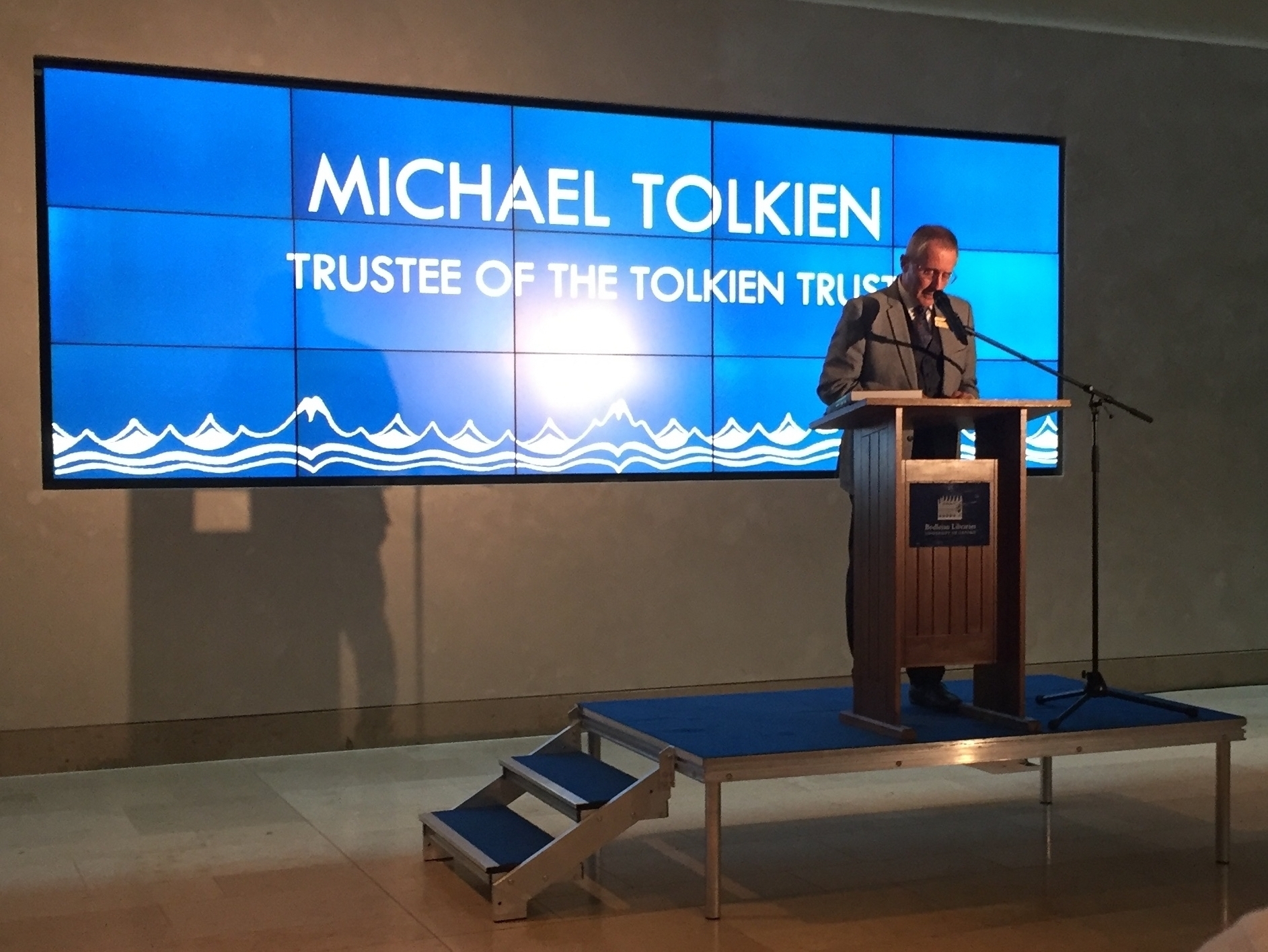 It was mostly quite crowded in the exhibition as many people were only in the area for the evening, and since I am spending Friday at the exhibition as well, I don't have detailed notes to share except that it was everything I hoped for, and the amount of material on display is incredible!
After the viewing I visited the shop a few times between various conversations, and was able to meet the wonderful sales staff (hi Lucy!) whom I have been corresponding with since last year in preparation for this visit. A few small purchases later (I will be back for more) and after delivering to Ian the books he had ordered from me (and hand carried from the USA) those of us not invited to the private dinner left to find some food in the torrential downpour.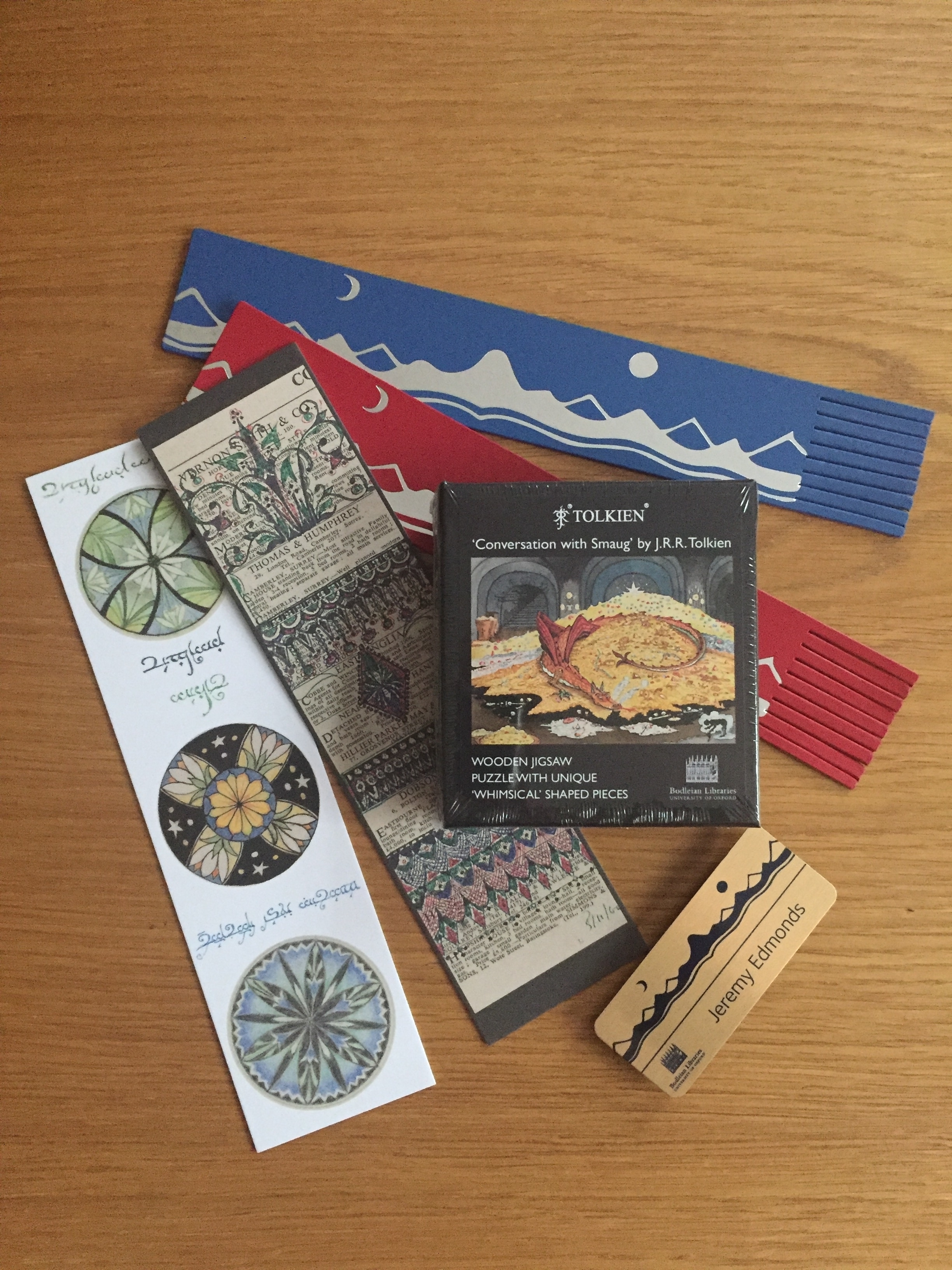 Nearby we found a pub and were able to get food orders in just before the kitchen closed at 9 PM. It was myself, Pieter, Marcel, Ian, and David Bratman, joined by Daniel Helen, Anna Darnena, and Niamh Riordan from the Tolkien Society staff. After food and good conversation, and waiting for breaks in the rain, we disbursed to get to our various places to sleep.
_________________
- Jeremy
---
Thanks for the report, Jeremy. Makes me wish I were there too; but it's too far and expensive for me to travel from Australia.

Did you get the two new books, or are they not yet available for sale in the gift shop?
_________________
"Crows and Gibbets! What is
the House of Eorl
but a thatched barn where brigands drink in the reek and their brats roll around on the floor with the dogs? You are but a lesser son of greater Sires."
---
I have both books but haven't had a chance to write up anything. My short recommendation is to get both.
_________________
- Jeremy
---
Also quickly -

Tolkien: Treasures will be paperback only.

Tolkien: Maker of Middle-earth hardcover has gone to second printing to be delivered on Thursday, and third impression has been ordered. The paperback is exclusive to the Bodleian Shop.
_________________
- Jeremy
---
That's wonderful news. Thanks Jeremy!
_________________
"Crows and Gibbets! What is
the House of Eorl
but a thatched barn where brigands drink in the reek and their brats roll around on the floor with the dogs? You are but a lesser son of greater Sires."
---
Day Two
Friday June 1 marked the public opening of the Tolkien: Maker of Middle-earth exhibition. Those of us in the house with 10 AM entry tickets finished our morning rituals and headed out for the bus ride around 9 AM or so and made it to the Weston Library around 9:30 AM.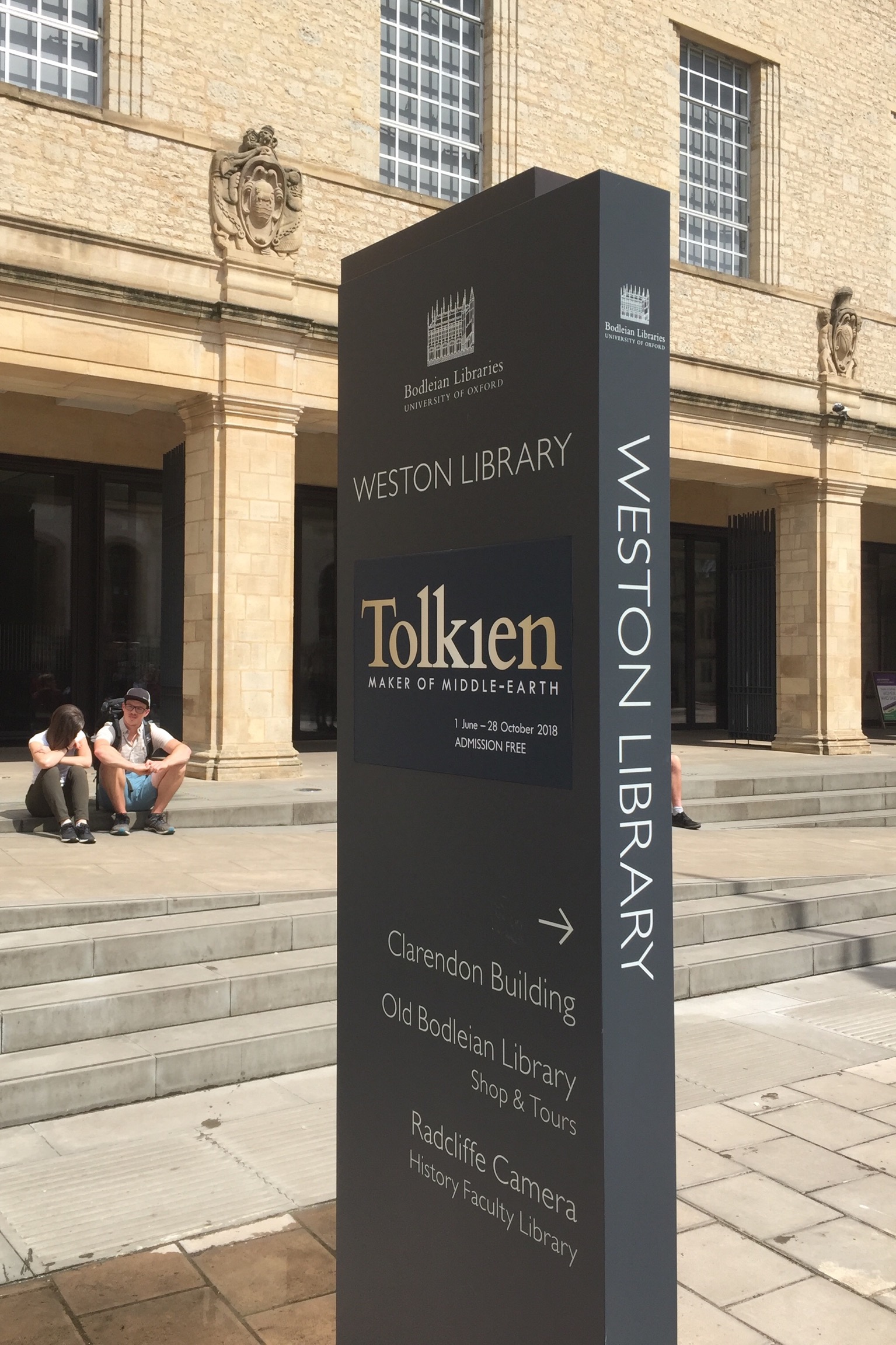 I was thankfully able to meet up with Pieter Collier one last time before he had to head on to another obligation - the first of what will be many poignant goodbyes to friends old and new (in this case quite a long friendship - my family and his having met and enjoyed time together many years ago, even though we live on opposite sides of the globe).
I spent more time in the Bodleian Shop and had more wonderful conversations and made more purchases while waiting (thanks Ben!). This morning they had the exhibition poster out (where I noticed it), as well as a pair of books and a few other small items for the kids. (Really! Not all of this will be just for me, I swear.)
Heading over to the queue a few minutes before opening I found about twenty people already there - with a brief moment to say hi to Wayne and Christina at the front before joining at the back and heading in.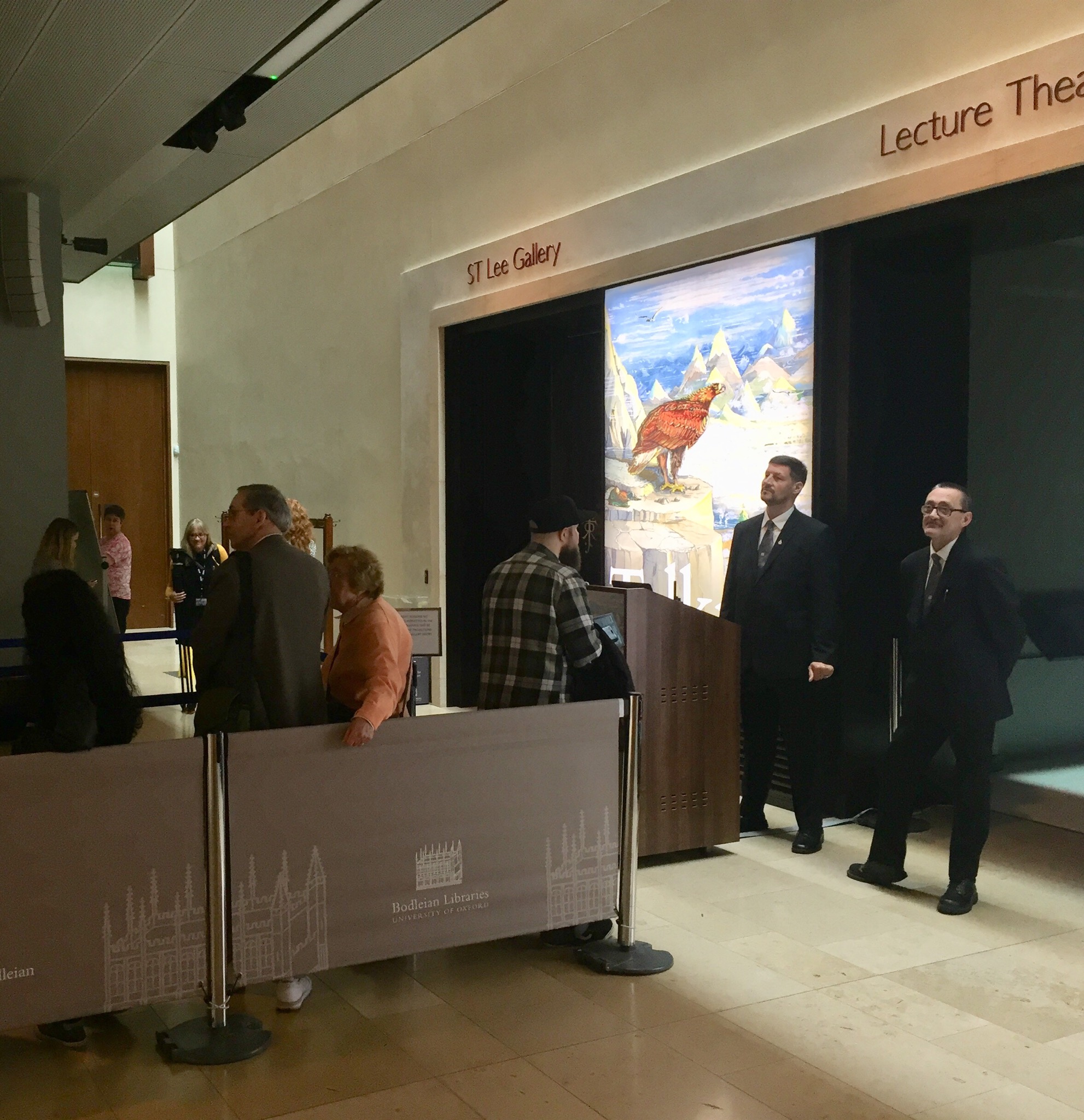 The entry foyer was lit only by multiple projectors sending Tolkien related imagery on the floor and walls - here was the last opportunity to take pictures before the exhibits themselves - hopefully some of these pictures convey the sense of anticipation and fun I felt, though it was challenging to get good quality with a cell phone camera and while walking in with people following behind also anxious to enter.
First noticed were the maps being projected on the floor - these were animated.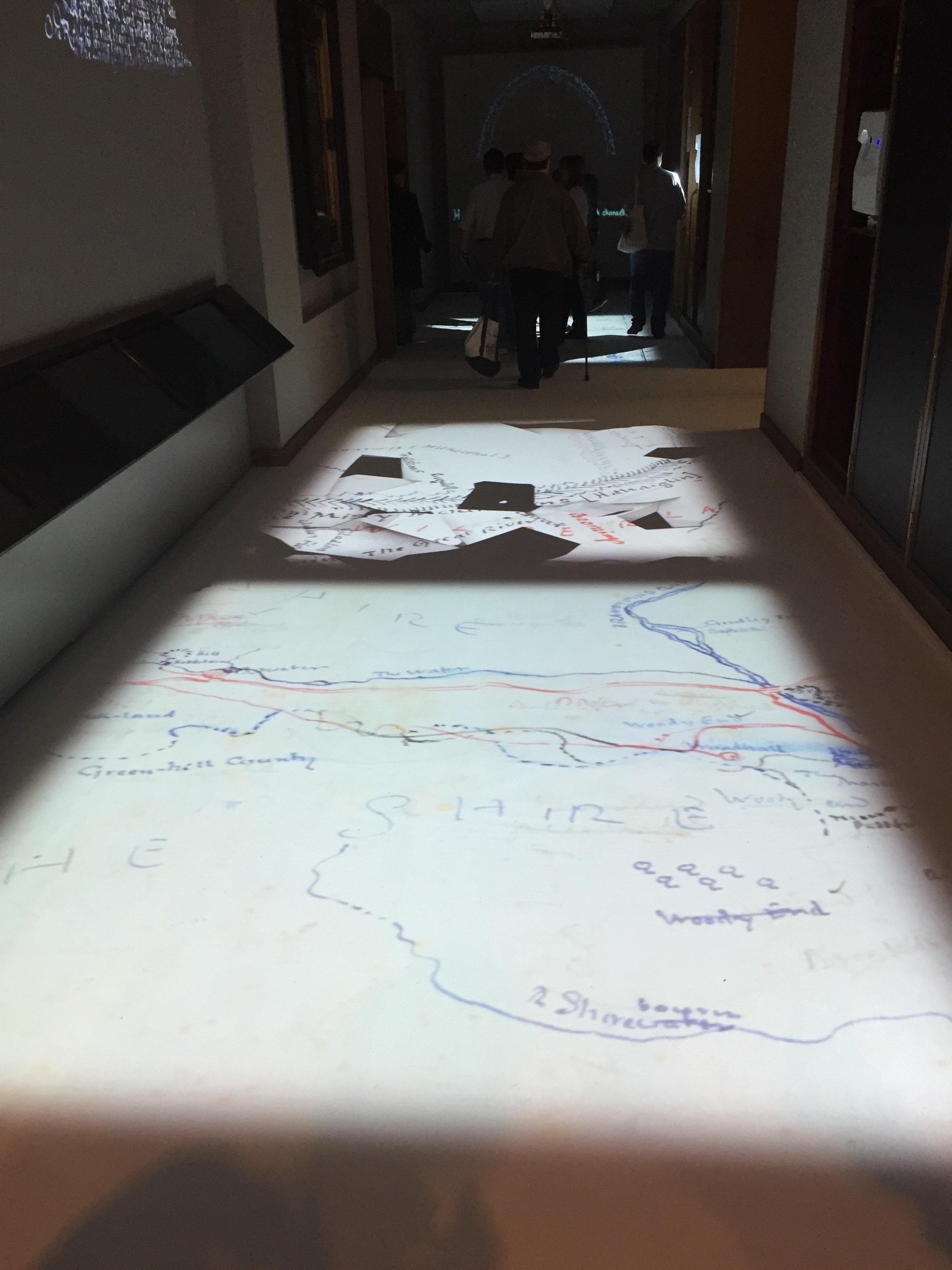 On the left as you come in was this animated ring motif - the inscription rotates around the ring itself.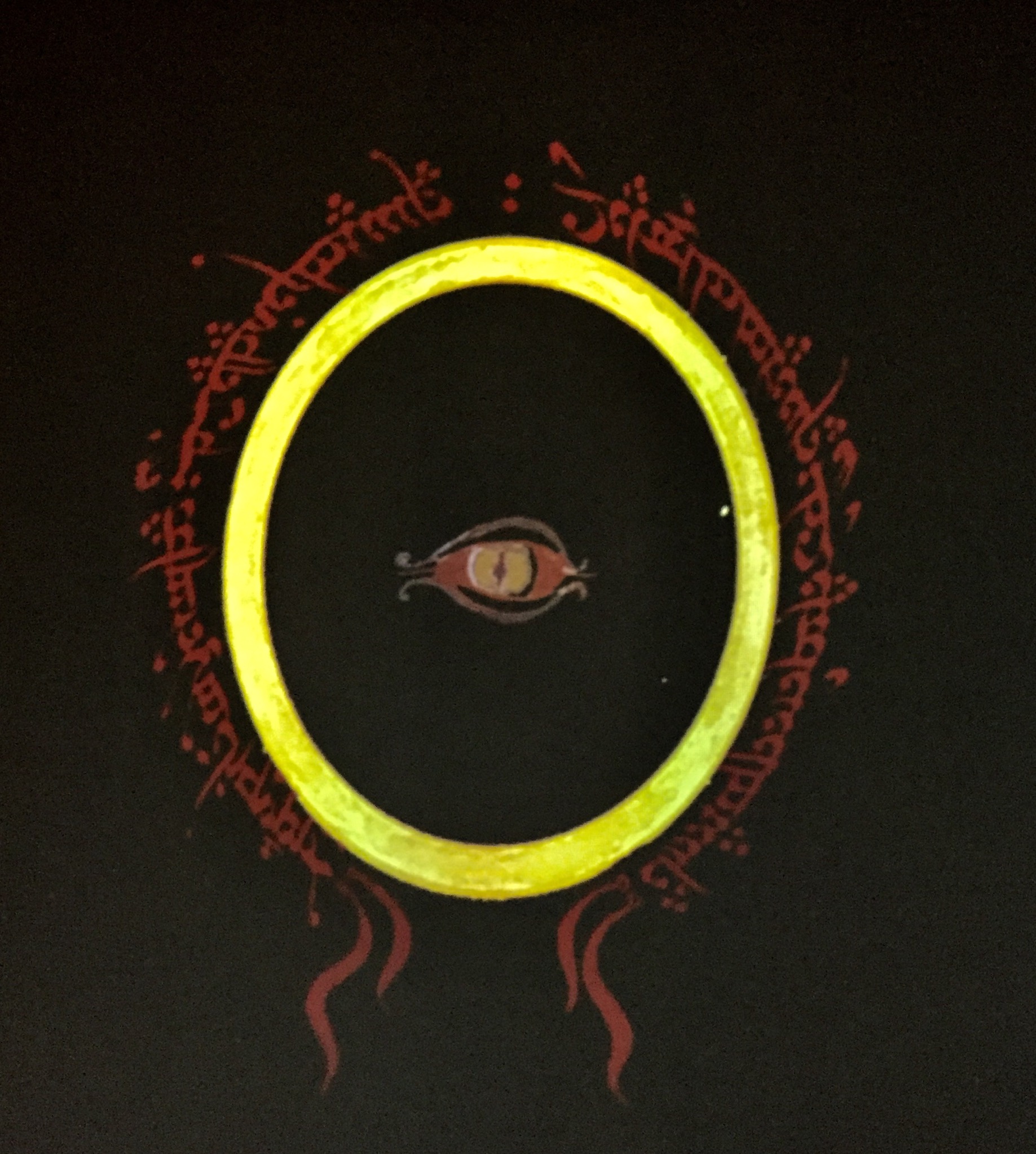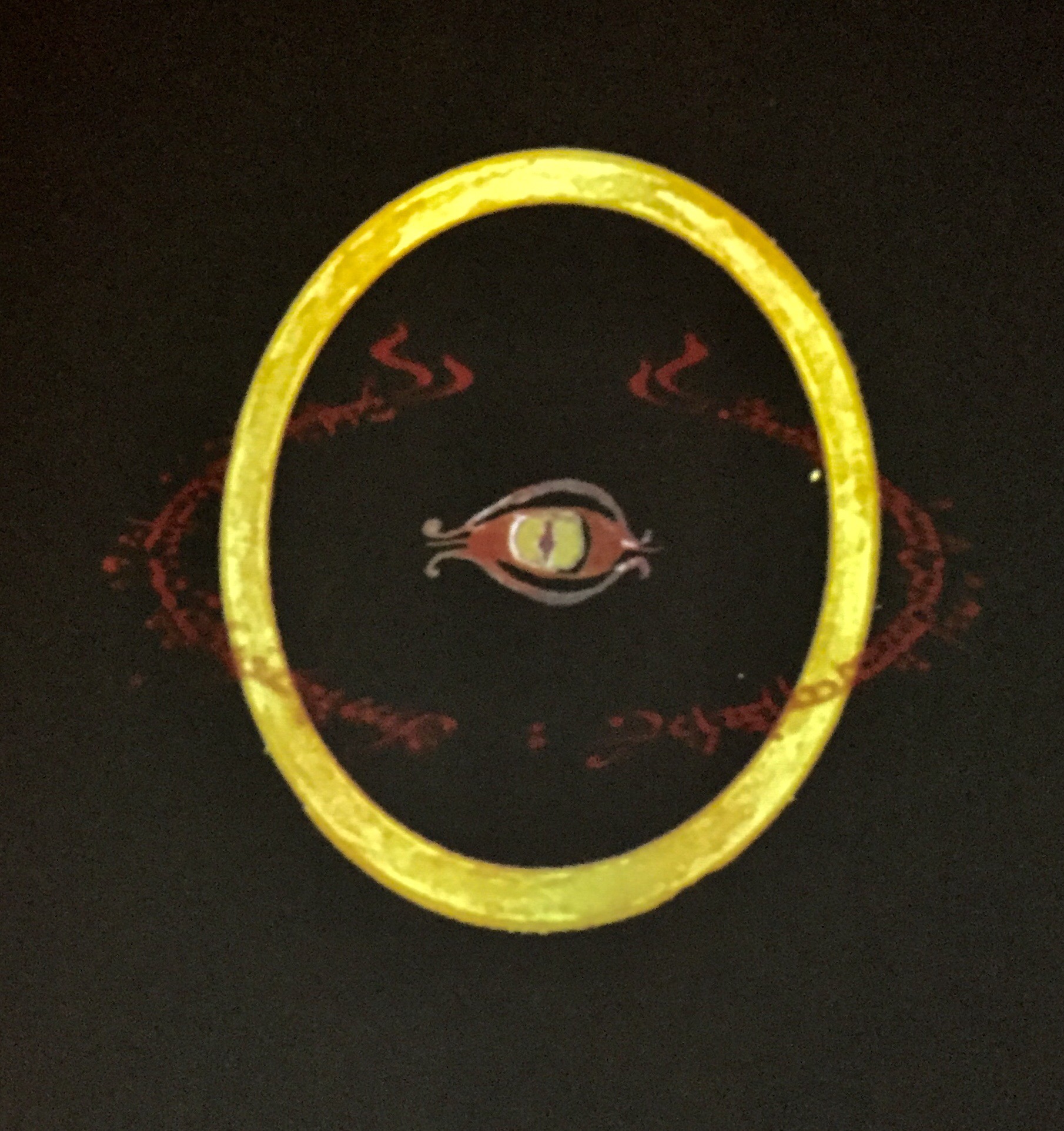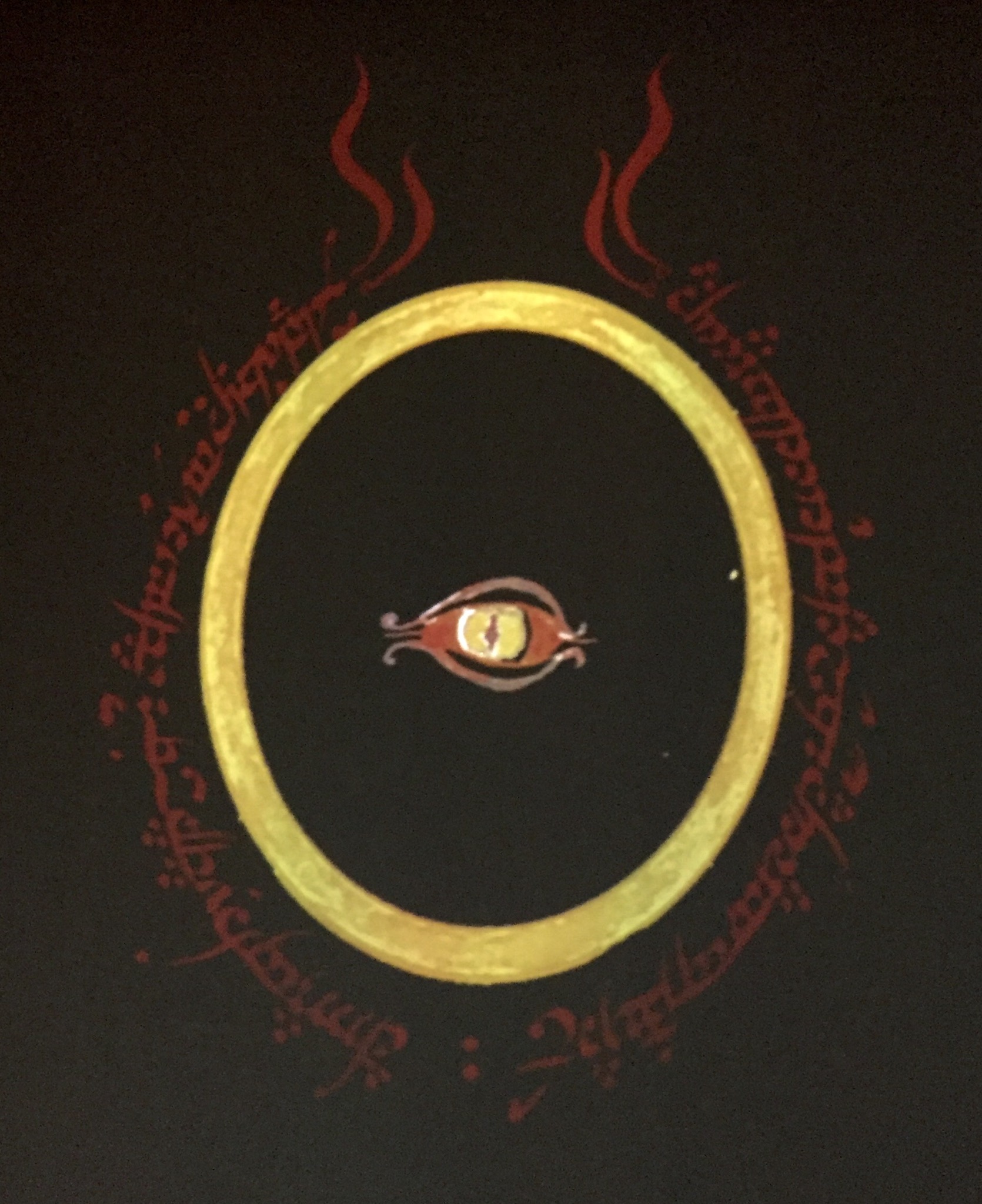 Next on the left was this red inscription that was also animated but harder to capture.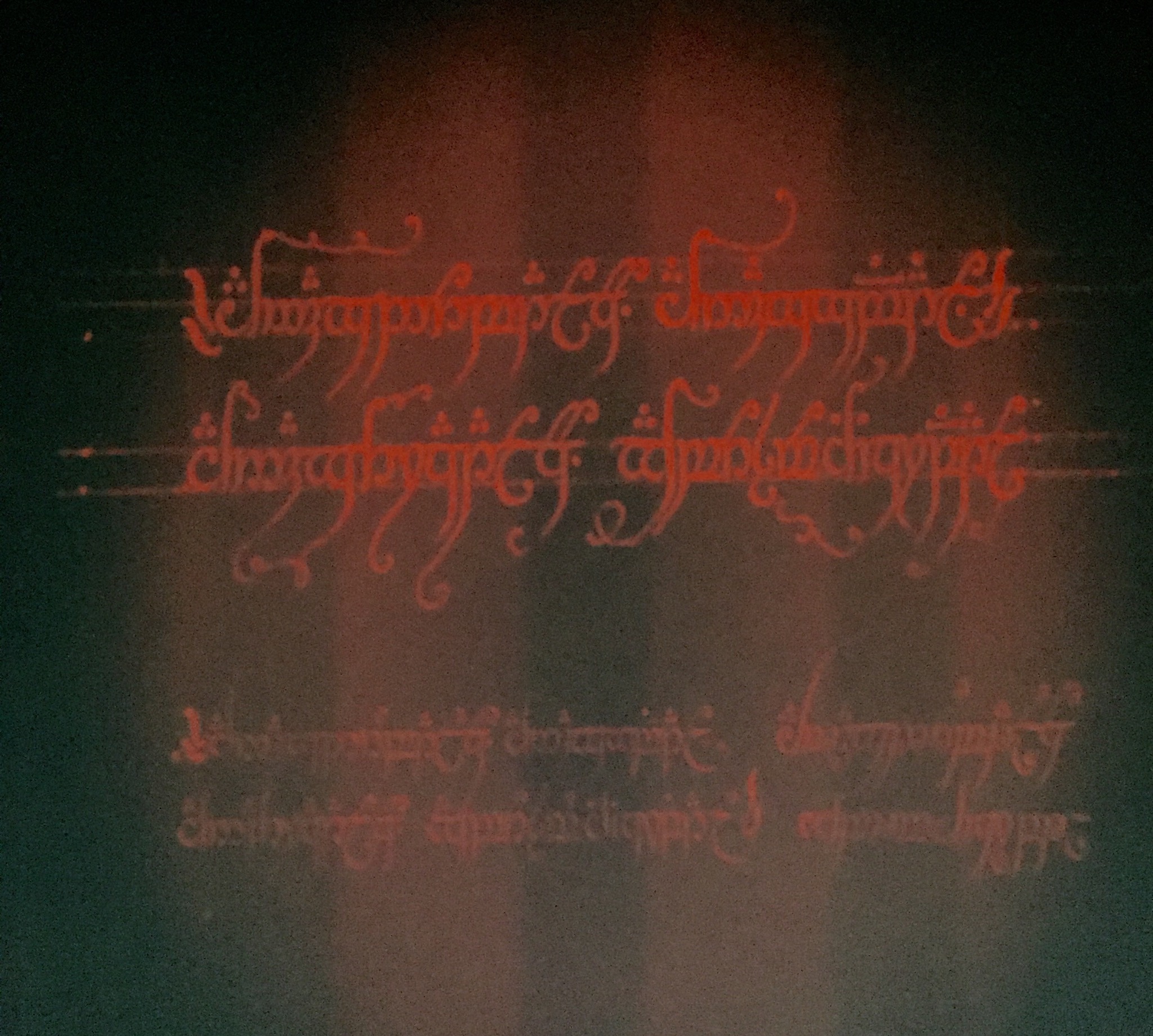 Further in you approach the Doors of Durin and you can see the art prints on display to the right, with the exhibit entrance on the left.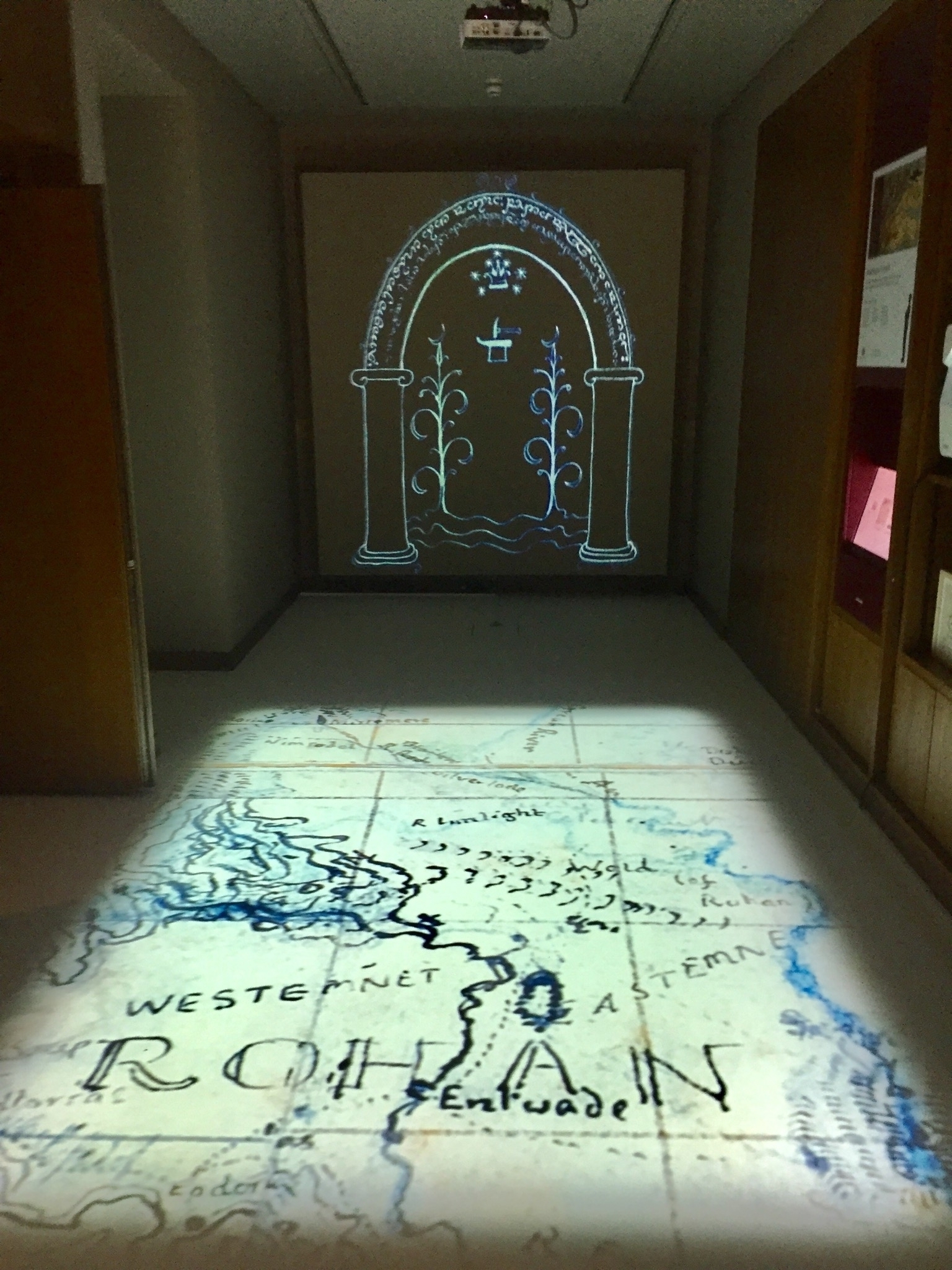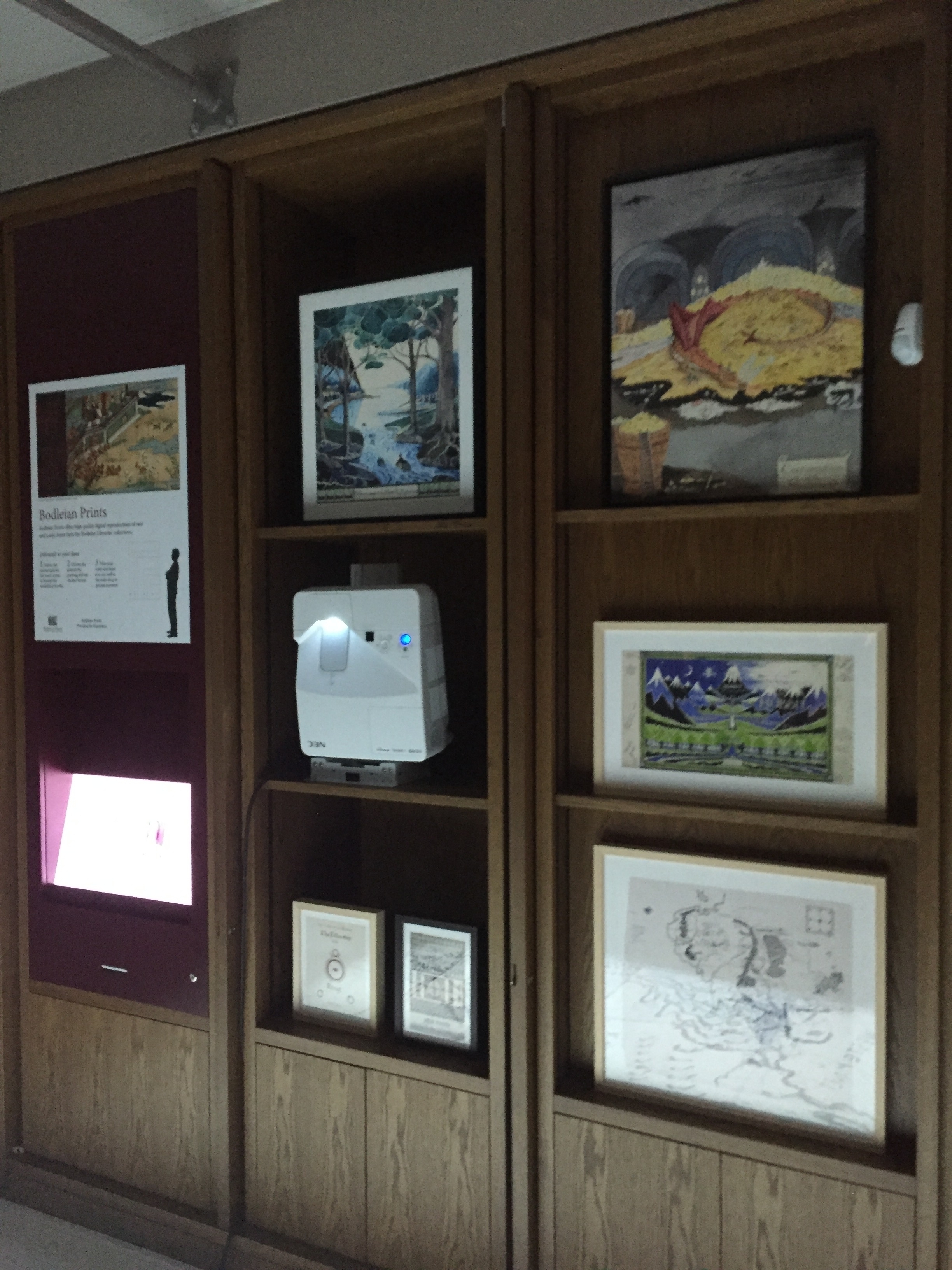 The exhibit itself was in two connected rooms, with a few hundred or so items on display. Just in front of you as you enter is a free standing cabinet with photos of Tolkien and his family, letters to Edith, and other memorabilia from his early life and the Great War. I turned right from here, where along the wall was displayed original artwork from the Hobbit - they seem so small hanging free against a black wall and subtly lit from hidden lights. His artistic hand on such small canvases is amazing in person.
Across from this wall was another free standing cabinet with Tolkien's desk, artwork supplies like pencils, paints and brushes, a chair of his with a few pipes and a tobacco tin, a hat of his and more photos and a few other small mementos. I was greatly touched by the colored pencils that had been used down to extremely small nubs - not much more than a centimeter left, so they must have been incredibly hard to use with his characteristic precision, but still too precious to replace.
Turning left again (so now looking at the wall opposite the entry) is more original artwork, including pages and cover from the Book of Ishness and Roverandom, his heraldic devices, and many of his detailed doodles on newspaper pages. Christina pointed out to me some interesting challenges she and Wayne faced in describing Ishness art in their publications, and that much of the newsprint was masked out when reproducing his doodles for publication so in person was the best way to see everything at once.
As you go down this, the longest wall of the exhibit, you pass three more displays in the center of the room - a 3D-printed topographic map of Middle-earth upon which was projected an animated timeline of events from The Lord of the Rings - I really enjoyed this, but be prepared to spend ten minutes or more if you want to see the whole progression. Catherine McIlwaine told me (later in the day) the story of how the map came to be, with all the back and forth trying to minimize impact on the room configuration, but once the scope of what could be done was evident, the Bodleian approved the full project (entailing ripping out the original display case, changing the carpet for the larger installation, and ripping out and reworking the ceiling for the projector installation). It is well worth it!
Just past this is a pair (identical) of touch screens with elvish language tutorials and audio clips, and a quiz if you are so inclined. Carl Hostetter helped with the development of this exhibit and was quite complimentary for the students (and others?) who did a great job with the pronunciations. He gave it two thumbs up for accuracy though admitted that some of the words were made up (not from Tolkien's extant vocabulary but extrapolated from what we know).
The third and last grouping of cases contained a wide variety of maps that Tolkien drew - one of my favorite parts of this exhibition. It is amazing to see all the detail on tiny versions drawn on scrap paper, and quite large ones on lined graph sheets as well. There are attached flaps where portions were reworked, pieces of paper attached to edges where needed to expand the surface for more detail, notes on top of notes, and more. These maps warmly remind me that I grew up reading the first editions of The Lord of the Rings with the giant fold-out maps, and how I was inspired like countless others to draw maps of my own imagined worlds directly because of this experience.
Another wall display now, with all of the original pages from the Book of Mazarbul and the letter from Aragorn to Sam. The Mazarbul pages are a personal favorite of mine, I was so happy when they finally were able to reproduce one in the Lord of the Rings (they were much too expensive to do in the 50s). They are just incredible in person, and we're my main reason to buy the fine art print set that includes one from the shop.
Passing the exit and circling back the room towards the entrance, you see Pauline Baynes' original artwork for the Map of Middle-earth - quite large compared to Tolkien's originals! I've always loved her illustrations and this map, so it was a pleasure to see the original.
Around from this was a large touch-screen TV that looks interesting, but has been occupied for both my visits so far - hopefully I can experience this on my third and final visit, so hopefully more soon...
The last main wall display, just by the entrance again, is full of published books (English and many translations) by Tolkien and a selection of letters from fans, including the one sent in by a very young Terence (Terry) Pratchett. There are at least a hundred books here, but sadly none I haven't seen before 😉.
This round through the exhibition took me an hour or more, with many conversations interspersed with contemplation. I caught up more with Alan and Louise Reynolds, and finally met Beregond (Anders) in passing.
The next hour or two was spent in the lobby area near and in the cafe, talking with Trotter (Andrew), Alan, and others, and I did a deep walkthrough of Blackwell's shop next door. There were a lot of displays for Tolkien of course, more than usual based on the exhibition of course.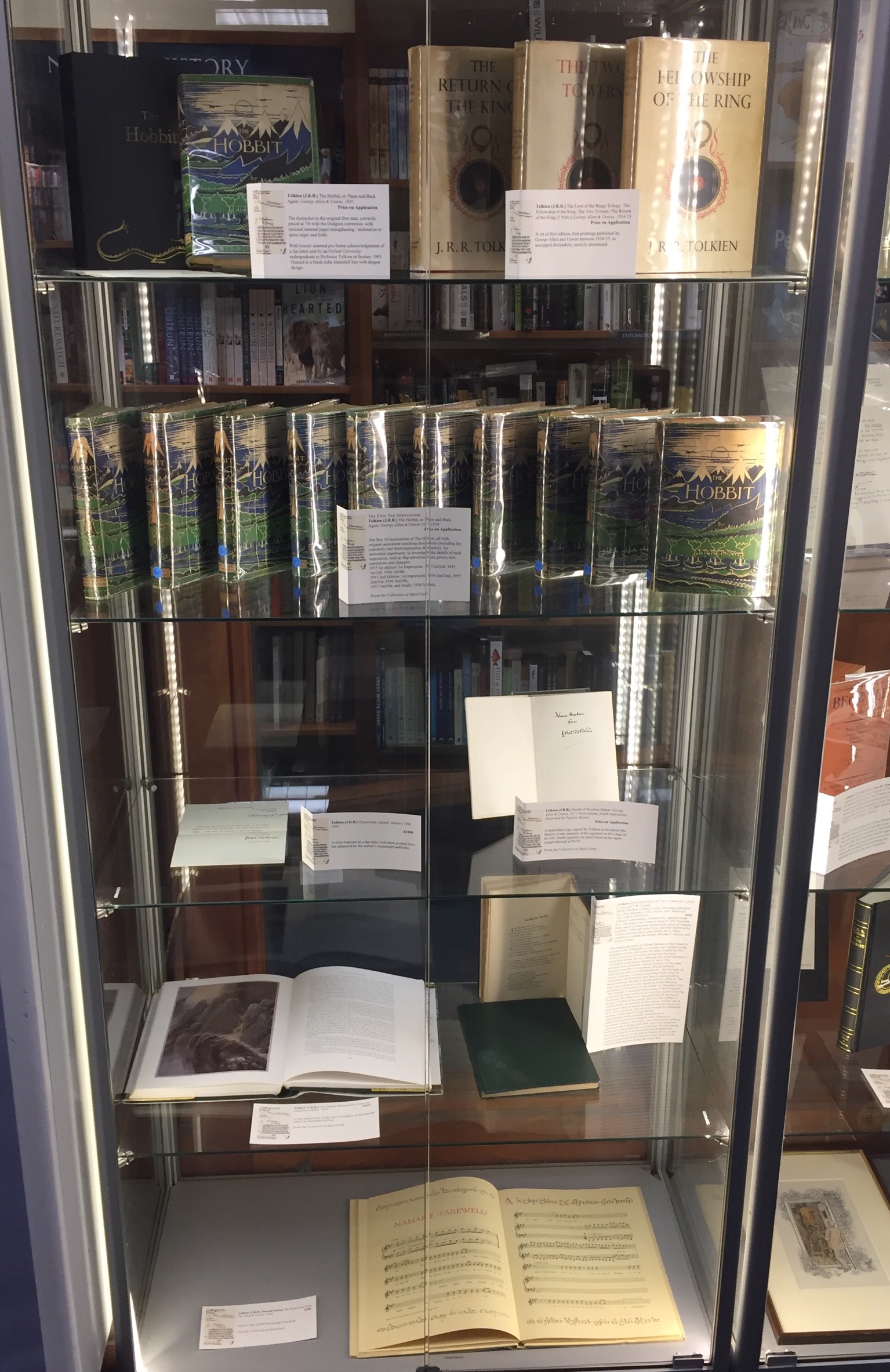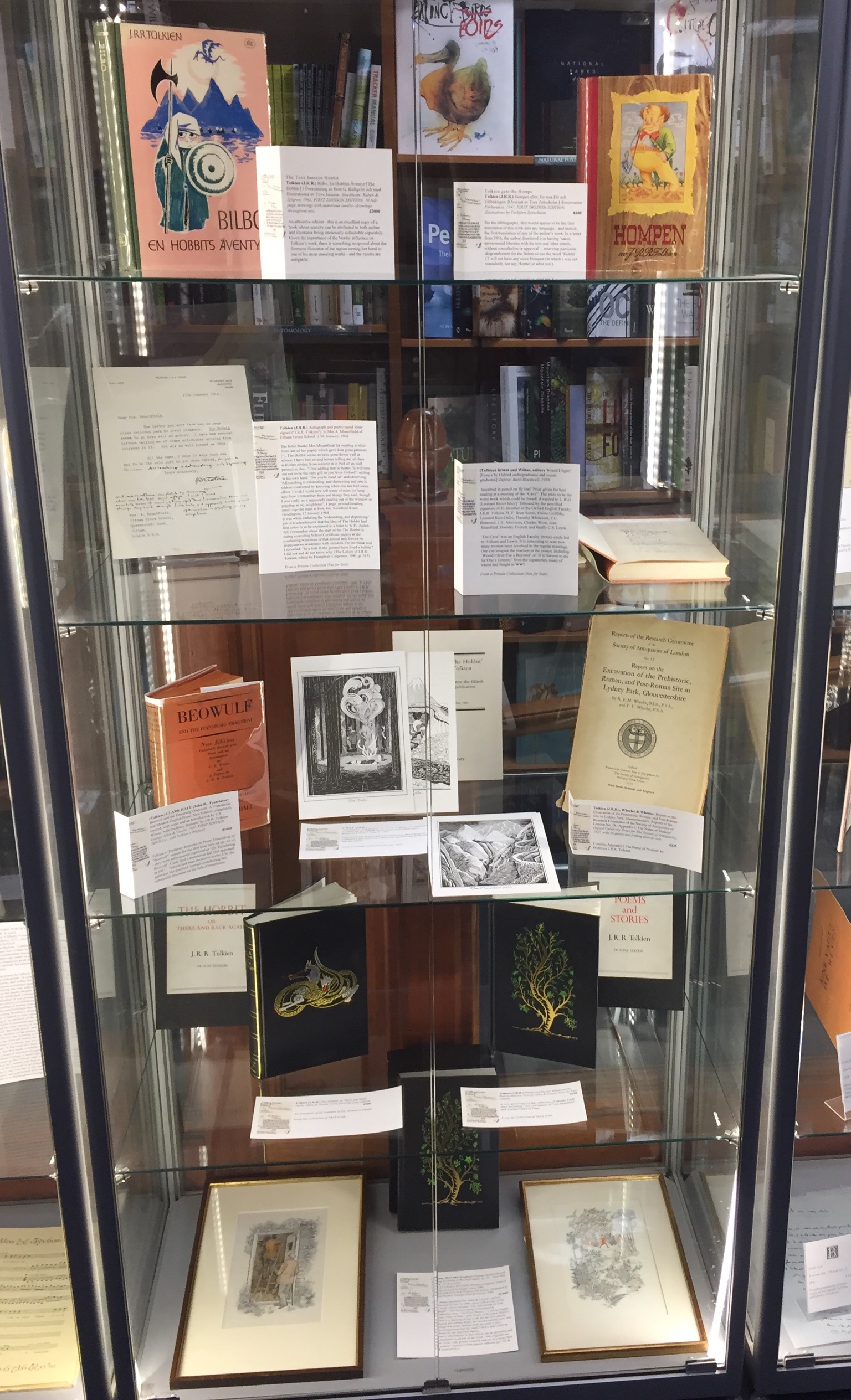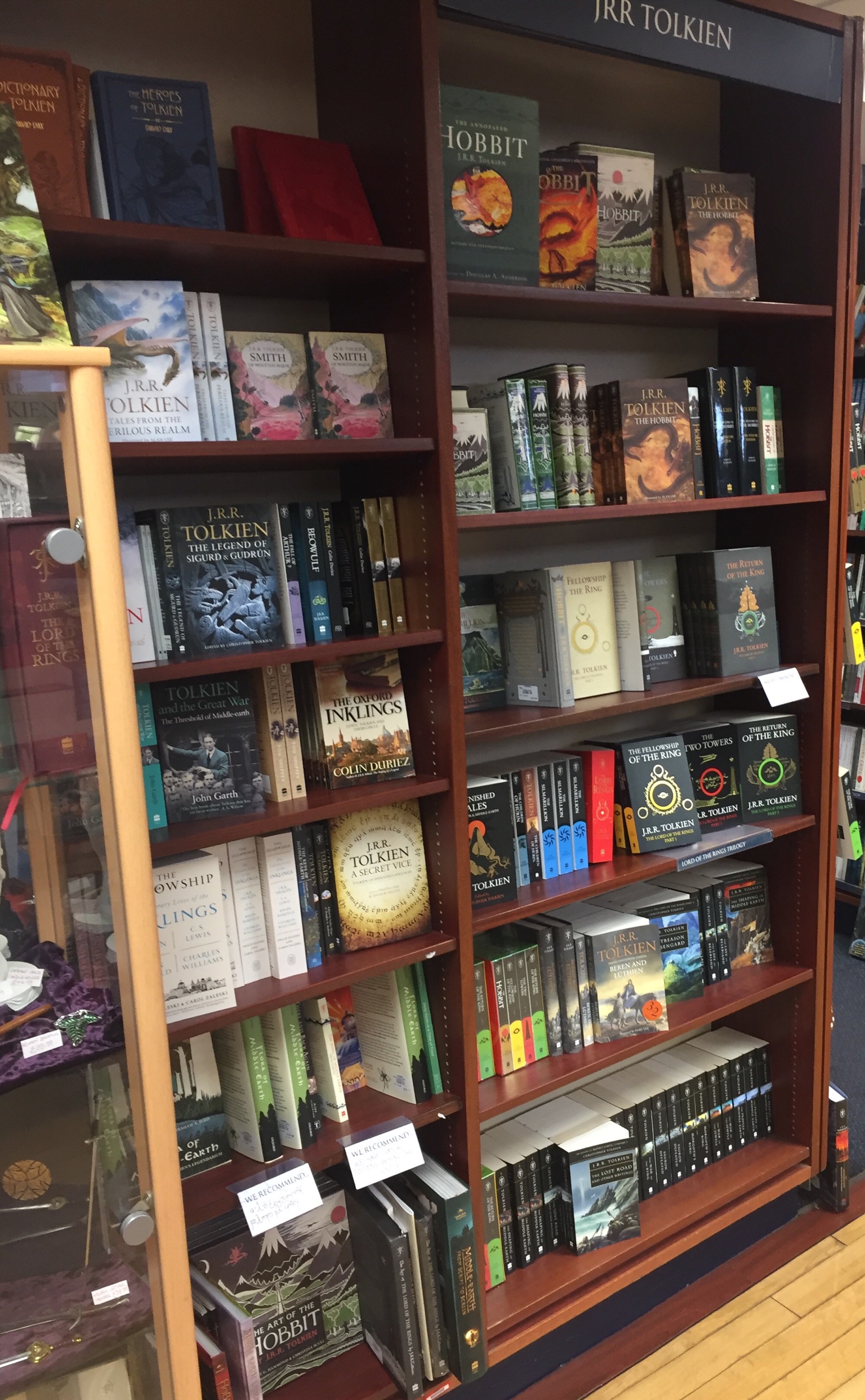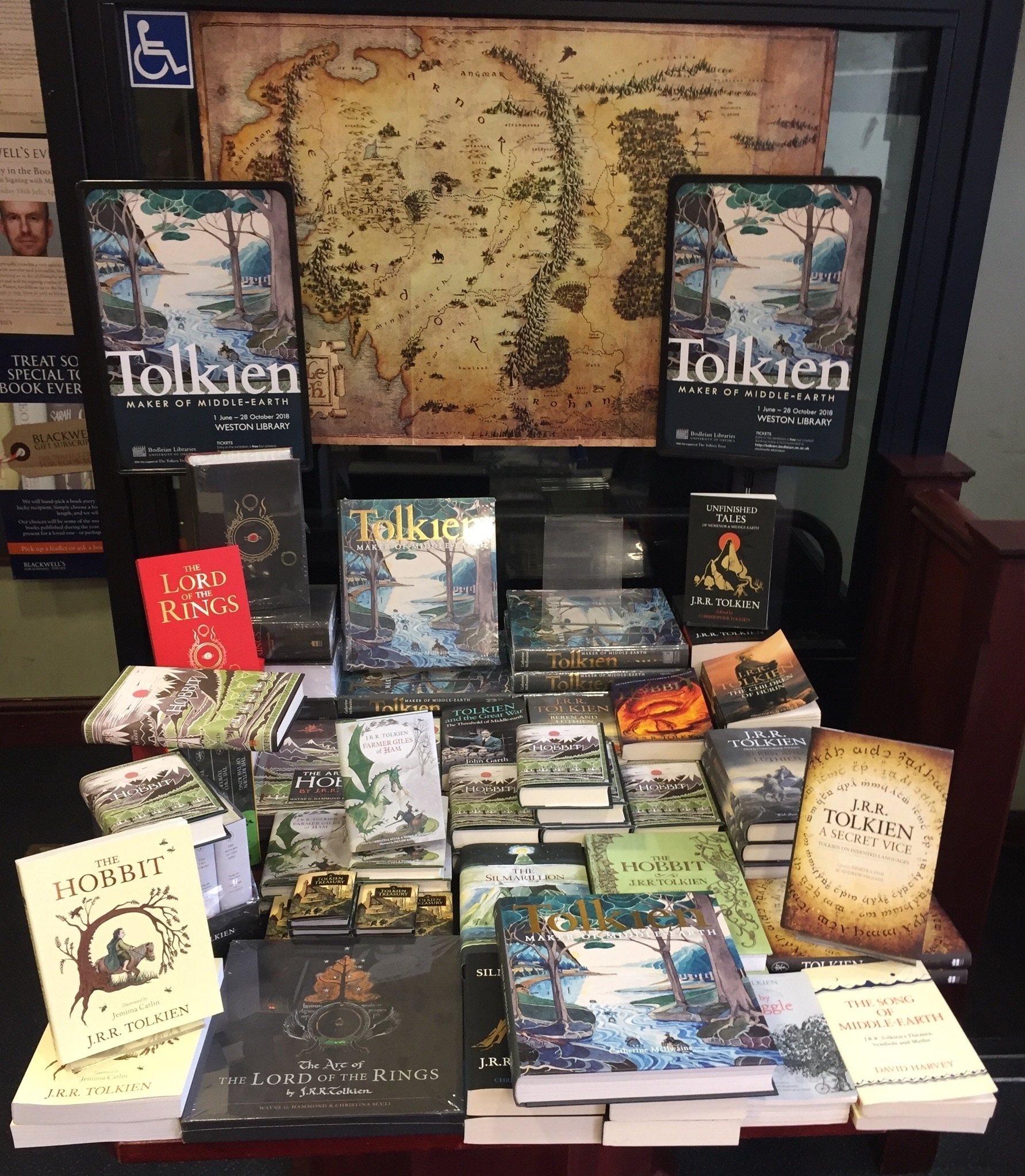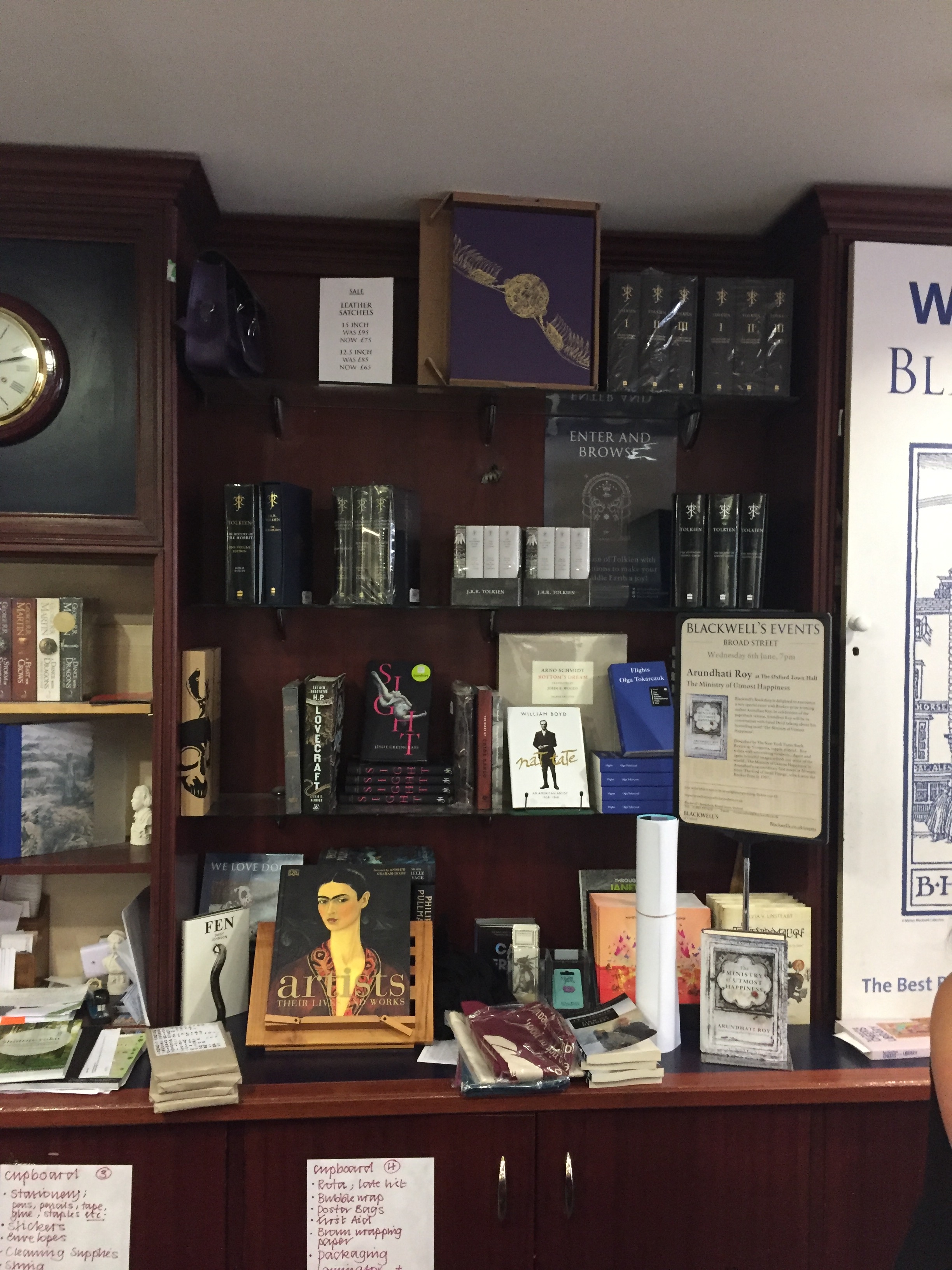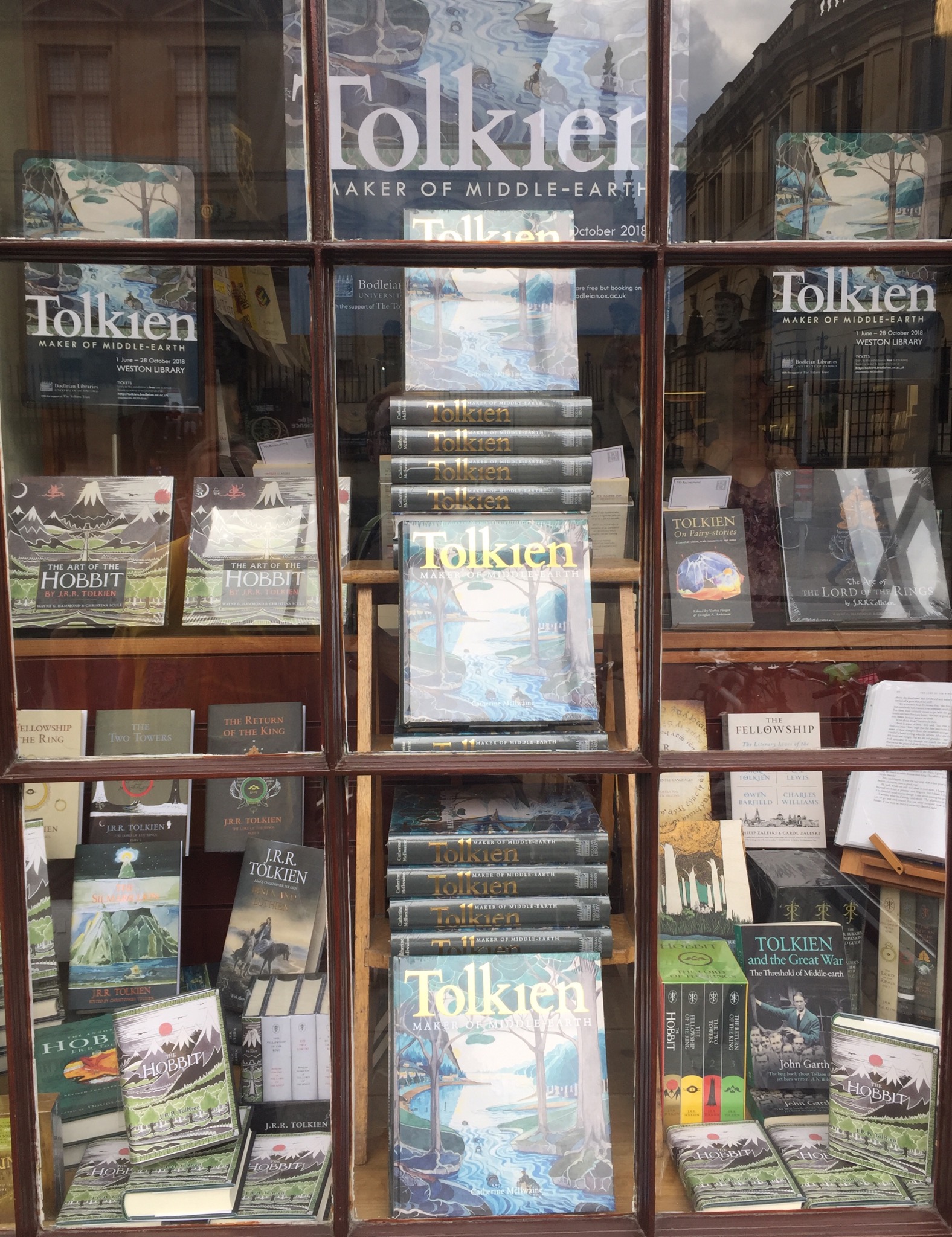 Marcel finally emerged from somewhere and he and I went off on one of our planned adventures - finding the location of an illustration in Diana Glyer's Bandersnatch book. She has been collecting photographs of her book in the wild from fans, and trying to get at least one taken at the same site as the (wonderful!) illustrations done by James Artimus Owen. We found the site with a bit of help from the friendly gate keeper who showed us where we wanted to be, pulled out Marcel's copy of the book and a selfie stick bought just for this occasion, and took the shot. Success! Then we spent near an hour walking the grounds and talking translating, international Tolkien society diplomacy, and sundry.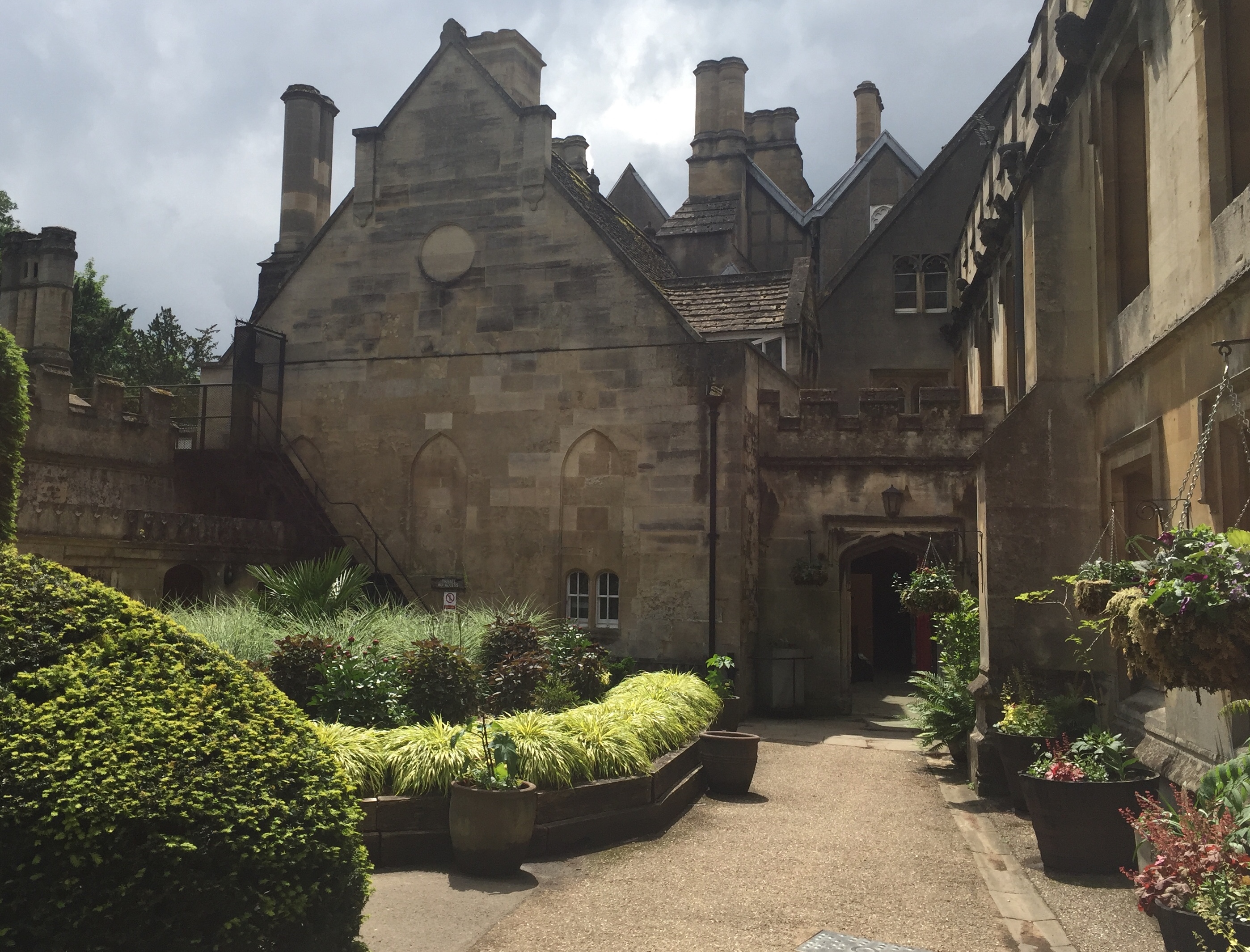 Finishing that tour near two, we headed back to the Weston where we met up with Andrew and Jason, and chatted with Bill Fliss (Marquette) and Catherine McIlwaine (Bodleian).
Jason led us (Andrew, Marcel and me) on a pub crawl until 6 pm, enjoying conversation and ale in the Lamb and Flag and the White Horse, and a brief visit to Blackwell's in there somewhere. These were quite wonderful and fruitful, but not shareable sad to say as many works in progress were discussed.
Dinner at six was at the King's Arms, with a private room reserved and perhaps fifty or so friends and acquaintances in attendance at one point or another. I managed to procure the four autographs I needed (in a book I brought from the US for this specifically) which was wonderful. I think I knew (by this point in the trip) more than half of the attendees, but was only able to have good conversation with a dozen or so. It was a treat meeting Bill Fliss' wife (whom I have completely forgotten her name, many apologies!) and also talking with Bill about a research project I am working on. He encouraged me greatly to continue, which was quite nice. Also I spent a good amount of time catching up with Wayne and Christina (this trip being the first time we have met, though we have corresponded for more than a decade now), and finally spent a great amount of time chatting (and scheming) with Trotter about many things, including plans for TolkienGuide's future.
It was near 11 PM when the group dispersed, so it was back to the house and bed. Saturday plans are currently one more exhibition visit (this time with notepad and pencil), lunch at the Eagle and Child, and bookshop hunting in the afternoon.
_________________
- Jeremy
---
And apologies for any mistakes, and for minimal image processing - doing this entire trip on my phone only, no laptop. 😉
_________________
- Jeremy
---
Fantastic and very detailed description of your experience,thank you for that. Much appreciated!

_________________

---
I forgot to mention the pleasurable experience of hearing Carl sing Happy Birthday in Quenya to a rapt crowd at dinner. No recording was allowed. 😉
_________________
- Jeremy
---
That was one lucky fellow! :)
_________________

(1)
2