By
Urulókë


---
Back in the 1980s, Melissa and Mark Hime were booksellers under the business name "Biblioctopus" and put out many fine catalogs. They certainly had a liking for Tolkien related materials, as many catalogs had at least one Tolkien related lot, and they put out one catalog called
Precious Stones
(alternately
Eorclanstanas or The Hobbitiana
) in 1980 that was exclusively Tolkien related. All of the early catalogs have metallic cardstock covers with minimal design, and typically a small embossed symbol or word indicating the theme of the catalog. Four of the catalogs were important enough to bear mentioning in Hammond's and Anderson's
Descriptive Bibliography
for the primary materials mentioned within.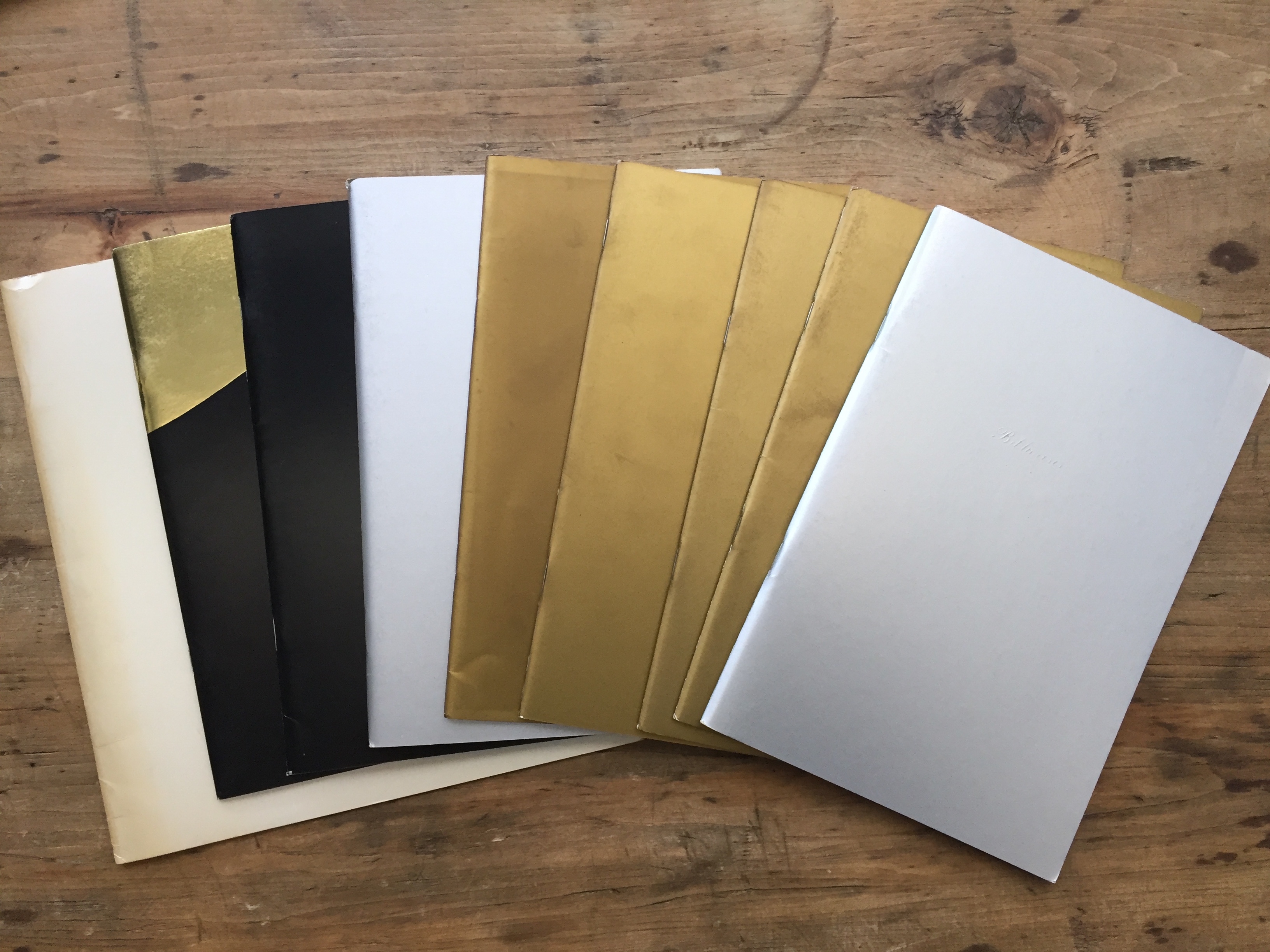 Note that the prices below are from the original catalogues and not present day!
Biblioasis One, or The Quencher - 1980
- Hammond Dii38 (mention)
Item 114 - ALS (Autograph Letter Signed), 1959. To Naomi Mitchison. Signed "Ronald Tolkien". $850
Ink and Lead, or, The Bibliolograph - 1980
- Hammond Dii45 (mention)
Item 31 -
Farmer Giles of Ham
, first edition. Also, autograph letter to Miss. How dated 12 November 1949. Mentions family game the book was based on, and forthcoming publications. $1700.
"Precious Stones" - Eorclanstanas, or The Hobbitiana - 1980
- Hammond Dii46
26 pages, 63 items. Of note are:
* items 4&5 for A Middle English Vocabulary in two states (184 and 186 ornaments) mentioned in Hammond A1, both pictured.
* Item 6 - 2 pages of Tolkien's manuscript philological notes laid in to a 1912 copy of Schroer's
Standard of Spoken English
.
* Item 14 - The Hobbit, 1st edition, inscribed with four lines of Middle English verse (pictured).
* Item 29 - Proofs of The Lord of the Rings. (One page pictured)
* Item 40 - Proof of The Adventures of Tom Bombadil (cover pictured)
* Item 45 - Colin Smythe correspondence set (see below)
* Item 47 - Galadriel's Lament manuscript fragment, handwritten (pictured)
* Item 53 - TLS (typed letter signed) from Christopher to Jared Lobdell, regarding
Compass for Tolkien
including the Nomenclature, and other letters to Lobdell.
(Christopher's letter reproduced in full)
* Item 56 - Father Christmas Letters, proofs of the first edition, ALS of provenance, and advance review copy (all of the American edition).
* (Item 63, though unnumbered in the catalogue) The Tolkien Phenomenon - a file of working papers including a 9 page typescript with holograph changes and corrections, signed JRRT, containing over 5000 words of autobiographical commentary and a 2 page autograph cover letter signed "Ronald Tolkien".
44 Great Works or The Adventures of Captain Classic - December 1980
Item 38 - [i]The Lord of the Rings, proofs of the first edition with Tolkien's final manuscript additions, changes and corrections in Volume III. SOLD (as marked in the catalog, sold before went to press).
Biblioasis Two or The Biblioctopii - Spring 1981
Item 98 -
King Edward's School Chronicle
. Number 171-196 (October 1908-December 1912). Bound in one volume, fine condition. $1750.
Item 99 -
The Hobbit or There and Back Again
, 1938. Publisher's sample mock-up of the first American edition. Pictorial wrappers (colour plates of Tolkien's Hobbiton and Smaug). $1500.
Item 100 -
The Silmarillion
, four editions. Publisher's Dummy (Currey's state A), Publisher's Dummy (Currey's State B), First edition (Clowes imprint), First edition (unbound sheets). $750.
Item 101 -
Unfinished Tales
. Uncorrected proofs of the first American edition. $150.
Bibliamerica or 13 Stars and 13 Stripes - 1981
(no Tolkien item in this catalogue, not surprising given the focus on American authors).
Bad Dreams or The House of Shock - 1982
Item 58 - Fine condition set of
The Lord of the Rings
in 3 volumes, first editions. Photo of
The Return of the King
. $2750.
Catalogue 8: Holding Together, or, The Ink of the Octopus - 1983
- Hammond Dii55
Item 30 - A Correspondence between Tolkien and Colin Smythe. 20 letters in the lot, from July 1964 to ~1971 (last one not dated, thank you note from Hill to Smythe). Smythe is in the publishing business and would love to publish a poem by Tolkien. Tolkien hurts his leg in 1968 and is delayed from sending one on - discussed have been the two published in
Winter's Tales for Children
, or a new one about 'Westernesse'. Eventually Tolkien gets too busy working on
The Silmarillion
and is unable to help Smythe. $1000
Biblialphabet
- 1985
(Item not numbered) -
Sir Gawain & The Green Knight
, first edition, first issue, with errata sheet and dustwrapper. $350.
----
If you are aware of other catalogues from this bookseller, please let me know! Mentioned as forthcoming in the last one I have (Biblialphabet, 1985) as coming soon are
Biblioasis III
and
Flaps & Panels
(a catalogue in dust jacket). Also I have seen mention of
Bibliameranth or Books that Never Die
as also forthcoming.