Beyond Bree 2019 Calendar available for pre-order
By
Urulókë


---
Calendar collectors, art fans, and more - Now is the time to get your order in for the special 2019 Beyond Bree calendar - the 10th from editor Daniel Smith. As all of the earlier calendars from his run as editor have sold out, this is your opportunity to get a deluxe calendar with fan favorite art in full color.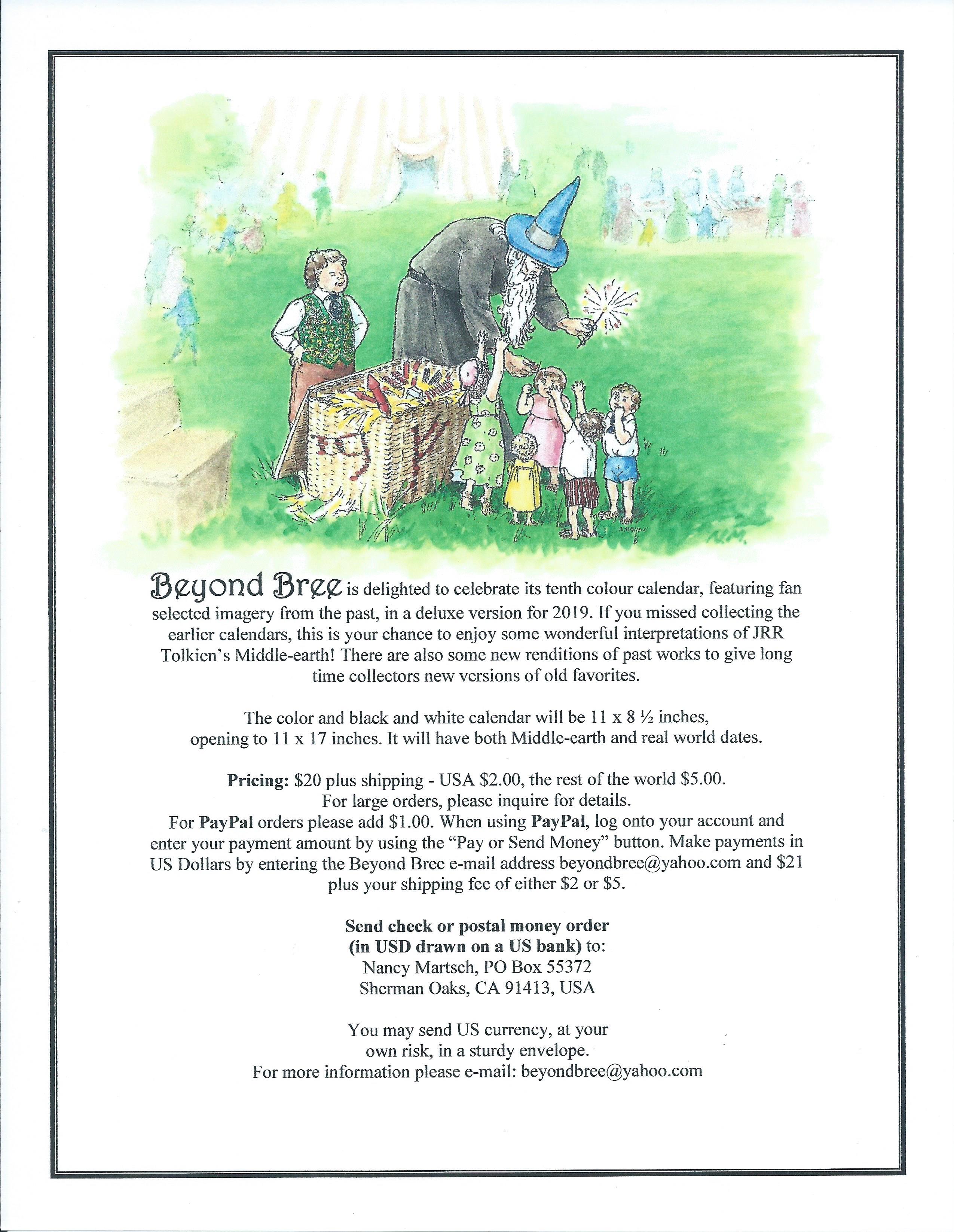 Beyond Bree
is delighted to celebrate its tenth colour calendar, featuring fan selected imagery from the past, in a deluxe version for 2019. If you missed collecting the earlier calendars, this is your chance to enjoy some wonderful interpretations of JRR Tolkien's Middle-earth! There are also some new renditions of past works to give long time collectors new versions of old favorites.
The color and black and white calendar will be 11 x 8 ½ inches, opening to 11 x 17 inches. It will have both Middle-earth and real world dates.
Pricing: $20 plus shipping - USA $2.00, the rest of the world $5.00.
For large orders, please inquire for details.

For PayPal orders please add $1.00. When using PayPal, log onto your account and enter your payment amount by using the "Pay or Send Money" button. Make payments in US Dollars by entering the Beyond Bree e-mail address beyondbree@yahoo.com and $21 plus your shipping fee of either $2 or $5.

Send check or postal money order
(in USD drawn on a US bank) to:
Nancy Martsch, PO Box 55372
Sherman Oaks, CA 91413, USA
You may send US currency, at your
own risk, in a sturdy envelope.

For more information please e-mail: beyondbree@yahoo.com