By
Urulókë


26 Sep, 2018
2018/9/26 23:05:17 (GMT) Greenwich Mean Time, London, Dublin, Lisbon, Casablanca, Monrovia
---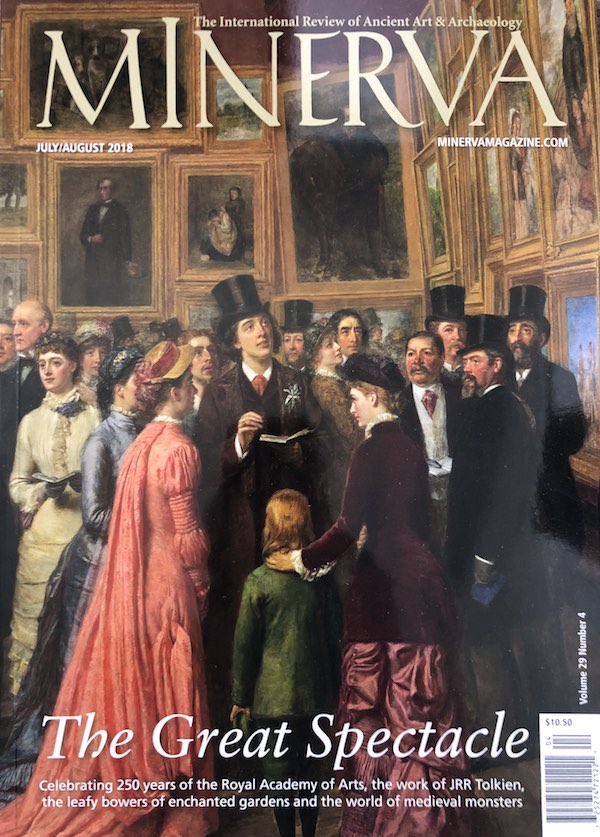 Minerva Magazine - The International Review of Ancient Art & Archaeology has an article in the July/August 2018 issue on Tolkien, written by Tom Shippey. The article is called "Lord of the runes", pp. 40-45, and it discussed is some detail the Anglo-Saxon roots of
The Hobbit
and
The Lord of the Rings
. It is a high quality glossy publication, so the reproductions of items from the Bodleian exhibit are quite good.
Illustrations present are:
1. Photograph of Tolkien on Oxford's Botanic Gardens from 9 August 1973
2. The final dustjacket design for
The Hobbit
(across the gutter, so somewhat obscured in part by the magazine binding)
3.
Conversation with Smaug
, full page reproduction
4. Typescript page of his prose translation of Beowulf with corrections
5. [Beowulf sample from a medieval manuscript, not by Tolkien]
6.
Bilbo comes to the Huts of the Raft-elves
, three-quarter page reproduction
7.
Parma mittarion
design (small, one sixth page reproduction)
8. Photo of Tolkien aged 19, shortly before leaving King Edward School
While in honor of (and mentioning) the Bodleian exhibition, the article by Shippey itself does not discuss it at all, it is solely covering the Anglo-Saxon roots of Tolkien's stories - in line with the focus of Minerva on ancient arts and archaeology.
The website at
https://www.minervamagazine.co.uk/
lists booksellers and newsstands that carry the magazine worldwide.
Here in the USA each issue is priced at $10.50 at newsstands, if you can find it. The September issue is coming out now so it may be harder to locate.