By
Urulókë


10 Jan, 2019
(edited)
2019/1/10 23:14:09 (GMT) Greenwich Mean Time, London, Dublin, Lisbon, Casablanca, Monrovia
---
With two weeks left until the Tolkien: Maker of Middle-earth exhibit opens in New York, this seems like a good time to share a summary of all the announced scheduled events associated with the exhibition, as well as a summary of what will (and won't) be on display.
Schedule:
Main Exhibition dates: January 25 through May 12, 2019
Associated Events:
Thursday, January 31, 6:30 PM
.
Tolkien and the Visual Image
- Lecture and Discussion by Wayne Hammond and Christina Scull.
Ticketed event
.
Friday, February 1, 6 PM
.
Tolkien: Maker of Middle-earth Gallery Talk
by John T. McQuillen, Associate Curator of Printed Books & Bindings.
February 9, 2019 11 AM–1 PM
.
Living Landscapes: Map Your Own Fantasy World
Part One "Ink Into Existence"
.
Ticketed event
, each ticket is valid for one child and up to two adults; Program consists of a thirty minute exhibition experience followed by a ninety minute art-making activity. Materials included.
Tuesday, February 12, 7:00 PM
Inside Tolkien: Maker of Middle-earth
Presented by The Sheen Center and The Morgan Library & Museum. "Explore this landmark exhibition with
John T. McQuillen, Ph.D.
, Associate Curator of Printed Books & Bindings and organizing curator of the exhibit for the Morgan Library, and
Holly Ordway, Ph.D.
, Professor of English at Houston Baptist University and author of the forthcoming book Tolkien's Modern Sources: Middle-earth Beyond the Middle Ages. Moderated by
Corey Olsen, Ph.D.
, the "Tolkien Professor" and President of Signum University."
Ticketed event.Saturday, March 16, 2:00 PM
.
Tolkien and Inspiration: A Multidisciplinary Symposium.
In partnership with the NY Tolkien Conference & Fellowship.
Ticketed event
.
Keynote Presentation: The Great Wave: How Tolkien reinvented Atlantis. By John Garth, Tolkien scholar and author of Tolkien and the Great War: The Threshold of Middle-earth
"But the beauty of mithril did not tarnish": Tolkien, Material Culture, and the Made Object by Nicholas Birns,Adjunct Instructor at New York University
Homo-amory, Tolkien's Beowulf and The Lord of the Rings by Chris Vaccaro, Senior Lecturer in English Language and Literature at The University of Vermont
"And Menelmacar with his shining belt": J.R.R. Tolkien the Amateur Astronomer by Kristine Larsen, Professor of Astronomy at the Central Connecticut State University
Teaching Tolkien in the 21st Century by Leslie Donovan, Leslie A. Donovan, Professor, Honors College, University of New Mexico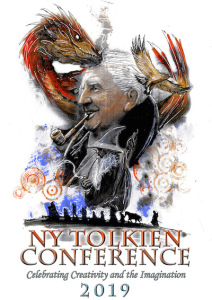 Sunday, March 17
The New York Tolkien Conference
Presenters include: Megan B. Abrahamson, Nicholas Birns, David Bratman, Janet Brennan Croft, John DiBartolo and the Lonely Mountain Band, Leslie Donovan, David Emerson, Jason Fisher, Peter Grybauskas, Yvette Kisor, Kristine Larsen, Ryder Miller, Robin Anne Reid, Ph.D., Chris Tuthill, and Christopher Vaccaro. More info forthcoming next week.
Thursday, April 4, 7–9 PM
A Long-expected Party
"Enjoy Hobbit-inspired drinks in Gilbert Court along with live music and after-hours access to the Morgan's exhibitions and the Historic Library. Tickets include museum admission and complimentary wine and beer. Costumes encouraged. 21+."
Ticketed Event
.
[NOTE] There is a giveaway being run by The Morgan Library and the New York Tolkien Conference for a free pair of tickets to this event.
See this webpage for more info
, the contest ends later today.
Friday, April 12, 1 PM
Tolkien: Maker of Middle-earth Gallery Talk
by John T. McQuillen, Associate Curator of Printed Books & Bindings.
Saturday, April 13, 2019 11 AM - 1 PM
Living Landscapes: Map Your Own Fantasy World
part two "Watercolor Your World". "Surrealist artist Max Greis will guide participants using watercolor techniques and explore creating a fantasy landscape using trees and other flora and fauna to establish their own universe. If you have attended Part One of this miniseries, "Ink Into Existence," you may bring your map back to use as inspiration to watercolor a landscape from your newly created world. Appropriate for ages 8-14."
Ticketed event
, each ticket is valid for one child and up to two adults; Program consists of a thirty minute exhibition experience followed by a ninety minute art-making activity. Materials included.
Friday, April 26, 6–8 PM
Fantasy Watercolor Landscapes
"New York City based surrealist artist Max Greis will guide participants in using watercolor techniques and materials.
Advance tickets are required
, as space is limited."
---
Exhibition materials
The Morgan Library has a smaller exhibition space than what the Bodleian was able to use, so the exhibition will be smaller. The eponymous exhibition catalog
Tolkien: Maker of Middle-earth
lists 181 exhibits. Of those, 20 were not shown for various reasons. However, a total of 192 items were at the Bodleian, since the catalog had to go to press much earlier than the final layout and selection of items was made. The catalog then goes on to list 105 items from the catalog that will be traveling to the Morgan Library, or somewhere around half of what was shown.
As a high level summary, the Morgan decided to focus on The Hobbit, The Silmarillion and The Lord of the Rings for the exhibit, though some personal photographs, a few Father Christmas letters, and other artwork made the cut.
Here is a full list of the catalogue and additional items - those in bold will be at the Morgan library (according to the best information available to me at this time):
1 OED Henry Bradley letter
2 Arthur Ransome letter
3 CS Lewis letter
4 WH Auden letter
5 Sam Gamgee letter
6 Roseland Ramage letter
7 Roseland Ramage poem
8 Iris Murdoch
9 Chuck and Joni Mitchell photo10 Chuck and Joni Mitchell lyrics
11 Terence Pratchett letter
12 Lynda Johnson Robb (White House) letter
13 Margrethe letter
14 Margrethe drawings
15 Fan Mail (a-d)
16 1892 photo (tolkien held by nurse)17 Letter from Mabel
18 Gift card from Ronald to his father
19 Hilary and Ronald photo
20 Dear Daddy (a-b)
21 AR Tolkien Obituary
22 Mabel photo
23 rural scene painting c1904
24 postcard of Sarehole Mill
25 home without mother (or wife) drawing
26 Ronald and Hilary 1905 photo
27 Tolkien Photo 1911
28 Exeter College Smoker
29 Sub Rector report card
30 Edith photo 1906
31 Account Book
32 Tolkien and Friends photo 1914
33 Letter to Edith 1913
34 Letter to Edith Bratt
35 2nd lieutenant photo 1916
36 Letter from GB Smith
37 Exeter College freshmen photo
38 Book of Ishness boards
39 undertenishness
40 eeriness
41 There and Here
42 Water Wind and Sand
43 (Fantasy Landscape)
44 The Land of Pohja
45 Owlamoo
46 Gardens of Merking
47 Tree of Amalion
48 Lingwë súrissë
49 Decorative alphabet
50 newspaper doodle
51 newspaper doodle
52 newspaper doodle
53 newspaper doodle
54 newspaper doodle
55 newspaper doodle
56 newspaper doodle
57 newspaper doodle
58 newspaper doodle
59 newspaper doodle
60 newspaper doodle
61 Parma Mittarion
62 Numenorean Patterns
63 Numenore and Aldarion
64 ranalinque
65 shores of faery
66 East of the Sun West of the Moon
67 Cottage of Lost Play cover
68 I Vene Kemen
69 Tale of Turin Turambar written vertically
70 I Eldinyare title page
71 reader's report "Beren and Luthien"
72 halls of manwe
73 1st silmarillion map
74 Beleg finds Flinding in Taur-na-Fuin
75 2nd silmarillion map
76 Glorund sets forth to seek Turin
77 tree of tongues
78 Of Beren and Tinuviel'
79 Idril's device
80 Luthien (green)
81 Luthien (black)
82 Beren Gamlost', Finrod and Finarphin
83 Photo of gravestone
84 books from private library
85 Tolkien in his study photo 1930s
86 College of Cretaceous Perambulators 1938
87 Wartime diary
88 Fall of Arthur
89 RW Chambers letter 1934
90 The first letter from Father Christmas
91 Drawing by Father Christmas
92 Aurora Borealis
93 To John Christmas letter
94 To Michael Christmas letter
95 Christmas 1932 Letter
96 Christmas 1932 Drawing
97 Cave Drawings
98 "high life at gipsy green"
99 Tolkien, Michael, John on the beach photo
100 Roverandom 1st page manuscript
101 "House where Rover began his adventures as a toy"
102 prose translation of Beowulf
103 Beowulf illustration 1928 - wudu wyrtum foest
104 Sellic Spell opening page
105 hringboga heorte gefysed' coiling beast
106 Betty Bond letter 1941
107 Edith, Michael, John photo
108 Edith & Christopher photo
109 John, Michael, Christopher photo
110 Edith, Christopher, John photo
111 Family tea party 1930 photo
112 Sitting on the beach photo
113 Family tea party 1928 photo
114 Tolkien and 3yo Christopher 1928 photo
115 Michael and Priscilla in Northmoor rd photo
116 Photo of John, Priscilla, Michael, Christopher
117 Michael and Christopher
118 Tolkien and Edith at the front door 1936 photo
119 Tolkien with his four children in the garden
120 Family in the garden
121 Michael (in uniform) and Tolkien
122 "first grandchild" photo 1945
123 John with the chickens in the garden
124 Photo: holiday at Weston-super-mare 1940
125 M.A. Gown
126 desk/bureau
127 chair
128 The Line of Festal Light in Christ Church Hall" by WR Flint
129 "The stripling Thames at Bab-lock-hithe" by William Russel Flint
130 "it's fir-topped Hurst, it's farms, it's quiet fields" by William Russel Flint
131 And the Eye Travels Down to Oxford's Tower" by WR Flint
132 Tolkien's D.Litt. Gown
133 Photograph of Tolkien in Oxford (in gown)
134 Thror's treasure map
135 manuscript title page
136 the hill and hobbiton-across-the Water
137 the trolls
138 Rivendell
139 mountain path
140 bilbo woke up with the early sun in his eyes
141 bilbo comes to the hut of the raft elves
142 plot notes
143 conversation with smaug
144 wilderland map
145 draft dust jacket
146 dust jacket
147 letter to Charles Furth
148 Magic Ring title page
149 Title Page
150 Ring verse
151 Old Man willow
152 Raynor review 1938
153 Doors of Durin draft page
154 Fire writing
155 Moria Gate lower
156 Moria Gate
157 Mazarbul leaf
158 Mazarbul leaf
159 Mazarbul leaf
160 Forest of Lothlorien
161 Time Scheme
162 Treebeard draft page
163 Dunharrow
164 Riddles of Rohirrim draft page
165 Barad-Dur
166 King's Letter draft page
167 Fellowship dj design
168 Two Towers dj design
169 Return of the King dj design
170 Map of NW Middle-earth
171 Map of SW Middle-earth
172 "Last" map 1969
173 Map of Middle-earth by Pauline Baynes
174 contour map crossroads
175 Stonewain valley map
176 1st map of Shire
177 hobbit long measures
178 Map of Rohan, Gondor, Mordor 1948
179 "First" map circa 1937-1949
180 Map of Rohan, Gondor, Mordor 1946
181 Map of Rohan, Gondor, Mordor 1944
There and Back Again by Pauline Baynes
pencil cup (sitting man holding a stein)
Pencil tin
pencils
glasses and case
books: Irish English dictionary (84), Lyra Celtica, Vols 1-2 of the Red Book of Hergest
Reeves' Poster Outfit Colour Set (paints)
Air Raid Precautions (book)
Wartime Identity Card
The Mabinogion (book)
wood working tools
pencil stubs
Walkden sealing set
hat
5 pipes
"Player's Gold Leaf Navy Cut" tobacco tin
Earandel and Gil-galad heraldic devices
Unfinished designs (heralidic devices)
Lost Tales A book cover
Lost Tales B book cover
Tuor and the exiles of Gondolin - two pages, Edith's fair copy
Interactive Audio Station x2
3D terrain map table
Wallet with 2 Edith photos
Lancaster Fusiliers Badge
Field Telephones for Army Use book
two rulers
King Edward School cap
many fan letters not cataloged
Interactive Map station (touchscreen)
Interactive quiz station (touchscreen, outside the exhibit)
In addition, the Morgan Library will be showing three additional items that were not at the Bodleian exhibition:
1)
Tolkien's manuscript letter to Geoffrey Selby, 14 Dec. 1937
, Morgan Library & Museum (
MA 4373
). This is illustrated in the catalogue, p. 312.
2)
Tolkien's typed letter to Naomi Mitchison, 25 April 1954
, private collection.
3)
2 copies of the first English edition of The Hobbit
, one with the dust jacket (private collection) and the Morgan copy with the dust jacket removed to show Tolkien's designs for the boards (
PML 84830
).