Babel Exhibition at the Bodleian Libraries
By
Urulókë


---
The Bodleian Libraries have opened a new exhibition today, that will run through June,
https://www.bodleian.ox.ac.uk/whatson/ ... adventures-in-translation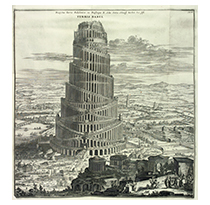 Babel: Adventures in Translation | Weston Library, Broad Street | 15 February - 2 June 2019
Babel explores the tension between the age-old quest for a universal language, like Latin, Esperanto or global English today, and the fact that communities continue to nurture and retain their own languages and dialects as part of their cultural identity. The exhibition illuminates how translation builds bridges between languages and how the borderlands between languages can be fertile ground for resistance, comedy and creativity.
This looks to be an interesting exhibition for many reasons. From reading the
list of highlights in the announcement
, the focus is not just on translations, but on cultural differences (and misunderstandings) based on language and translations, and on various efforts to create new languages for various purposes. With this in mind, a late addition to the exhibition was made of the
Book of the Foxrook
,
An unpublished notebook kept by JRR Tolkien revealing how he created his own 'Private Scout Code' at the age of 17 while studying Esperanto. This is the first known example of him inventing an alphabet, and foreshadows his fictional Elvish alphabet and languages
The notebook will be on display in the exhibition, opened to the same page as it was when previously shown in "Tolkien: Life and Legend" at the Bodleian in 1992. A reproduction of that page is shown in the
Life and Legend
exhibition catalogue, item 20 page 18. I am told that it is not reproduced in the accompanying publication
Babel
as it was added to the exhibition after the book went to press - I have a copy on the way to review, so expect that soon.
In the Bodleian's Babel exhibition, visitors will be able to explore digital interactives including the opportunity to listen to texts from the exhibition read in their original languages, ranging from Tibetan and Sanskrit to Italian and German.
(I'm guessing that there is no accompanying audio for the "Private Scout Code".)