By
Stu


Nov 27
---

Seller: books-on-a-budget (1673)
Ended Nov 28, 2019
Buy-It-Now:
£75.00
[ Bids]
Load previous replies


Nov 29

Ted stated in an interview from 2004 that "they invited me to be there with the others in New Zealand to help with conceptual art, and made me a nice offer. However, I was going through a personal crisis unrelated to my art, and in the end, being that it would also force me to abandon my freelance obligations and be away indefinitely, I reluctantly declined, settling the question in my mind after very careful deliberation."
REDDIT POST

Khamûl

Nov 29

REDDIT
:
Email correspondence between myself and Ted Nasmith from a couple of years back that I thought some of you might find interesting
(Posted November 2019)
Thanks for your inquiry. Unfortunately there has never been a book published which exclusively focuses on my Tolkien art, and it has been a frustration of mine for some years. The difficulty arises from the legalities of the copyrighted nomenclature based in Tolkien's Middle earth, and a literary Estate of the late author that only grudgingly consents to granting rights to publish my art in a volume of the sort fans like you have sought. Discussions on possible avenues to take that might overcome the obstacles have never gained sufficient traction. An early potential book to be published by HarperCollins foundered when John Howe's comparable art book didn't sell very well (required to contain 50% non Tolkien material). They pointed to it in their change of heart regarding mine.

Without a concerted willingness on either Tolkien's publishers, or an independent publisher's part, the task of somehow collating and annotating the large no. of artworks I've created on my own has been too daunting and unaffordable. My ability to earn a living as an illustrator hasn't always been as easy as I'd like, too, such that I have little energy left to embark on a project of that kind, despite fairly solid and sustained interest from my fans, admittedly.

These days, crowd funding would be the way to proceed, probably, but it still requires me to design and assemble the material, though I imagine I could recruit help.

The Complete Guide to Middle earth was something of a consolation prize after discussions of a Nasmith art book or an illustrated Unfinished Tales both were shelved. But it is a good collection of calendar art, and contains an essay I wrote on Balrogs. The only other books that do exist are, as you alluded, compilations of various Tolkien artists; Tolkien's World and Realms of Tolkien both carry a number of my works. There are minor collections such as the 'post card' books HC published, too. In terms of the calendars, although it's true that some of the calendars contain compilations of a mixed bag of illustrators, you might consider the several of my JRR Tolkien Calendars that are exclusively Ted Nasmith. In particular, a series of 3 consecutive calendars published for the years 2002,3,and 4 by HarperCollins, and which are focused on LotR, a parallel celebration of my art while the Jackson films were being released over roughly the same period. Other calendars are distinguished by the freedom they gave me to fill them with the artworks I personally chose to include, resisting the inclusion of previously published material, as was often done with say, John Howe's. I had similar license when it came to choosing the scenes to include in The Silmarillion (2004 edition), fortunately.

I should add here that I illustrated A Game of Thrones for Subterranean Press a few years ago, a deluxe signed and numbered 2-volume set w/ 80plus illustrations (most in pencil), and I have a strong presence in The World of Ice and Fire too, w/ some 16 or more full-page colour illustrations. The deluxe edition of aGoT however was sold out, but a Russian publisher acquired the rights and published an edition with nearly all the illustrations, and I have available copies for $60.00 ea.

Thanks so much for your interest. I'm still hopeful that I can somehow embark on a large, comprehensive book of my fantasy art before much longer.

Kind Regards,

Ted
I assume these comments were made within the last five years or less.

Stu

Nov 29


insurrbution wrote:
Ah yes I saw that video yesterday: with only The Hobbit Sketchbook being signed and numbered, and the off-center stamping (see his video on the Letters From Father Christmas deluxe), this set looks to be a complete rip off. It should be about 20 pound or so cheaper. I mean, the other sketchbook has been out since 2005, and I believe you can still get signed copies of the standard Hobbit one via Blackwell's.

Things like that make me shake my head at HarperCollins: they're capable of producing nice Tolkien items, but the amount of printing 'goofs' has seemed to increase quite a bit from 2010 onwards. Next year's The Fall of Gondolin (for someone else, not me) and A Secret Vice paperbacks will be it for me from them.
Hey, but at least it is printed in the EU! It is a shame they couldn't get that alignment right. As I have said, the content doesn't interest me, so I won't be buying it, but other than that misalignment, it looks reasonably well put together. I think the daft high RRPs these days reflect the fact that people expect to be getting at least 30% off.

Urulókë

Dec 2


Urulókë wrote:

I went ahead and ordered the boxed set today (from Book Depository this time, as they have done acceptably in the past for me with packaging and customer service). I never got the sketchbooks separately so this seems like a nicely packaged opportunity to get both and a pretty slipcase.
And... Book Depository refunded my order stating
We're sorry to let you know we are unable to fulfill your order of the below items, and have issued a refund. We apologise for any inconvenience this may have caused.

Dec 3

Received my Alan Lee Sketchbooks and I am very underwhelmed. The slip is awful, dreadful quality, again HarperCollins demonstrate that deluxe is something they have no clue about. The build quality is the worst I have seen for a slip in many a year. The edges are so poorly that the boards move when the set is handled.

Then add the fact that the blurb that should be on a separate sheet is printed on the back of the 'deluxe' slipcase and the exercise in 'take your money for minimal effort' is complete.

Awful product. Shame on HarperCollins.

Urulókë

Dec 3

Well, now I am not unhappy at all that my order was cancelled! Anyone else have a copy and a different opinion? Perhaps onthetrail just got a bad copy...?

Also I found my first impression of the Lord of the Rings Sketchbook, so I will probably just pick up a copy of The Hobbit Sketchbook instead of the slipcased pair.

Trotter

Dec 3


Urulókë wrote:
Also I found my first impression of the Lord of the Rings Sketchbook, so I will probably just pick up a copy of The Hobbit Sketchbook instead of the slipcased pair.
You probably have a rare unsigned "first impression of the
Lord of the Rings Sketchbook
"



I had a rare unsigned "first impression of the
Lord of the Rings Sketchbook
until last week, when Alan Lee signed it for me 😢😢😢

Dec 3

Looking further at the slipcase it really is a badly designed and executed product. The books are actually pleasantly nice, a far cry from their outer though.

The construction uses boards covered with the the outer paper but the boards are not aligned to edges and have air pockets where the triangular effect is created. It is just poor design and is already ripping, which I think will happen on all of them over time given the design.

Then the rear, the blurb that is on websites, the barcode and the price. On the rear of a 'deluxe' slipcase? Nothing screams deluxe like a price on can't remove. HarperCollins should hang their heads. They are not fit to publish a train timetable, never mind a 'deluxe' book.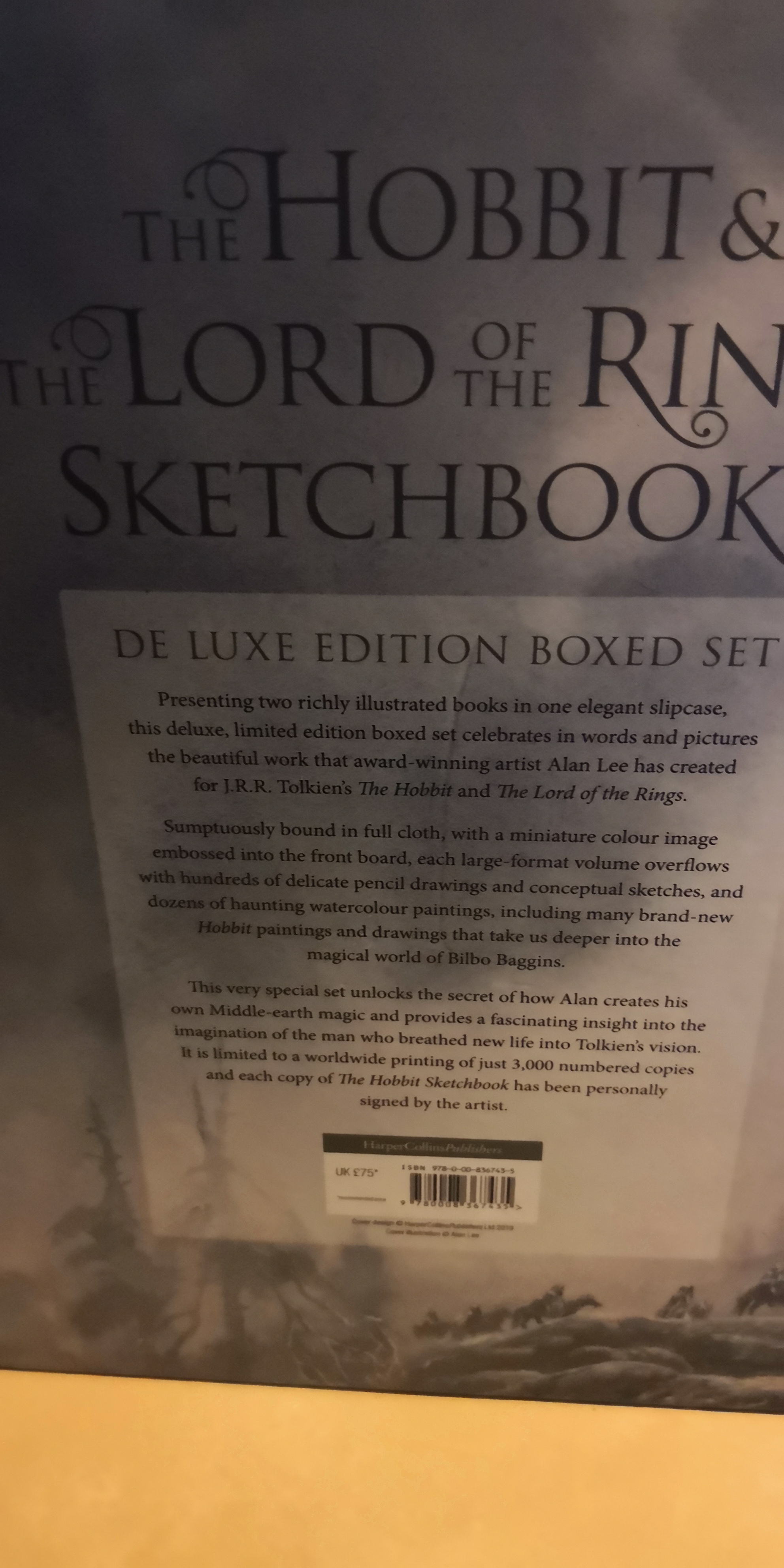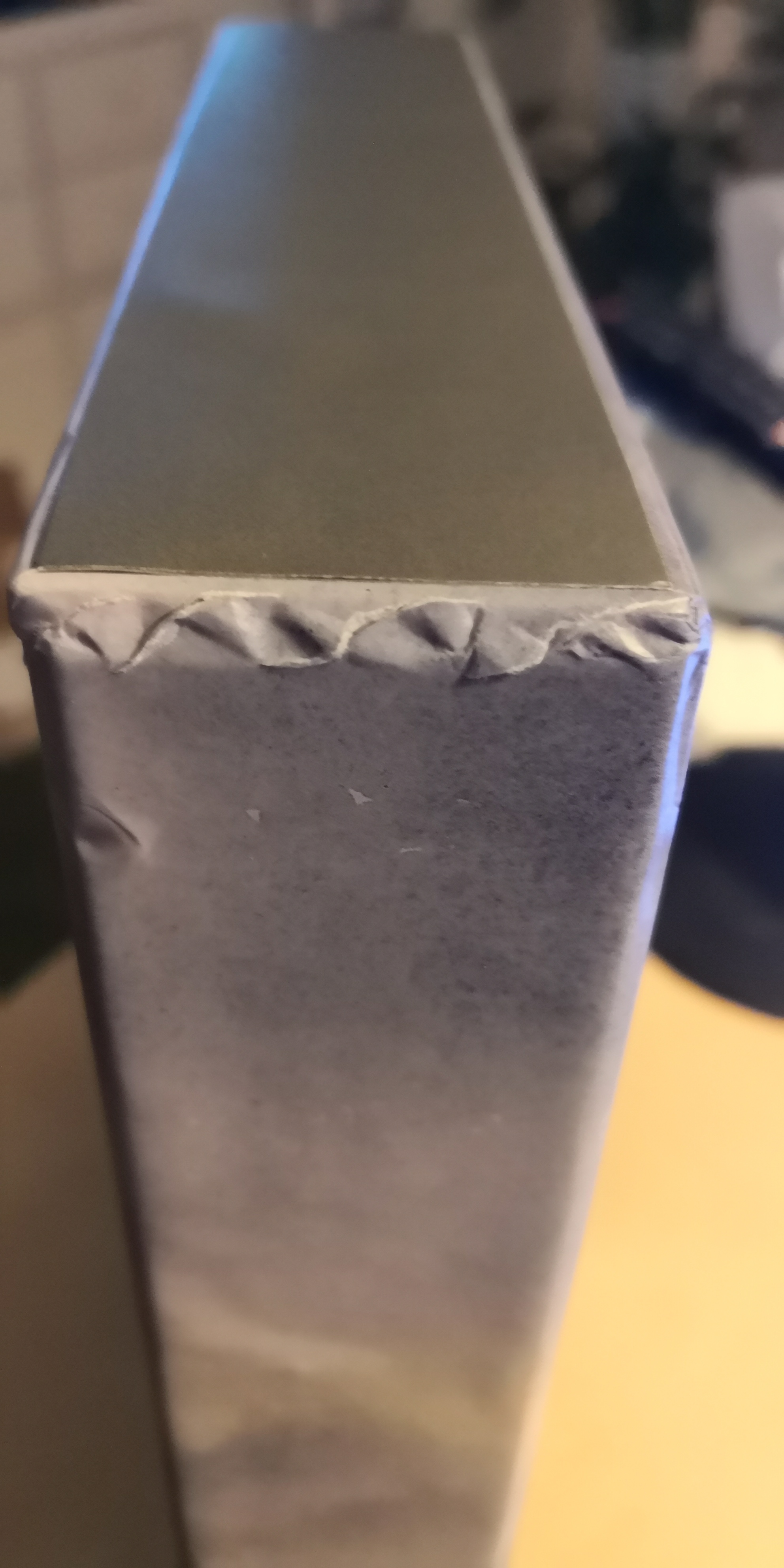 Load more