By
Urulókë


Feb 22
(edited)
2020/2/22 19:43:42 (GMT) Greenwich Mean Time, London, Dublin, Lisbon, Casablanca, Monrovia
---
While doing some research about US 1st edition impressions of
The Lord of the Rings
, I ran across
Berelach
's note on
TolkienBooks.us
about a purported Christmas Extra for the Science Fiction Book Club in 1960. This comes from a quote on page 102 of
J.R.R. Tolkien - A Descriptive Bibliography
, where it says (again speaking of the US 1st editions) "
The Lord of the Rings
is reported to have been the Christmas Extra selection of the Science Fiction Book Club for 1960."
The
Internet Science Fiction Database
shows no evidence that the
US
SFBC ever released The Lord of the Rings in 1960, nor do any correspondence records. The
J.R.R. Tolkien Companion and Guide: Chronology
also makes no mention of a US SFBC edition.
On the other side of the Atlantic, however, there was another book club edition in the works in 1960, to be published by Readers Union. A detailed account of the production of this edition can be read at the
TolkienBooks.net Readers Union article
.
The Reader's Union was a British book club society, and their
Lord of the Rings
editions only get a single paragraph mention in
J.R.R. Tolkien - A Descriptive Bibliography
on page 98. There is further information published in various issues of
The Tolkien Collector
as addenda to the Reader's Union edition in the
Bibliography
, but nothing relating to the SFBC Christmas Extra, so I will leave those aside.
The Science Fiction Book Club Christmas Extra
The
British
Science Fiction Book Club
was "[a]pparently the brainchild of Herbert Jones, who may have been employed by parent publishers Sidgwick & Jackson" and it "issued its first book in January 1953 and in one form or another carried on until the end of 1982". It had a monthly newsletter called "Science Fiction News" (SFN) that was mailed to members. Looking at a complete run of SFN shows the following history of mastheads:
1 to 31 published by Sidgwick and Jackson

32 (May 1958) to 87 (July 1964) published by Phoenix Press

88 (August 1964) to the end (1982) - published by Readers Union (at some point this changes to David and Charles in Devon but still using RU branding)

Circumstantial evidence seems to indicate that the SFBC was always either operated by or owned by Readers Union. In the May 1958 issue of SFN where the transfer from S&J to Phoenix Press occurs, it is mentioned that Phoenix Press had already been handling distribution of the SFBC titles. Also, the mailing address for Phoenix Press (1958 to 1964) is the same as that for Readers Union (1964 on), indicating that the transfer in 1964 was merely a name change and not a corporate changeover.
In the July 1960 issue of SFN, the following two page advertisement was run: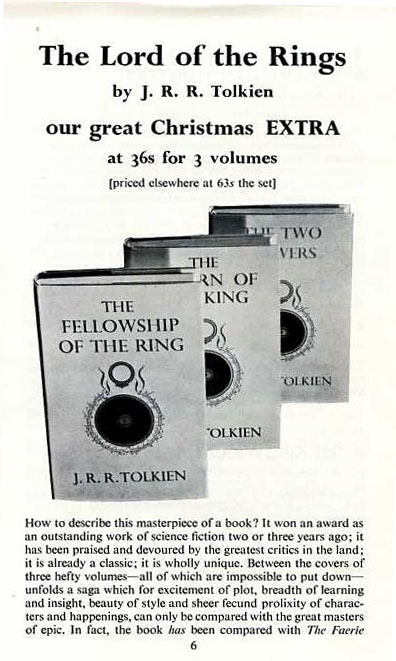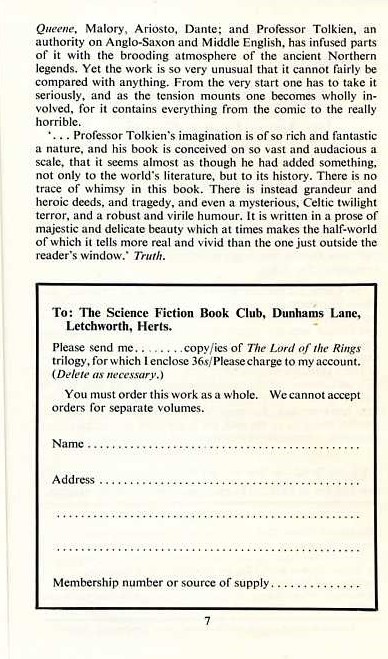 The Lord of the Rings
by J. R. R. Tolkien
our great Christmas EXTRA
at 36s for 3 volumes
[priced elsewhere at 63s the set]

(here an image of the Allen & Unwin hardcovers is reproduced, as the Readers Union binding and dustjackets won't be completed until around November 1960)




How to describe this masterpiece of a book? It won an award as an outstanding work of science fiction two or three years ago; it has been praised and devoured by the greatest critics in the land; it is already a classic; it is wholly unique. Between the covers of three hefty volumes - all of which are impossible to put down - unfolds a saga which for excitement of plot, breadth of learning and insight, beauty of style and sheer fecund prolixity of characters and happenings, can only be compared with the great masters of epic. In fact, the book has been compared with The Faerie Queene, Malory, Ariosto, Dante; and Professor Tolkien, an authority on Anglo-Saxon and Middle English, has infused parts of it with the brooding atmosphere of the ancient Northern legends. Yet the work is so very unusual that it cannot fairly be compared with anything. From the very start one has to take it seriously, and as the tension mounts one becomes wholly involved, for it contains everything from the comic to the really horrible.

'... Professor Tolkien's imagination is of so rich and fantastic a nature, and his book is conceived on so vast and audacious a scale, that is seems almost as though he had added something, not only to the world's literature, but to its history. There is no trace of whimsy in this book. There is instead grandeur and heroic deeds, and tragedy, and even a mysterious, Celtic twilight terror, and a robust and virile humour. It is written in a prose of majestic and delicate beauty which at times makes the half-world of which it tells more real and vivid than the one just outside the reader's window.' Truth.
Next, a reminder notification was printed in the September 1960 issue of SFN:

THE LORD OF THE RINGS Trilogy by J. R. R. Tolkien
This marvellous and gargantuan Fantasy Award-winning masterpiece is still available to urgent orders. The three volumes, over 1,000 pages, are a joint Readers Union-SFBC Christmas bargain - 63s for 36s.
Please note. SFBC order will be dispatched in December although there will be no SF Choice that month.
Don't miss this 'great and abiding work' (Daily Telegraph)
Note the intriguing "joint Readers Union-SFBC" comment in this ad.
Finally, one more announcement was made in a full page ad in the November 1960 issue of SFN: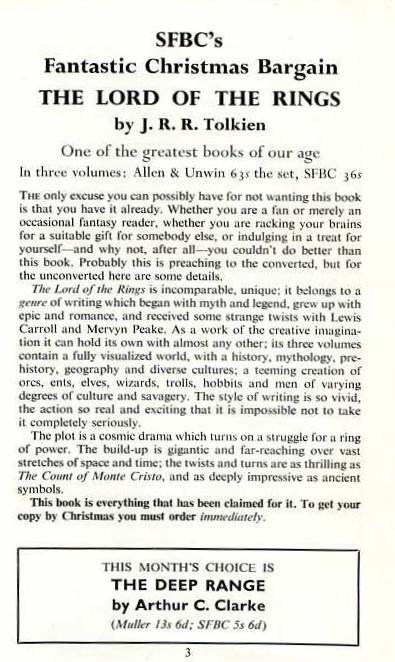 SFBC's
Fantastic Christmas Bargain
THE LORD OF THE RINGS
by J. R. R. Tolkien
One of the greatest books of our age
In three volumes: Allen & Unwin 63s the set, SFBC 36s

The only excuse you can possibly have for not wanting this book is that you have it already. Whether you are a fan or merely an occasional fantasy reader, whether you are racking your brains for a suitable gift for somebody else, or indulging in a treat for yourself - and why not, after all - you couldn't do better than this book. Probably this is preaching to the converted, but for the unconverted here are some details.

The Lord of the Rings is incomparable, unique; it belongs to a genre of writing which began with myth and legend, grew up with epic and romance, and received some strange twists with Lewis Carroll and Mervyn Peake. As a work of the creative imagination it can hold its own with almost any other; its three volumes contain a fully visualized world, with a history, mythology, pre-history, geography and diverse cultures; a teeming creation of orcs, ents, elves, wizards, trolls, hobbits and men of varying degrees of culture and savagery. The style of writing is so vivid, the action so real and exciting that it is impossible not to take it completely seriously.

The plot is a cosmic drama which turns on a struggle for a ring of power. The build-up is gigantic and far-reaching over vast stretches of space and time; the twists and turns are as thrilling as The Count of Monte Cristo, and as deeply impressive as ancient symbols.

This book is everything that has been claimed for it. To get your copy by Christmas you must order immediately.
In summary, the edition "reported to have been the Christmas Extra selection of the Science Fiction Book Club for 1960" is clearly in reference to the Readers Union edition. There is no evidence of a US Science Fiction Book Club edition in the 1960 timeframe.
As a side, note, the
complete listing of titles printed by the US SFBC
show the following entries:
1978 - The Silmarillion

1981 - Unfinished Tales

1984 - Smith of Wootton Major & Farmer Giles of Ham

1984 - The Book of Lost Tales Part I

1986 - The Lord of the Rings (in three volumes)

1989 - The Annotated Hobbit

2000 - The Lord of the Rings (one volume edition)

2001 - The Silmarillion

2002 - A Tolkien Miscellany

2003 - Unfinished Tales

2004 - The Lord of the Rings (reissued one volume edition)

2007 - The Children of Húrin

2009 - The Legend of Sigurd and Gudrun

Acknowledgements
Many thanks to Greg Pickersgill for his website on the
UK SFBC
and long personal correspondence with me about his collection of Science Fiction News (including scans of the relevant ads) that made this article possible.
Thanks as well to
Deagol
for his Readers Union research published at
TolkienBooks.net
as well as personal correspondence during the writing of this article.
Finally thanks to Wayne Hammond for
J.R.R. Tolkien A Descriptive Bibliography
, as well as with Christina Scull for their various books including the
J.R.R. Tolkien Companion and Guide: Chronology
which are, as always, indispensable.