By
Urulókë


May 21, 2020
(edited)
2020/5/21 16:41:55 (GMT) Greenwich Mean Time, London, Dublin, Lisbon, Casablanca, Monrovia
---
Aguttes
has an important auction coming up on May 26th titled Autographs and Manuscripts. One lot (#202) contains six very important letters from J.R.R. Tolkien to George Sayers, talking about
The Lord of the Rings
.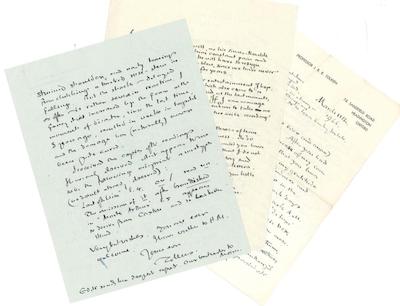 The letters are variously signed "Ronald Tolkien", "Tollers" or JRRT. Most are handwritten and come from his home at 76 Sandfield Road, Hedington, Oxford. The letters are dated
April 28, 1953 - Tolkien was in a sorry state, sent Sayer's essay to GA&U who's advertising department will use it... (Chronology p. 421)

June 24, 1953 - typed letter. Interested in getting a recording device similar to the one George used... (Chronology p. 423)

April 25, 1957 - Would be delighted to have lunch with Sayer... (Not noted in Chronology)

April 6, 1962 - Apologies, Edith took a fall, could send tape reels for Sayer to critique... (Chronology p. 621)

March 11, 1966 - Wants to send Sayer a deluxe boxed set in thanks. Ace books controversy. Invites Sayer to Tolkien's Golden Anniversary celebration, Donald Swann will perform... (Chronology p. 692)

March 21, 1966 - Explanations of the revised edition of The Lord of the Rings. Again thanking George for his support to get it published... (Chronology p. 693)

Lot 202 - Six signed letters
Estimate: €5,000 - 7,000
[Update]
- Sold for €31,200 (Hammer price) / €39,000 (including 25% buyer's premium)
Chronology
page references -
The J.R.R. Tolkien Companion and Guide: Chronology
, Christina Scull and Wayne G. Hammond, HarperCollins, 2017.