By
Urulókë


Jul 23, 2020
(edited)
2020/7/23 0:13:49 (GMT) Greenwich Mean Time, London, Dublin, Lisbon, Casablanca, Monrovia
---
Bonhams has a manuscript letter from Tolkien up for auction in their "Fine Books, Atlases, Manuscripts & Historical Photographs" auction to be held on 19 Aug 2020 in London, Knightsbridge.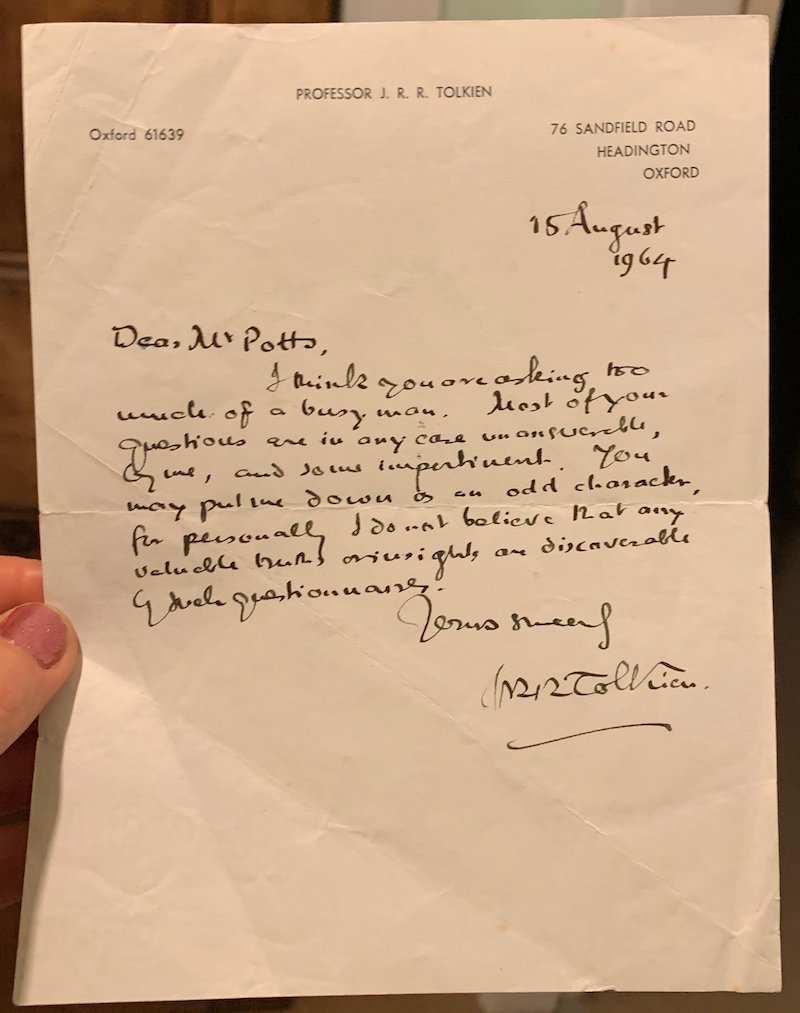 LOT 251
TOLKIEN (J.R.R.)
Autograph letter signed ("JRR Tolkien"), to Mr Potts, Headington, Oxford, 15 August 1964
Estimate: £ 1,000 - 1,500 (US$ 1,300 - 1,900) not including buyer's premium (approximately 27.5% depending on final hammer price)
Autograph letter signed ("JRR Tolkien"), to Mr Potts, responding to his request to fill in a questionnaire, "I think you are asking too much of a busy man. Most of your questions are in any case unanswerable by me, and some impertinent. You may put me down as an odd character for personally I do not believe that any valuable truths or insights are discoverable by such questionnaires", one page, 8vo (176 x 135mm.), on cream-coloured Sandfield Road headed notepaper, some creases and light spotting, Headington, Oxford, 15 August 1964

Richard Potts sent Professor Tolkien a questionnaire whilst working on his dissertation on children's literature, hoping that the bestselling author would shed some light on his craft. A copy of the questions that caused so much ire does not survive but Potts remembers "I was taken back by his letter. It was not what I had expected. I had asked a number of questions, how and when he wrote, what was the source of his writing. I greatly admired his work but found the length daunting. I may have made reference to this reservation and it was perhaps this that prompted the angry tone of his letter". Potts went on to be a successful children's author in his own right, with titles such as A Boy and his Bike, Haunted Mine and Tod's Owl.

This letter is sold by his family to benefit the Birth Companions charity.
Sold for
£3,187
inc. premium
This letter surfaced
on Twitter
in January of this year when Richard Potts's daughter Katy mentioned that she wanted to auction it off to raise money for charity, with her father's blessing.