By
Urulókë


19 Aug, 2021
(edited)
2021/8/19 21:49:41 (GMT) Greenwich Mean Time, London, Dublin, Lisbon, Casablanca, Monrovia
---
https://www.marquette.edu/haggerty-museum/tolkien.php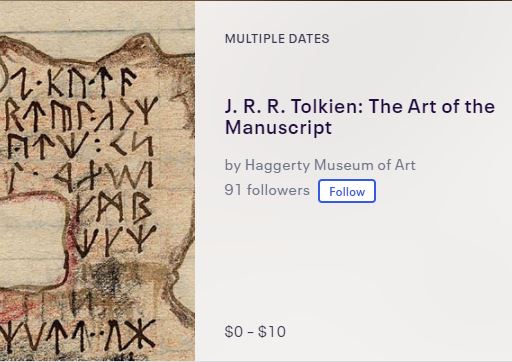 J.R.R. TOLKIEN: THE ART OF THE MANUSCRIPT
19 August - 12 December 2022
Haggerty Museum of Art, Marquette University
The foundation for this exhibition is Marquette University's extensive collection of Tolkien manuscripts housed within the library's Department of Special Collections and University Archives; but it will also include items borrowed from other repositories, including a significant number of Tolkien manuscripts and artwork from the Bodleian Libraries at the University of Oxford.
There will be additional events and programming scheduled during the exhibition timeframe.
This will be a ticketed event, you can buy tickets online.
PLEASE NOTE: THREE (3) TIME SLOTS ARE AVAILABLE DAILY WITH A MAXIMUM OF FIFTY (50) TICKETS/VISITORS PER TIME SLOT.

General admission for the fall 2022 exhibition will be $10, and Senior Citizen and Active Military (with I.D.) admission will be $8. Admission will be free (advance reservations and a valid I.D. will be required) for Friends of the Haggerty Museum of Art members, K-12 educators, children aged seventeen and under, and Marquette University students, faculty members, and staff members.
https://www.eventbrite.com/e/j-r-r-tol ... ript-tickets-224292042537
Event Location
Haggerty Museum of Art
1234 West Tory Hill Street
Milwaukee, WI 53233
United States