19 May
(edited)
2023/5/19 20:11:48 (GMT) Greenwich Mean Time, London, Dublin, Lisbon, Casablanca, Monrovia
---
2023 June 8 The Gary Munson Collection of Horror & Fantasy Showcase Auction #6268
LOT #45219 The Hobbit GA&U, 1st Edition, 2nd Printing.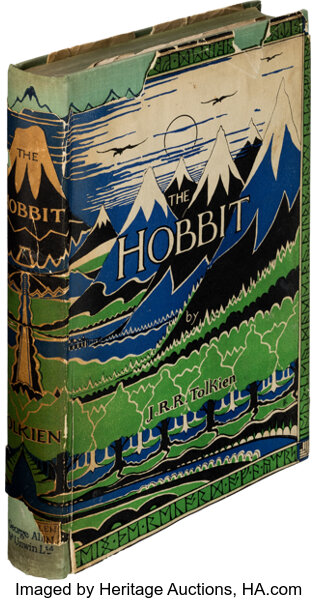 J.R.R. Tolkien. The Hobbit, or There and Back Again. London: George Allen & Unwin Ltd., 1937. First edition, second impression. Octavo. 310, [2, publisher's ads] pages + four colored plates. Publisher's pictorial mint-green cloth stamped in navy blue, in the second issue dust jacket, with "Dodgson" correctly spelled on the rear flap.

No discussion of genre defining titles is truly complete without a mention of Tolkien. The Hobbit truly marks the start of two adventures, a publishing legacy and the journey of a hero whose simple nature, adventures and mishaps, and ultimate return to comfort and home offers something we can all relate too. "If you care for journeys there and back, out of the comfortable Western world, over the edge of the Wild, and home again, and can take an interest in a humble hero (blessed with a little wisdom and a little courage and considerable good luck), here is the record of such a journey and such a traveler" (from the dust jacket).

Condition: Cocked, minor edgewear, corners bumped, board edges soiled, spine somewhat sunned, head and tail pushed and soiled. Endpapers illustrated with maps in black and red (front: Thror's Map; rear: Wilderland). Text block edges lightly foxed, top edge stained green; ownership signature to initial blank recto. Dust jacket unclipped (7s. 6d. net); scattered staining, soiling, somewhat toned, verso and flaps foxed, spine sunned, losses at head and tail and along top edge, a few closed tears along top edge, crinkling and chipping along flap edges. Very good book in good dust jacket.

References: Hammond & Anderson A3.a. From the Gary Munson Collection
https://historical.ha.com/itm/books/jr ... w-ShortDescription-071515
Sold for
USD 13,750.00 LOT #45220 The Hobbit HMCO, 1st Edition, 1st Printing.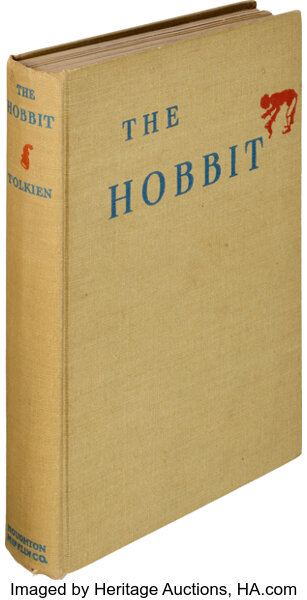 J.R.R. Tolkien. The Hobbit, or There and Back Again. Boston and New York: Houghton Mifflin Company, 1938. First edition, first impression, with the bowing hobbit on the title page, the list of illustrations on page 9 erroneously listing Thror's Map first, Chapter VII mislabeled as "Chapter VI" on page [118], final leaf blank, and without half-title as issued. Octavo. 310 pages + four colored plates. Publisher's tan cloth, stamped in red and blue, endpapers transposed and printed in red (front: Wilderland; rear: Thror's Map).

Condition: Minor edgewear, faint scattered staining, spine somewhat sunned, head and tail pushed with a small tear at tail. Text block slightly shaken, all edges trimmed and toned, bottom edge with some staining, a few pages overextended at fore-edge. Pages generally toned, bookseller notations to front pastedown and initial blank recto. Otherwise, internally clean. Very good.

References: Hammond & Anderson A3.b.1, Binding 1 (without ribbing); Frisby, Identifying First and Second Edition Printings of the Houghton Mifflin Hobbit, 2009. From the Gary Munson Collection
https://historical.ha.com/itm/books/jr ... sults-120115#auction-info
Sold for
USD 8,125.00