By
Urulókë


Apr 16, 2013
2013/4/16 0:16:09 (GMT) Greenwich Mean Time, London, Dublin, Lisbon, Casablanca, Monrovia
---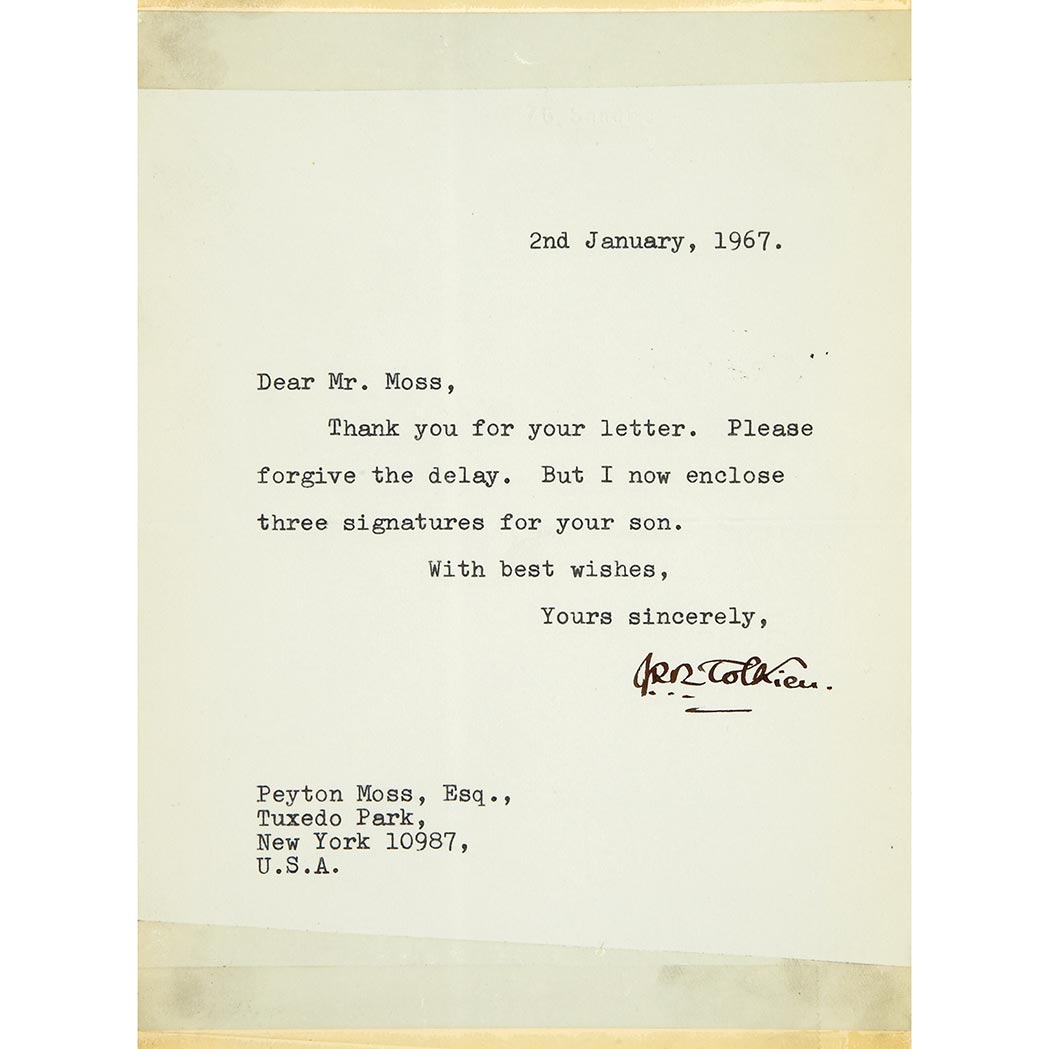 Doyle New York
(auction house) has a combined book set/signed letter going up for auction next week. There are certain issues with this auction that may keep the lot from realizing the estimate, since the signed letter is emphatically taped into the books, which are second edition copies and have some minor issues - "good overall" is not inspiring, if they are using the technical definition of "good" condition. I think they are using layman's terms meaning "it looks good" rather than meaning that the books fall between "Very Good" and "Fair" condition. Hard to tell, and I would suggest seeing the books and letter in person if you are considering bidding. Still, not a letter that I believe has shown up before. No content to speak of but it appears to be a nice signature specimen.
Rare Books & Autographs - Sale 13BP01 - Lot 238
Estimate $2,000-3,000
[UPDATE]
Sold for $2,250 (Includes Buyer's Premium) Tuesday, April 23, 2013 at 10am
TOLKIEN, JOHN RONALD REUEL The Lord of the Rings comprising The Fellowship of the Rings, The Two Towers, and The Return of the King. London: George Allen and Unwin, (1966-66-66). The first printing of second edition (with "Second Edition 1966" on the copyright page with no other printings listed), with a typed letter signed affixed to the front pastedown. Three volumes, publisher's red cloth in original dust jackets. 8 3/4 x 5 3/4 inches (22.5 x 15 cm); with three maps bound at end of each volume. The letter affixed with clear tape to the pastedown but otherwise fine, jackets with chips to tips and extremities, short closed tear into one front panel but good overall, the volumes sound. With a letter of authenticity from Lion Heart Autographs. The letter present here, on one sheet of Tolkien's stationery, is dated 2 January 1967 and presents an American autograph seeker with "three signatures for your son/Yours sincerely, [signed] J.R.R. Tolkien". The second edition of Tolkien's trilogy was needed to close a loophole in its American copyright, which had the book in the public domain allowing a pirated paperback edition to be been released in 1965. Excited at the prospect of this new edition, Tolkien wrote an updated forward and heavily revised and corrected the text.