By
Urulókë


5 Feb, 2019
2019/2/5 17:43:25 (GMT) Greenwich Mean Time, London, Dublin, Lisbon, Casablanca, Monrovia
---
Apologies in the late announcement here, I've been catching up on a lot of items from the past few months.
November 2018 saw the release of the new Galician translation of
The Lord of the Rings
from Sushi Books in Spain. It is a hardcover edition with silk lining and gold stamping in a single volume of 890 pages. The list price is €53 plus shipping - if not in Spain, they need you to contact them directly for a shipping quote, as their website shopping cart does not handle international shipments but they are happy to fulfill those orders. As with
The Hobbit
edition from the same publisher, this translation is by Moisés Barcia.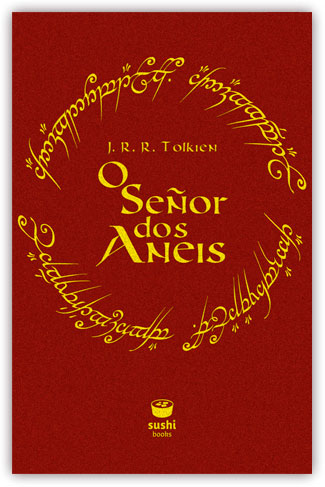 Hardcover, 890 pp.
ISBN: 978-84-16884-17-9
http://rinoceronte.gal/sushibooks/tenda.php?op=ver&id=1426