By
Trotter


13 Jan
2023/1/13 18:41:42 (GMT) Greenwich Mean Time, London, Dublin, Lisbon, Casablanca, Monrovia
---
Auction 08 Feb 2023 10:00 GMT
Lot 221
Tolkien, J. R. R. (1892-1973) The Hobbit
You should always exercise good judgement and perform appropriate due-diligence when acquiring signed items to ensure that you are satisfied with the provenance and integrity of any item you bid on.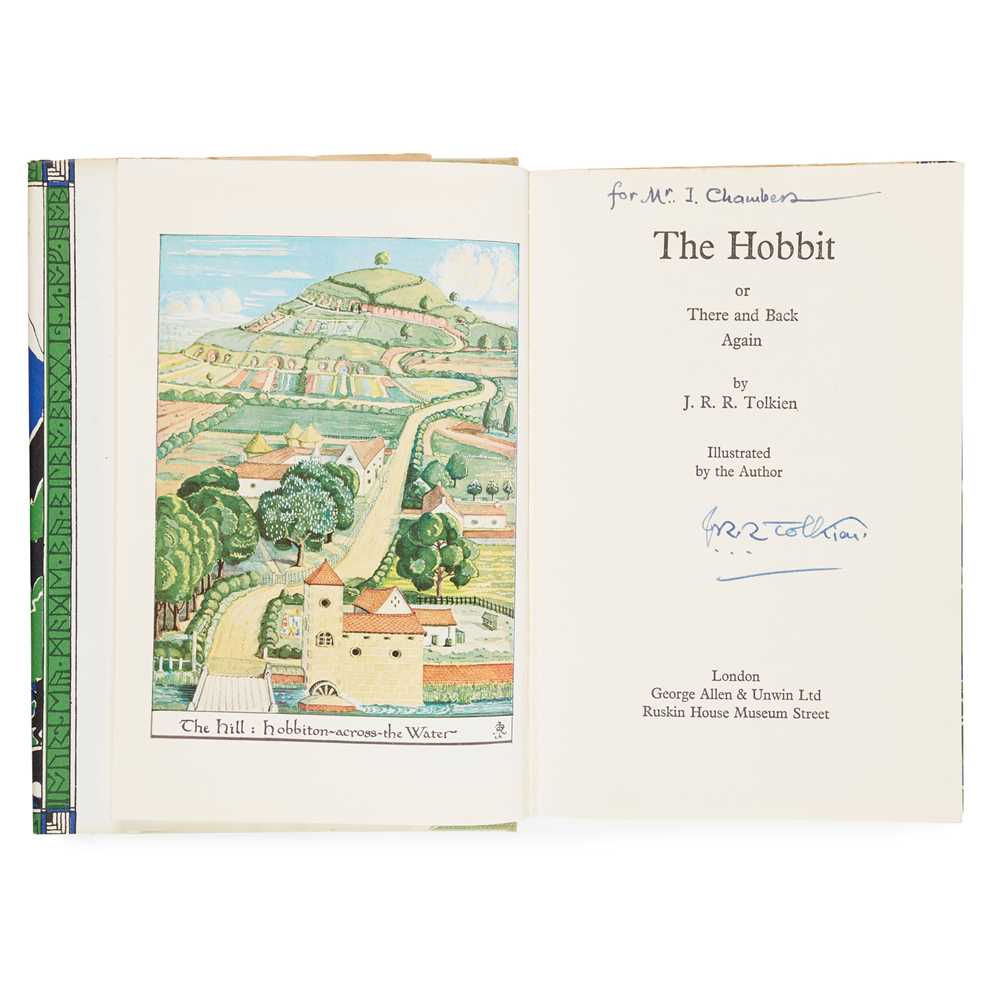 Tolkien, J. R. R. (1892-1973) The Hobbit or There and Back Again. Illustrated by the Author. London: George Allen & Unwin Ltd, 1966. Third edition, second impression (sixteenth impression overall), 8vo, original green boards lettered and decorated in blue, map endpapers, 317 pp., colour frontispiece depicting Hobbiton, 3 further colour plates ('Rivendell'; 'Bilbo comes to the Huts of the Raft-elves'; 'Conversation with Smaug'), illustrations in text (several full-page), with the dust jacket, spotting to top edge of text-block, dust jacket spine browned, concomitant fading to spine of book

Note:

Inscribed by the author 'for Mr. I. Chambers, J. R. R. Tolkien' on the title-page, with the bookplate of the recipient Ivan Chambers OBE (1902-1998) on the front free endpaper. Chambers was a noted bookseller who worked for the dealership W. J. Bryce, which operated from premises on London's Museum Street in a building owned by Stanley Unwin, Tolkien's publisher. 'The success of Tolkien's writing, as well as his subsequent fanatical worldwide readership, was due in no small part to the author–publisher relationship that existed between Tolkien, Stanley Unwin, and later [Stanley's son] Rayner Unwin' (ODNB).

Provenance: By descent from Ivan Chambers.
According to
Aelfwine
:
The handwriting of the inscription and the signature are both correct. (I'll leave it to others to speculate on why the ink of the inscription differs in color from that of the signature.)

The recipient, Mr. I[van] Chambers, had several interesting congruences of life with Tolkien: Ivan Chambers obituary
Estimate
3,000 GBP - 5,000 GBP
Sold for
£17,640
including fees
https://www.the-saleroom.com/en-gb/auc ... e1-4e53-933a-af8900e8bf26
Lot 222
Tolkien, J. R. R. The Lord of the Rings:
Tolkien, J. R. R. [The Lord of the Rings:]

The Fellowship of the Ring; The Two Towers; The Return of the King. London: George Allen & Unwin Ltd, 1954-54-55. 3 works, 8vo, original red cloth, spines lettered in gilt, top edges dyed red, folding map printed in red and black to rear of each work, with the dust jackets (each unclipped and retaining original price of 21s), Fellowship with illustrations in text (map of the Shire; inscription on the One Ring; and the gate of Moria), Return of the King with signature-mark '4' and sagging type on p.49. Spines rolled, spotting to endpapers, strips of browning to free endpapers, dust jackets variably marked and with a few nicks and closed tears along edges, jacket spines sunned, scuffed and with light fraying and softening to head and foot; Fellowship with a few light spots to outer text-leaves and to map, tips bumped, jacket front panel with strip of browning along top edge and small hole to lower fore corner; Two Towers jacket with small perforation towards head

Note: First editions, first impressions, each volume respectively one of 3,000, 3,250 and 7,000 copies only.
Estimate
10,000 GBP - 15,000 GBP
Sold for
£25,200
including fees
https://www.the-saleroom.com/en-gb/auc ... 9b-46eb-81f5-af8900e8bfeb
Lot 223
Tolkien, J.R.R. and miscellaneous 18 volumes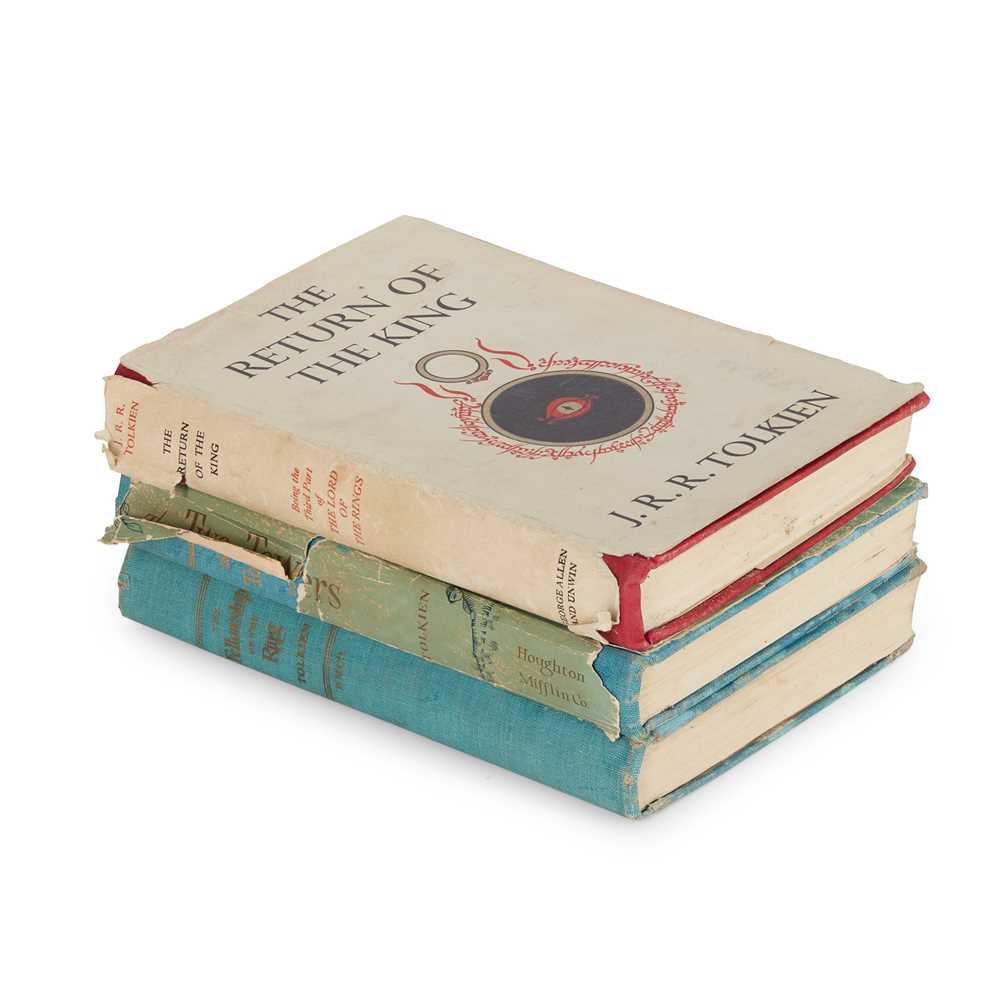 Tolkien, J.R.R. and miscellaneous 18 volumes

Tolkien, J.R.R. The Fellowship of the Ring. Boston: Houghton Mifflin Company, 1954. First American edition, original blue cloth;
Idem. The Two Towers. Boston: Houghton Mifflin Company, 1955. First American edition, original blue cloth, very worn dustwrapper;
Idem. The Return of the King. London: George Allen & Unwin Ltd, 1955, First edition, [1st impression], folding map, original red cloth, dustwrapper price clipped and split at fold, slightly frayed and slightly soiled;
Mitford, Mary Russell. Our Village. London: G. & W. B. Whittaker, 1824. 8vo, contemporary half calf;
Moore, Thomas. The Epicurean. 1827. Third edition, 12mo, contemporary half calf;
Smith, J.E. and Mr Sowerby. Supplement to The English Botany. London 1849, volume 4 only, hand-coloured engraved plates numbered 2868-2960, contemporary calf gilt;
Ludlow, F. "Birds of Bhutan, Sikkim and S.E. Tibet, 1927-50" (title from spine). 8vo, extracted articles from the Ibis, plates, folding maps, brown buckram lettered in gilt;
Seton-Thompson, Ernest. Lives of the Hunted. London: D. Nutt, 1901. 8vo, illustrations, original pictorial cloth;
Chrystal, Major R.A. Angling at Lochboisdale South Uist. London, 1939. 8vo, original cloth;
Skues, G.E.M. The Way of a Trout with a Fly. London, 1935. Third edition, 8vo, plates, original cloth;
Schomberg, R.C.F. Kafirs and Glaciers. Travels in Chitral. 1938. 8vo, plates, folding map, NLS deaccession stamp to endpaper;
Kearton, Richard. With Nature and a Camera. 1904. 8vo, illustrations, original cloth, rubbed;
Wade, Rev. W.M. Delineations, historical, topographical and descriptive of the Watering and Sea-Bathing Places of Scotland. Paisley, 1822. 12mo, original boards, uncut, rebacked with cloth;
Smith, Rev. Gerard. The Ferns of Derbyshire, illustrated from Nature. London: Bemrose, 1869. 8vo, 6th edition, additional coloured lithographed title, coloured plates, later wrappers;
Gray, Alasdair. Lanark. Edinburgh: Canongate Publishing, 1981. First edition, 8vo, original cloth, dustwrapper;
Gould, B.J. The Jewel in the Lotus. 1957, 8vo, original cloth;
Fitzpatrick, Sir Percy. Jock of the Bushveld. 1941. 8vo, original cloth;
Dandy, J.E. and G. Taylor. Studies of British Potamogetons 1-3. Extracted from The Journal of Botany, August 1938-40, 5 extracts in a ring binder, bookplate of Sir George Taylor, blue cloth, sold not subject to return
Estimate
300 GBP - 500 GBP
Sold for
£2,772
including fees
https://www.the-saleroom.com/en-gb/auc ... 0a-4b3b-b184-af8900e8c0b0