By
AndyBirdUK


9 Oct, 2022
2022/10/9 17:51:36 (GMT) Greenwich Mean Time, London, Dublin, Lisbon, Casablanca, Monrovia
---
Quick links to the three parts of the article
Part One Melbourne House Hobbit Game
Part Two Melbourne House Lord of the Rings Game
Part Three Melbourne House Shadows of Mordor Game
Following on from the Hobbit Computer Game this article is looking at collectables for the second Tolkien game from Melbourne House, Lord of the Rings Game 1. Like the Hobbit this too was developed by Beam Software although the team that developed it only had one developer from the Hobbit team, Philip Mitchell. It was released in January 1986. Some versions did not feature graphics. It was not as successful or as innovative as the Hobbit game, although the cover image of a Black Rider was iconic (by artist Ian McCausland - on a side note I believe that he is a well known rock album artist who recently died in August this year).
It should be noted that this article is mainly about the UK release of the game.
The game came in a large plastic box with an eye catching cover featuring a colourful image of a Black Rider. The packaging was big because it contained a copy of The Fellowship of the Ring book. The game was on 2 cassettes and came with an instruction manual. The thin plastic structure of the packaging is quite flimsy and is easily crushed and damaged.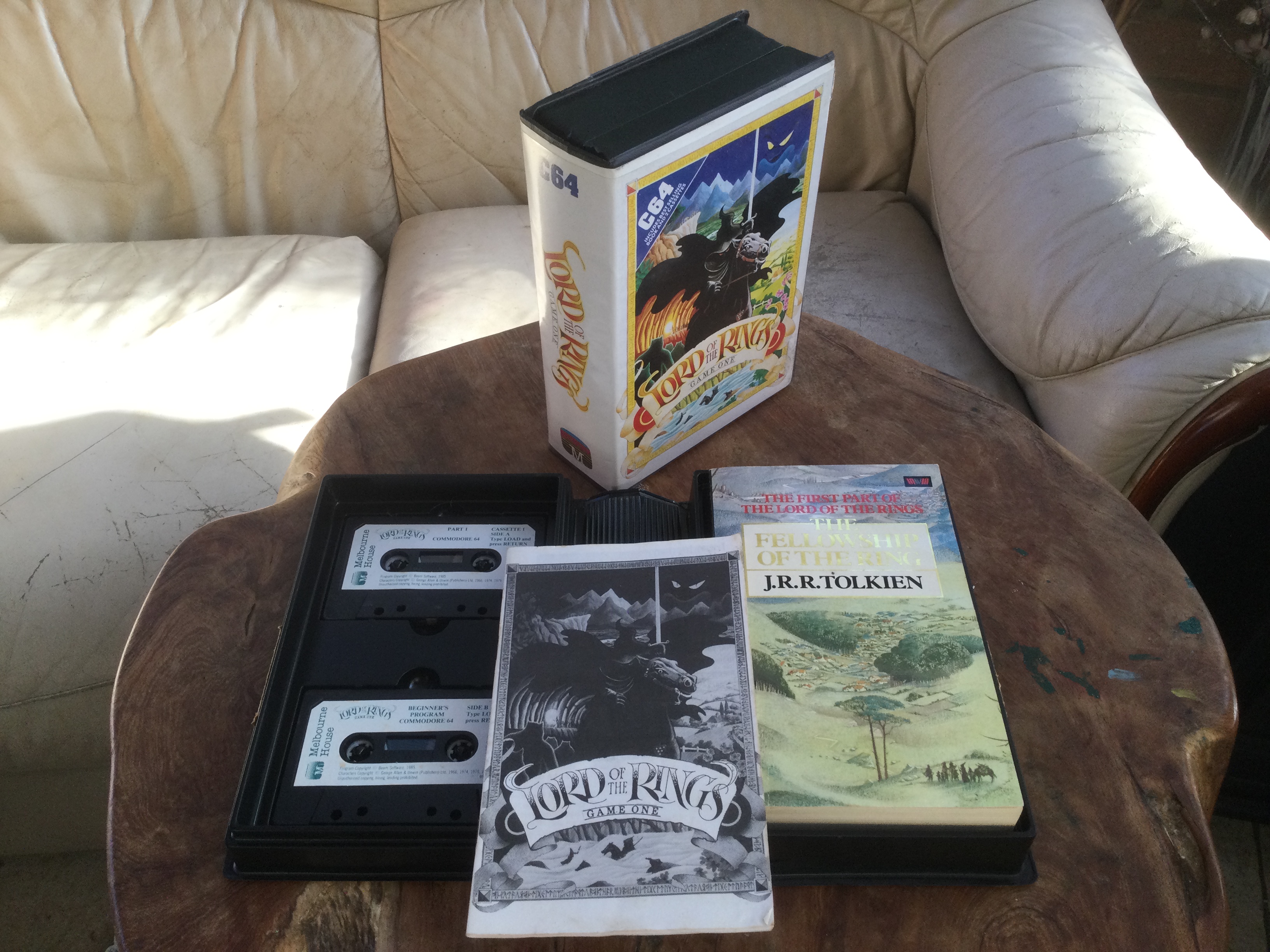 It was released on cassette for the Sinclair ZX Spectrum, Amstrad, Commodore 64 and BBC micro.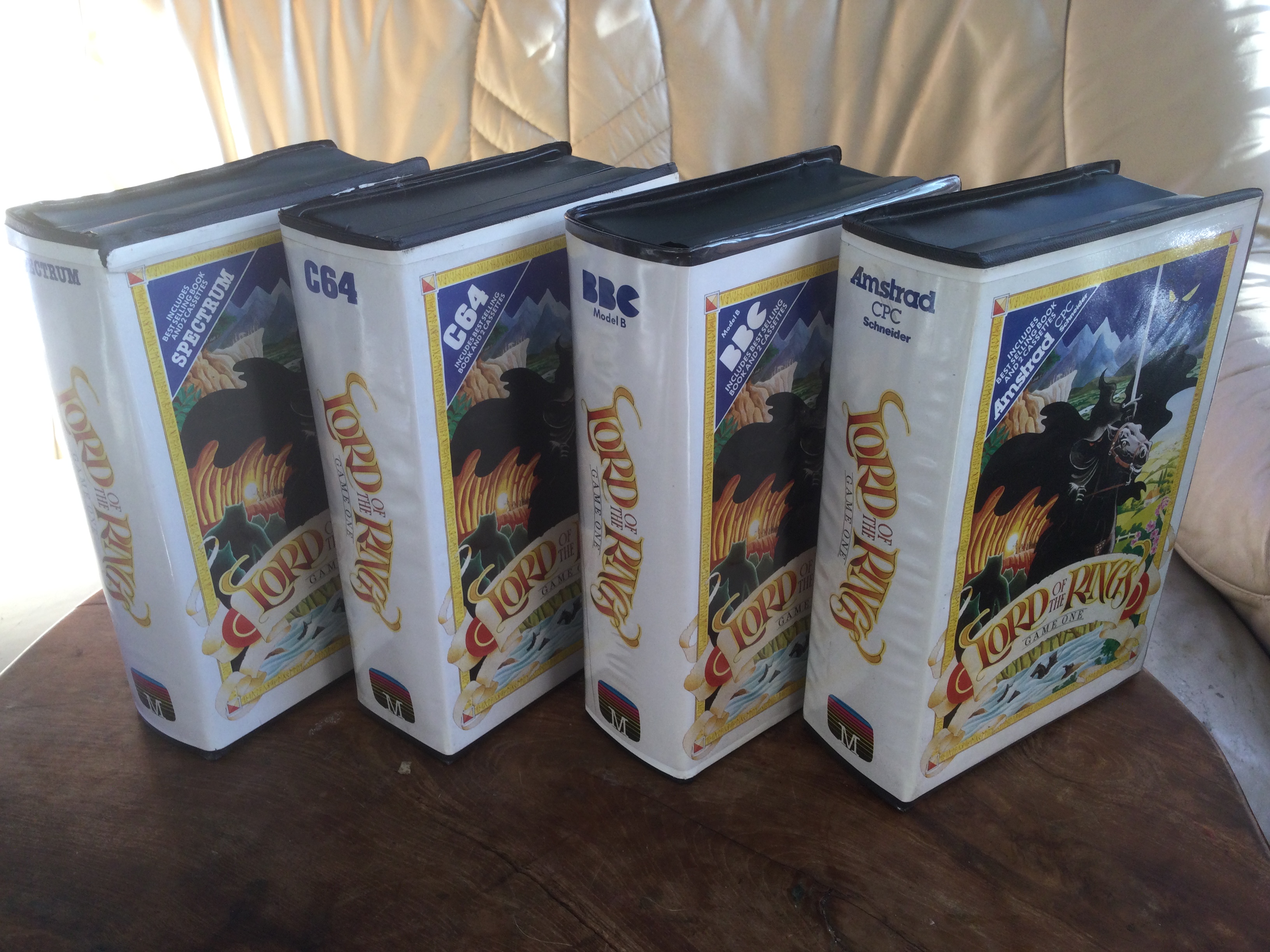 Guild Publishing (the mail order Book Club) also produced copies of the cassette version. They were identical to the original versions but with the Guild Publishing details and logo on the packaging instead. They produced ZX Spectrum, Commodore 64 and BBC versions (I have never seen an Amstrad version, please let me know if you have).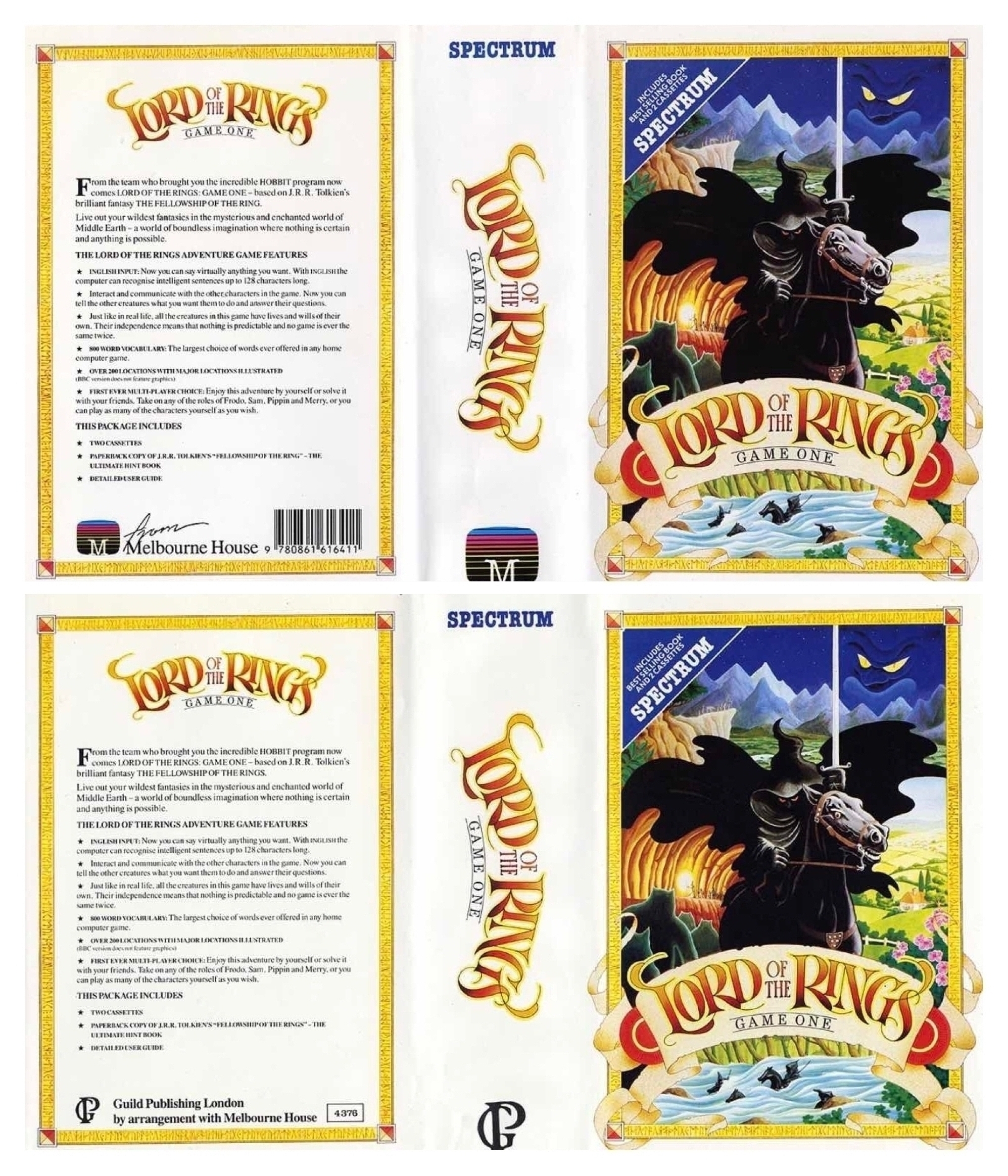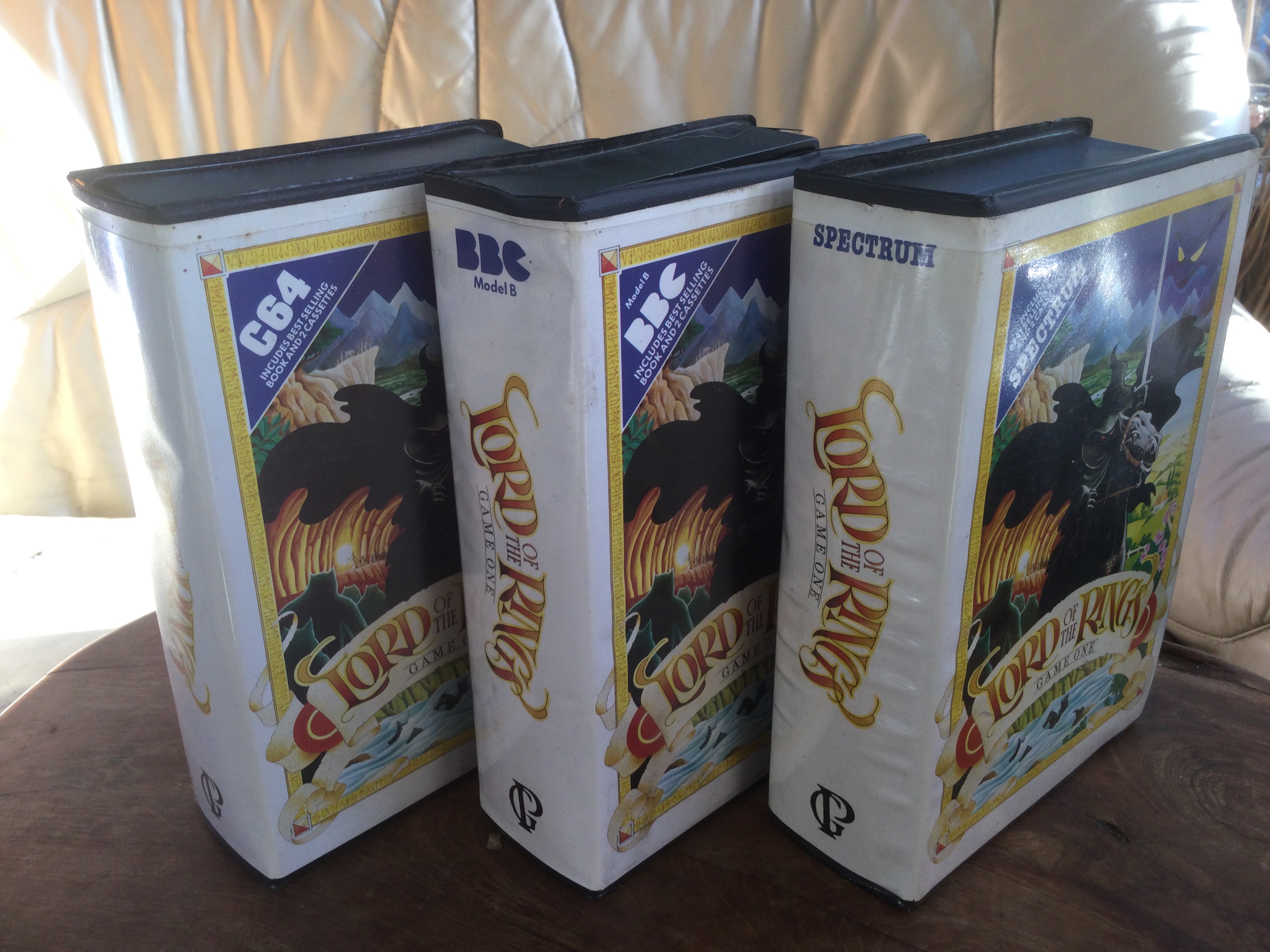 As well as the cassettes, disk based versions were are released for some systems. These did not come with the fellowship book and were in flat packaging. There were disk versions for 5 systems, Commodore 64, BBC, 2 Amstrad versions, one for the CPC System and one for the PCW System.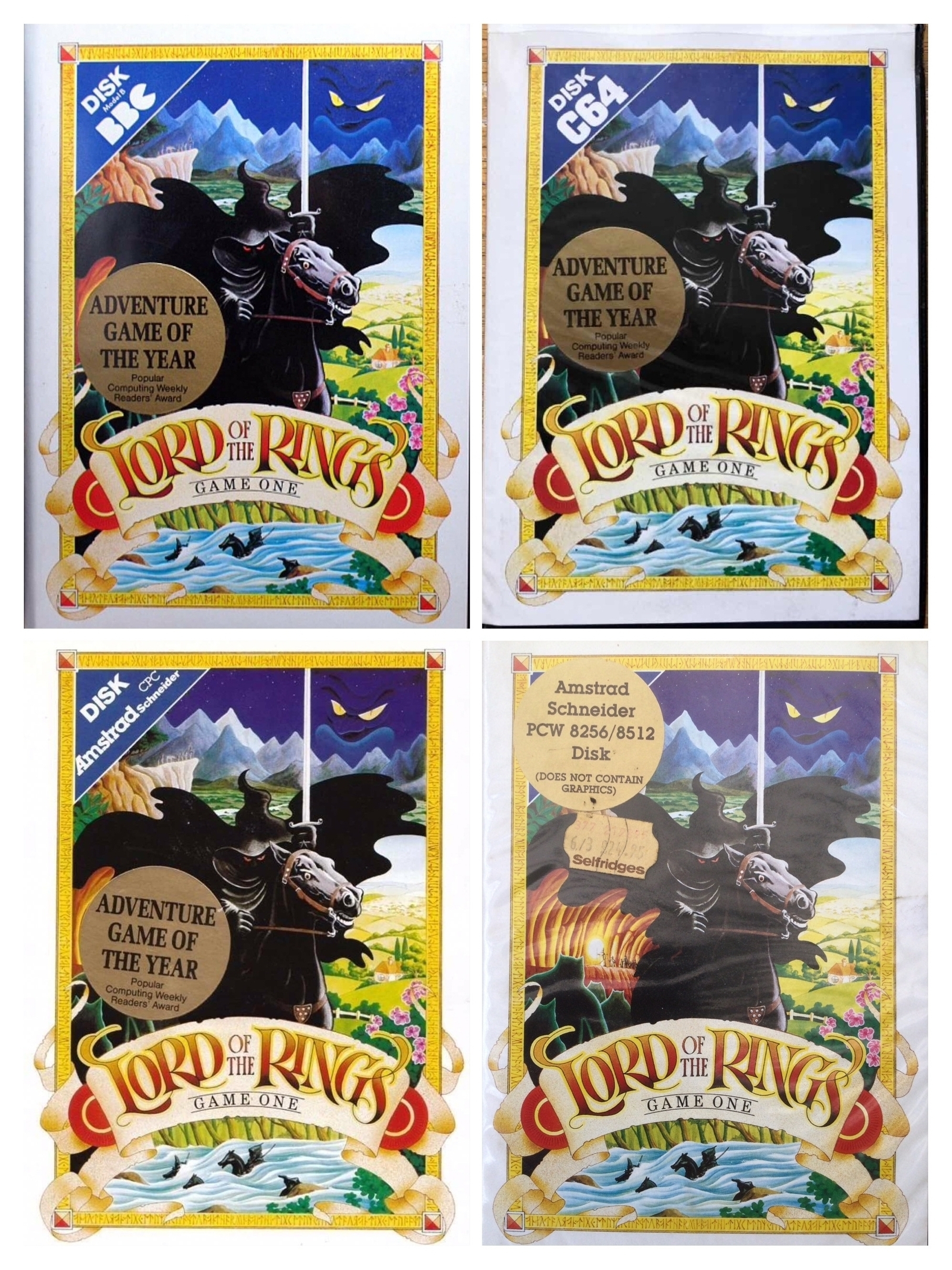 The PC version, had a slightly different package design.
The game featured a lot in the computer games magazines of the time. However Computer & Video Games October 1985 magazine is the only magazine to feature the game on its cover. Interestingly the image used on the cover is not from the game but an image of a flying Nazgul by artist Chris Achilleos.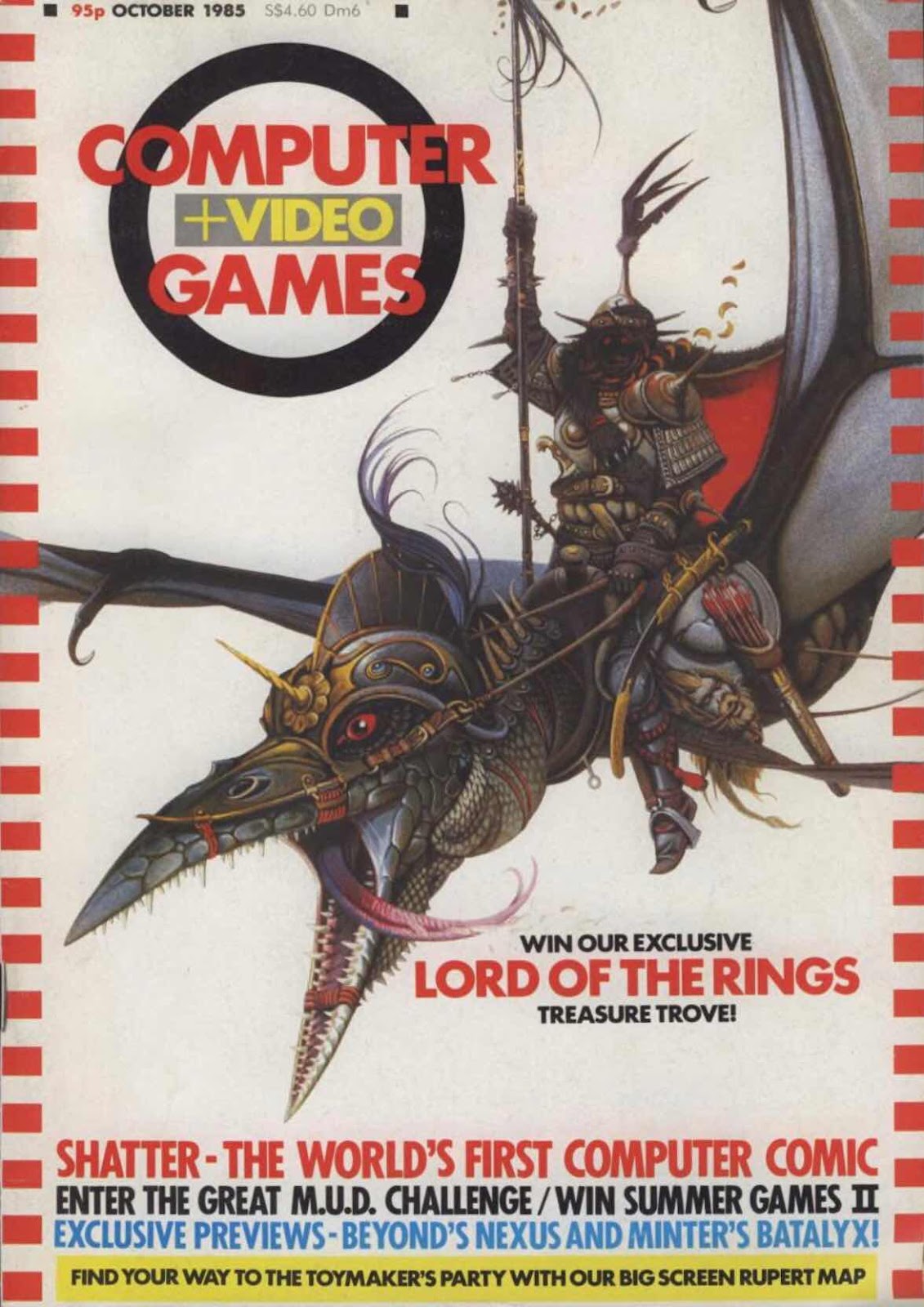 The game was marketed quite extensively with adverts being published in many of the magazines. As well as smaller adverts (not listed here) there was a lovely 1 page advert featuring the iconic package image. There were 3 slightly different versions of this advert with variations in the description. It was published in Popular Computing Vol 4 No 47 21-27 November 1985, Computer & Video Games December 1985, Commodore User December 1985, Sinclair User No 45 December 1985, Crash No 23 December 1985 and Sinclair User No 47 February 1986. The 1st variation was published in Computer & Video Games January 1986. The 2nd variation was published in Commodore User March 1986, ZZAP No 11 March 1986 and Amtix No 5 March 1986.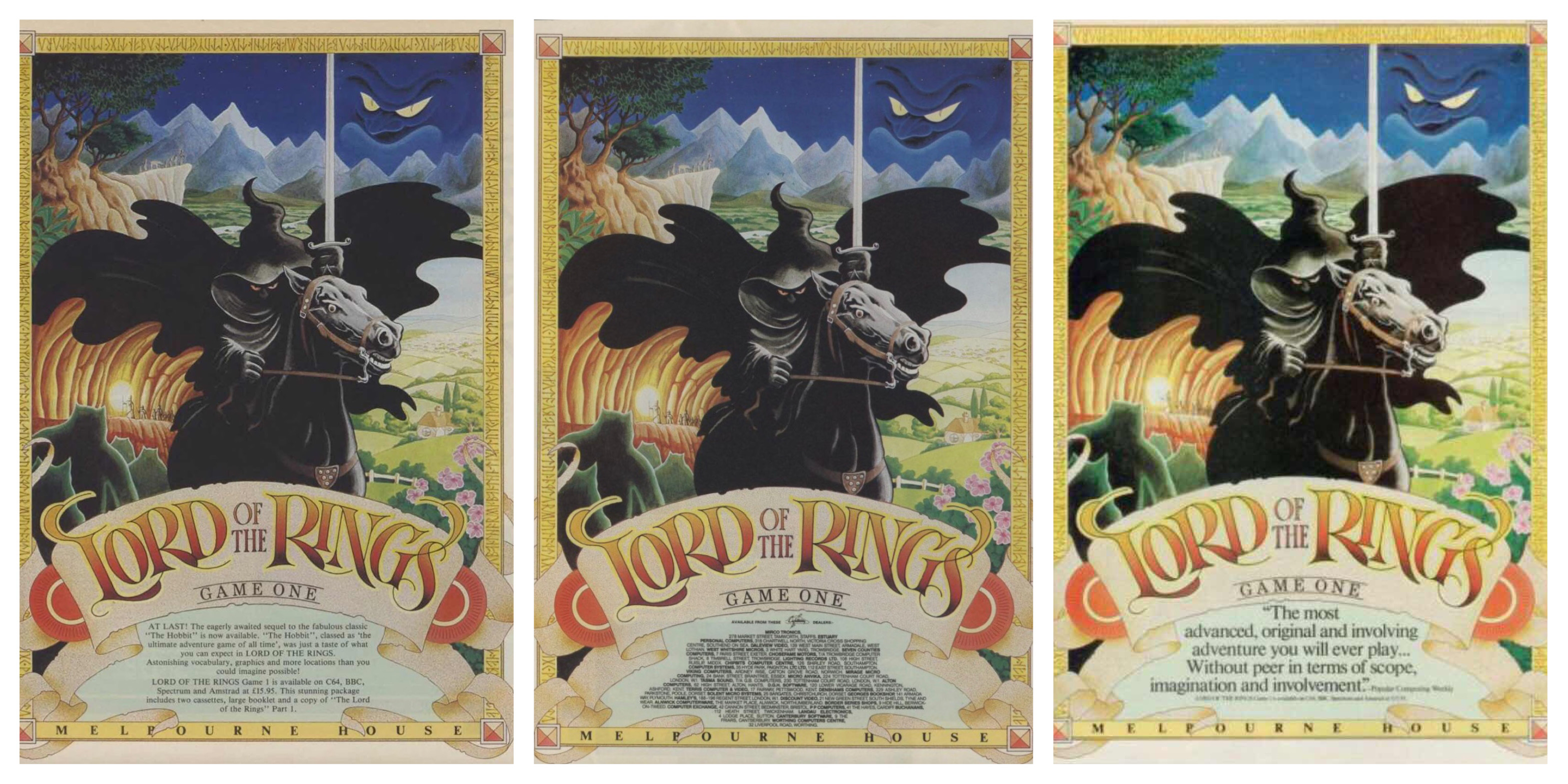 There was also another single page advert which also advertised the Hobbit game (published in Computer & Video Games July 1986).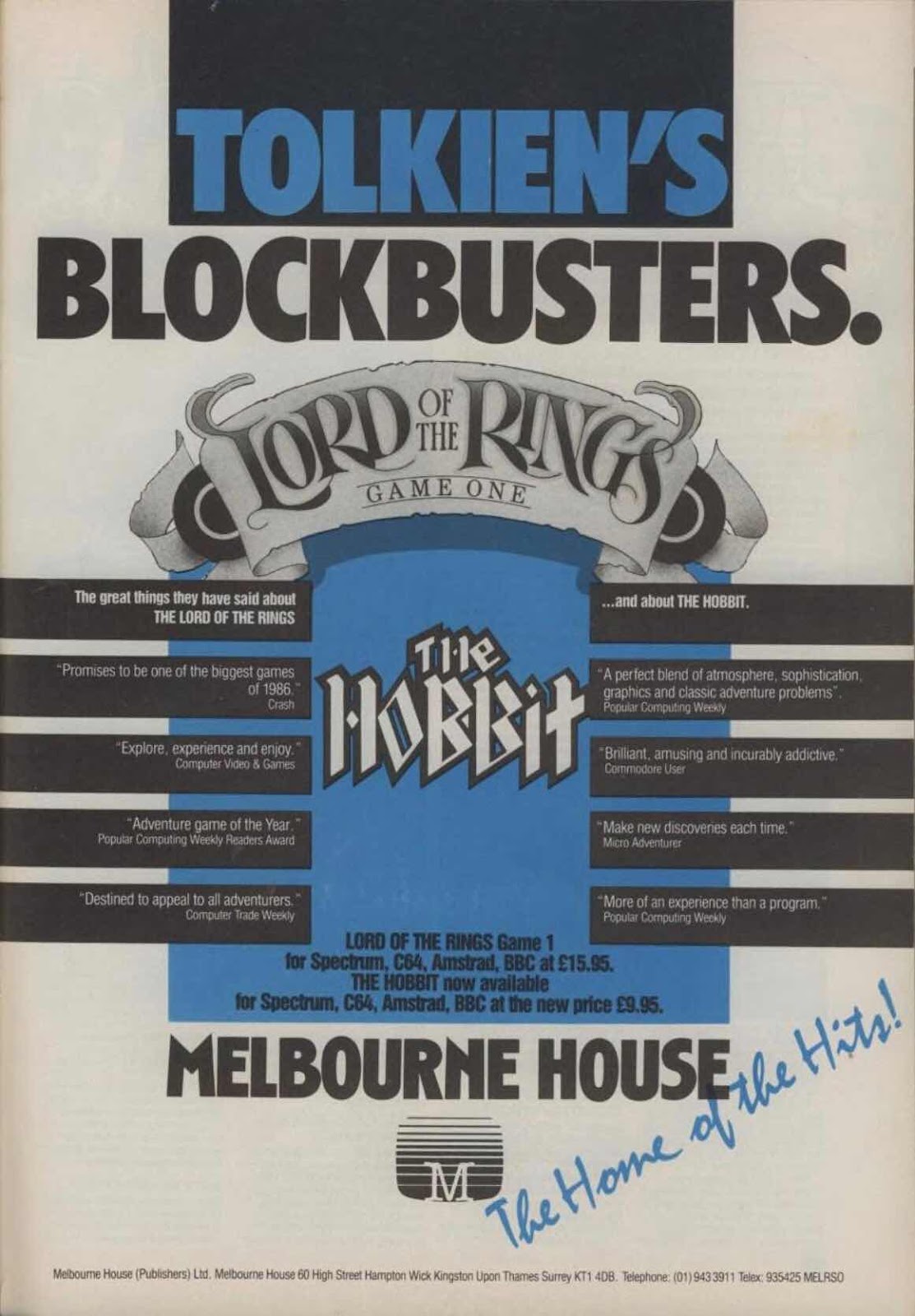 Magazines also published reviews and articles for the game. A lot of these are quite small reviews or tips (and are not listed here), however here are a few of the larger, more collectable ones.
Computer & Video Games October 1985 has a preview article, as on the cover it uses another Chris Achilleos image, his classic Hosts of Chaos image.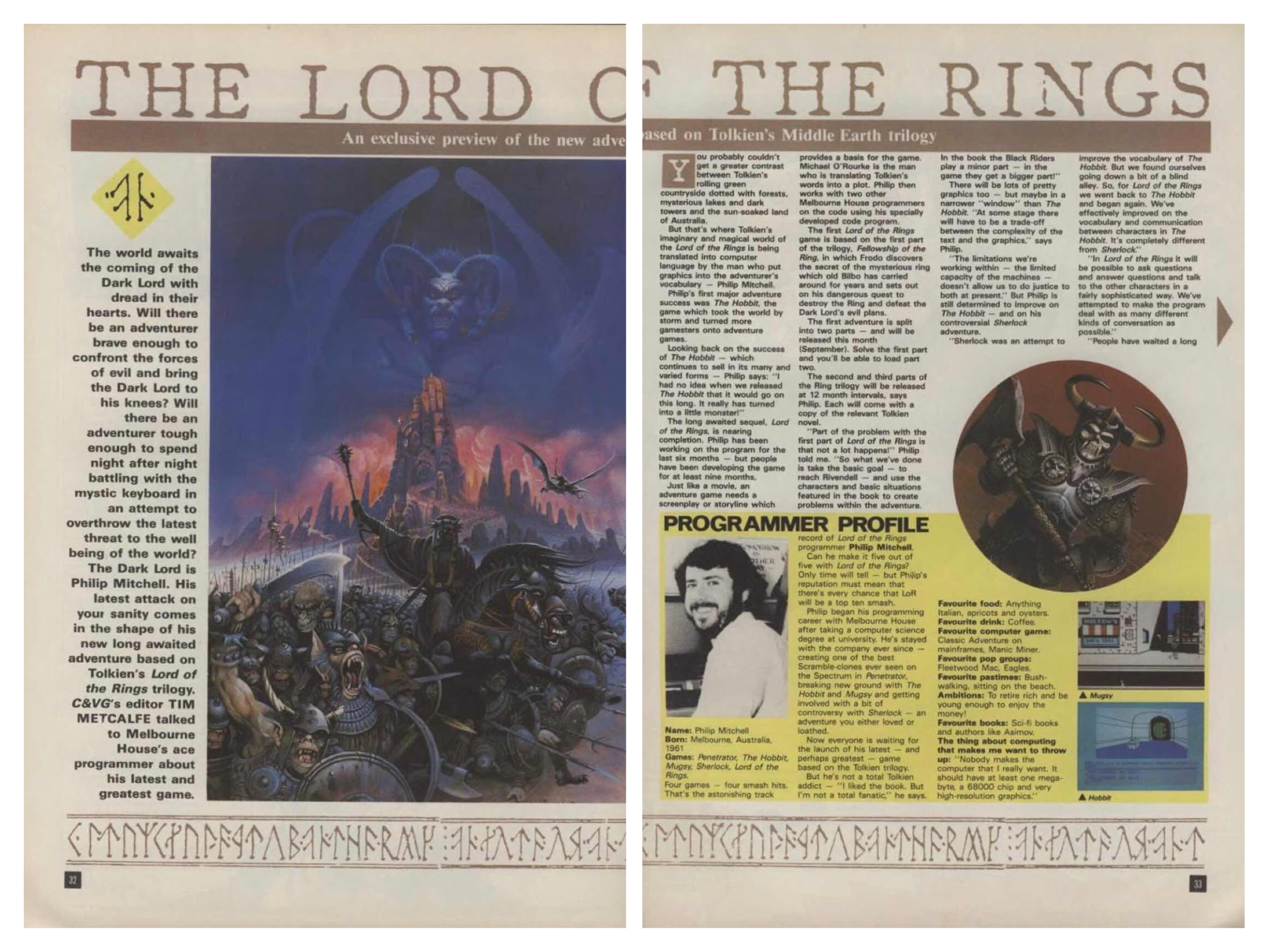 Popular Computing Weekly 16-22 January 1986 has a one page review.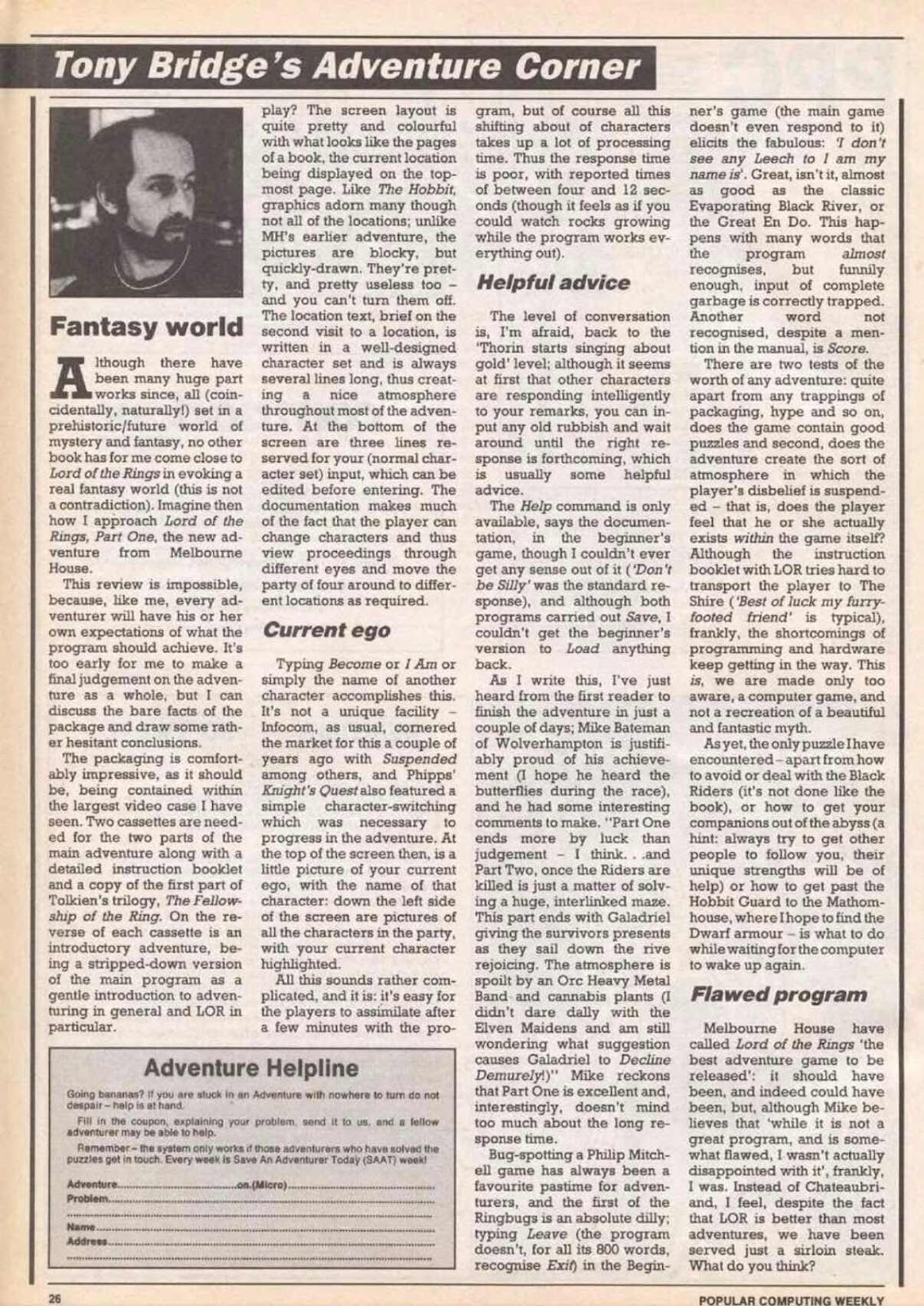 Computer Gamer February 1986 has a three page review.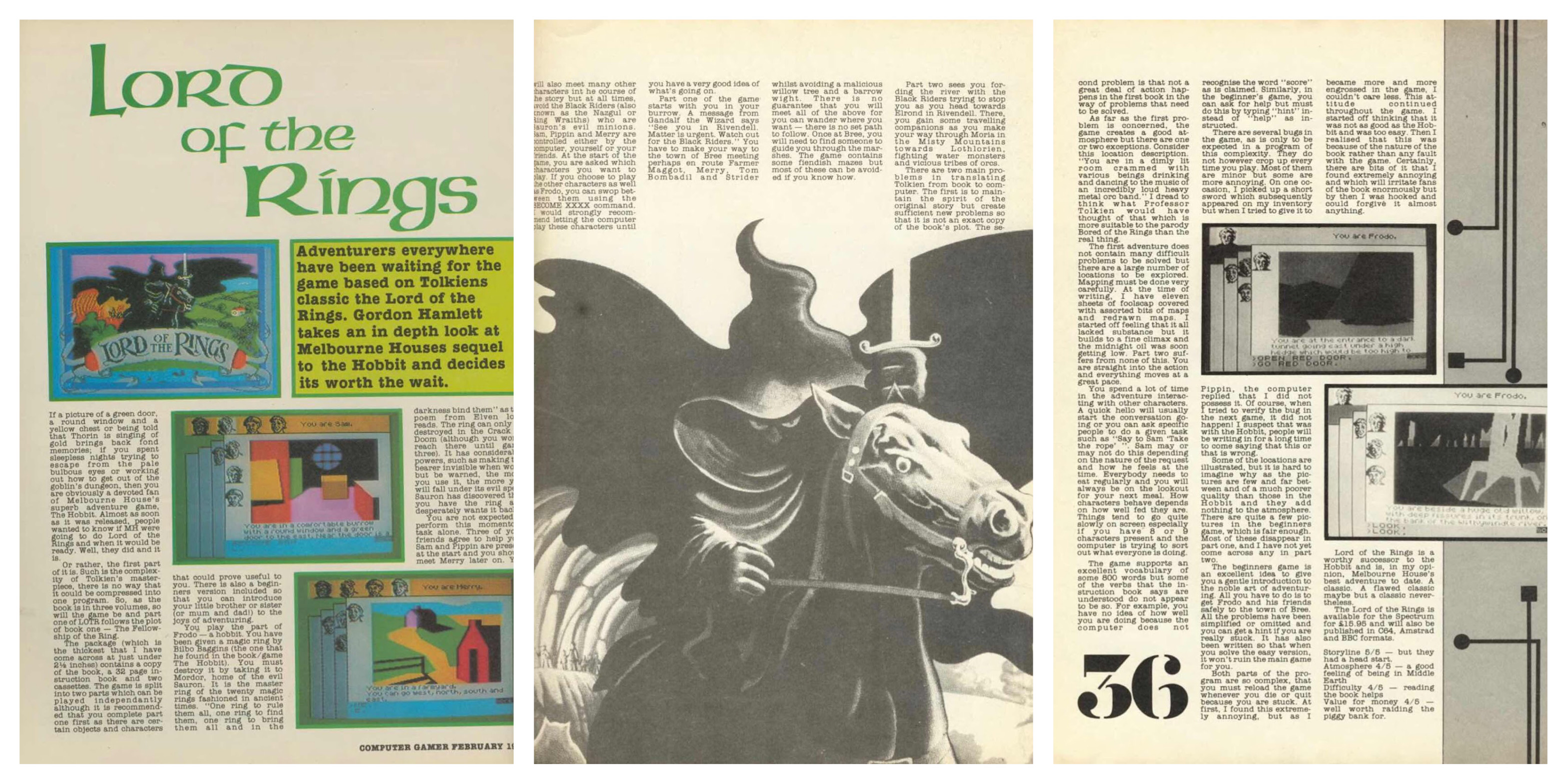 Sinclair User No 48 March 1986 has a two page map.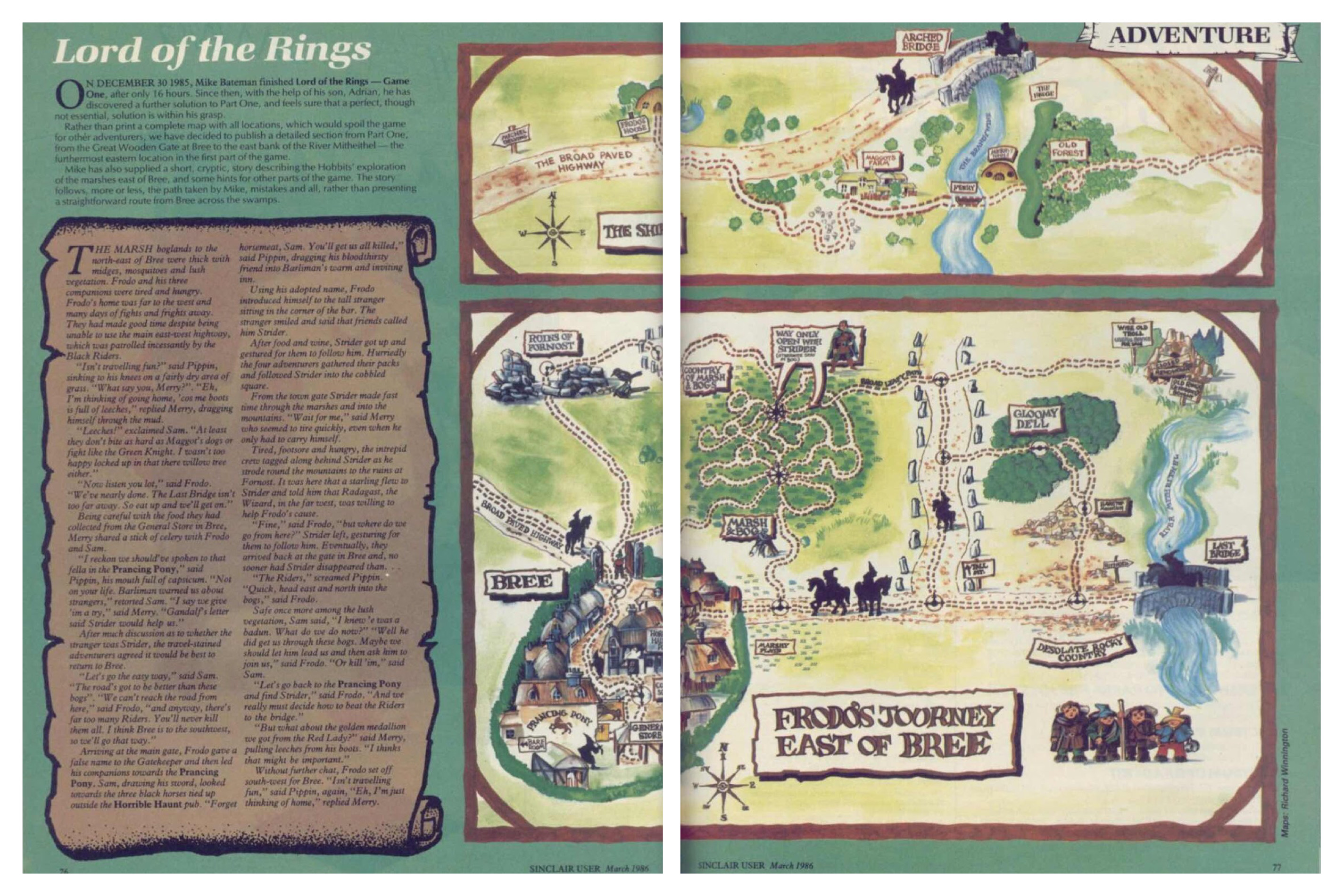 Crash No 26 March 1986 has a two page review.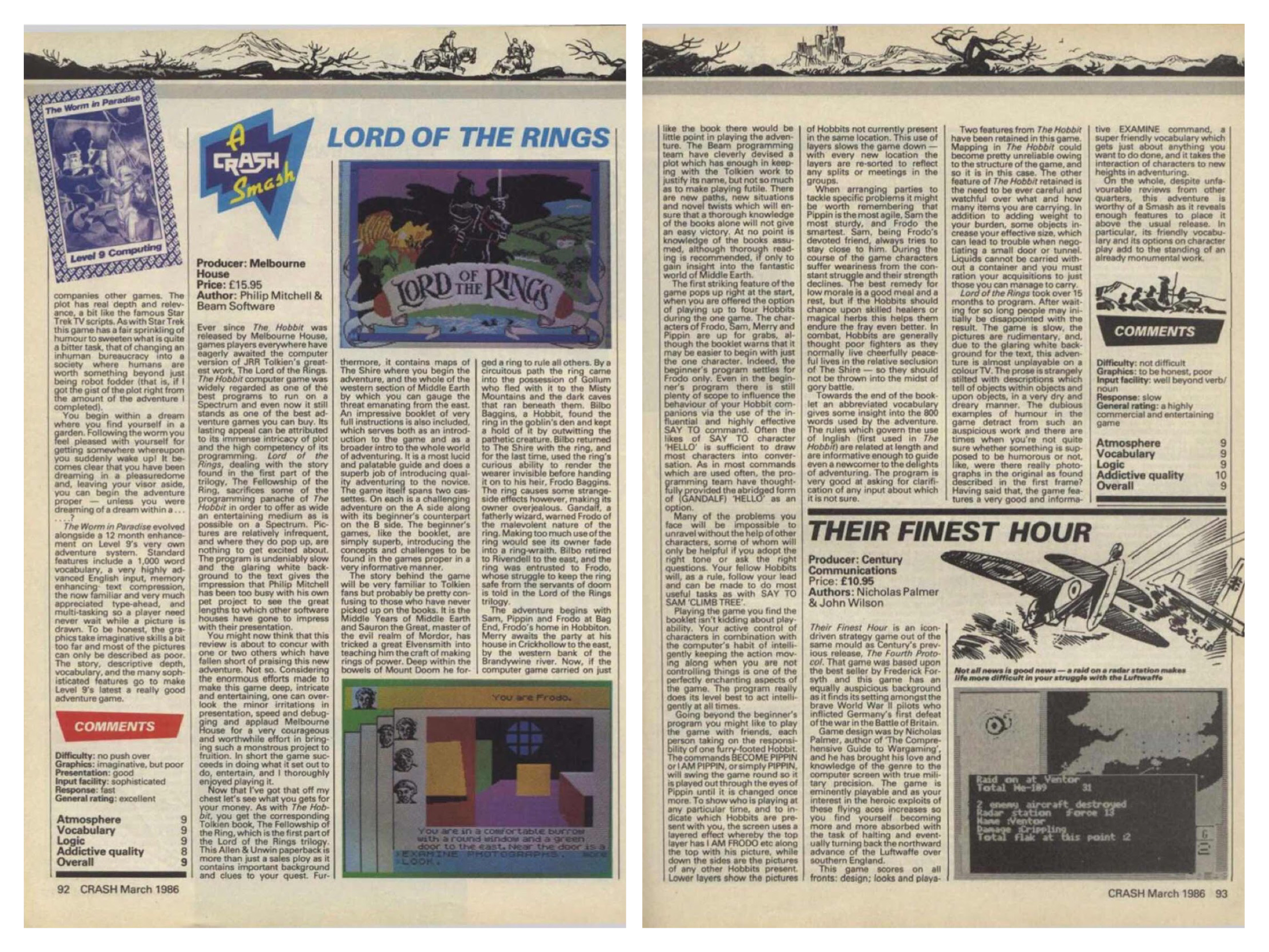 Computer & Video Games March 1986 has a two page review.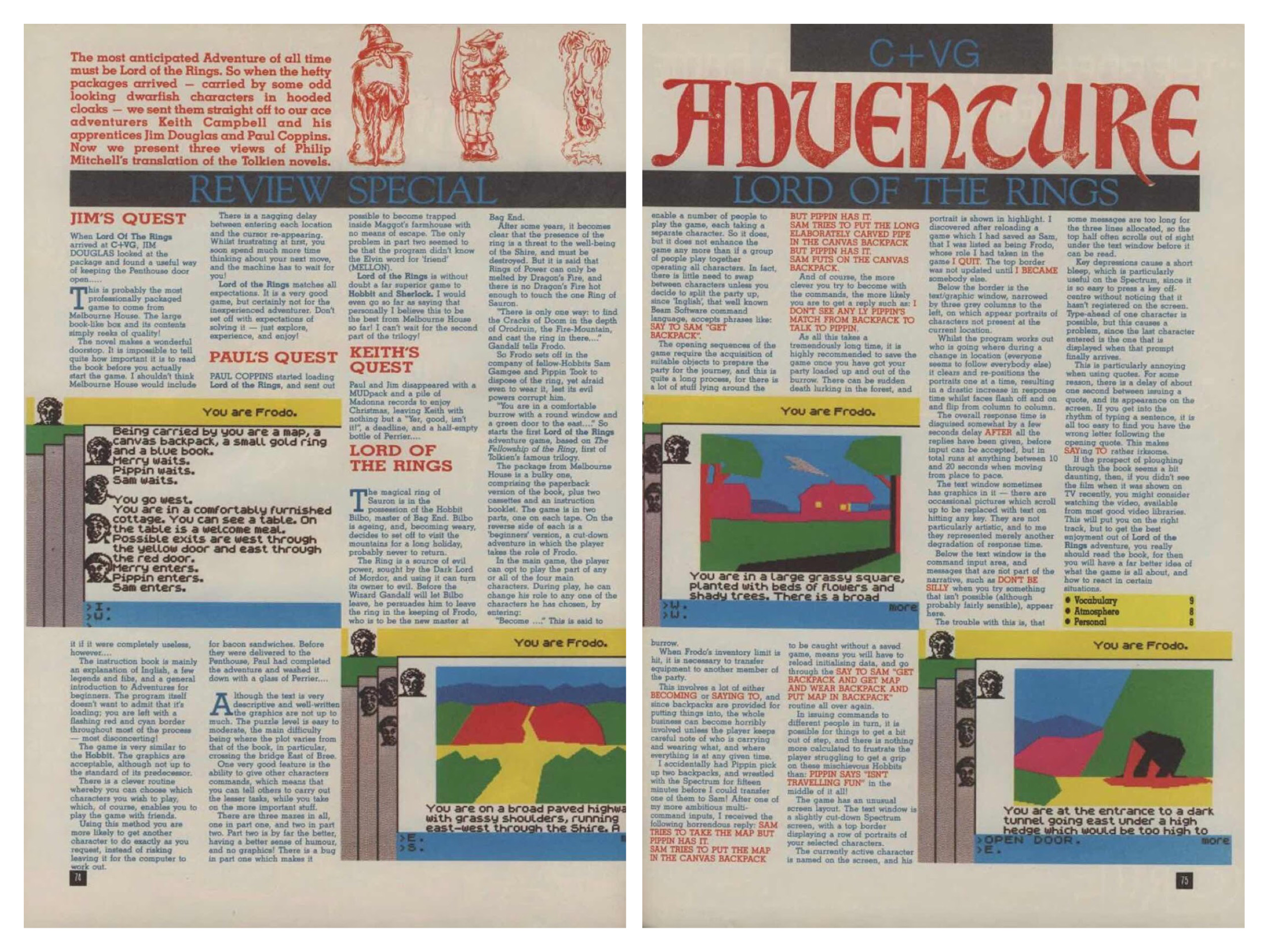 Your Sinclair No 4 March 1986 has a two page help guide.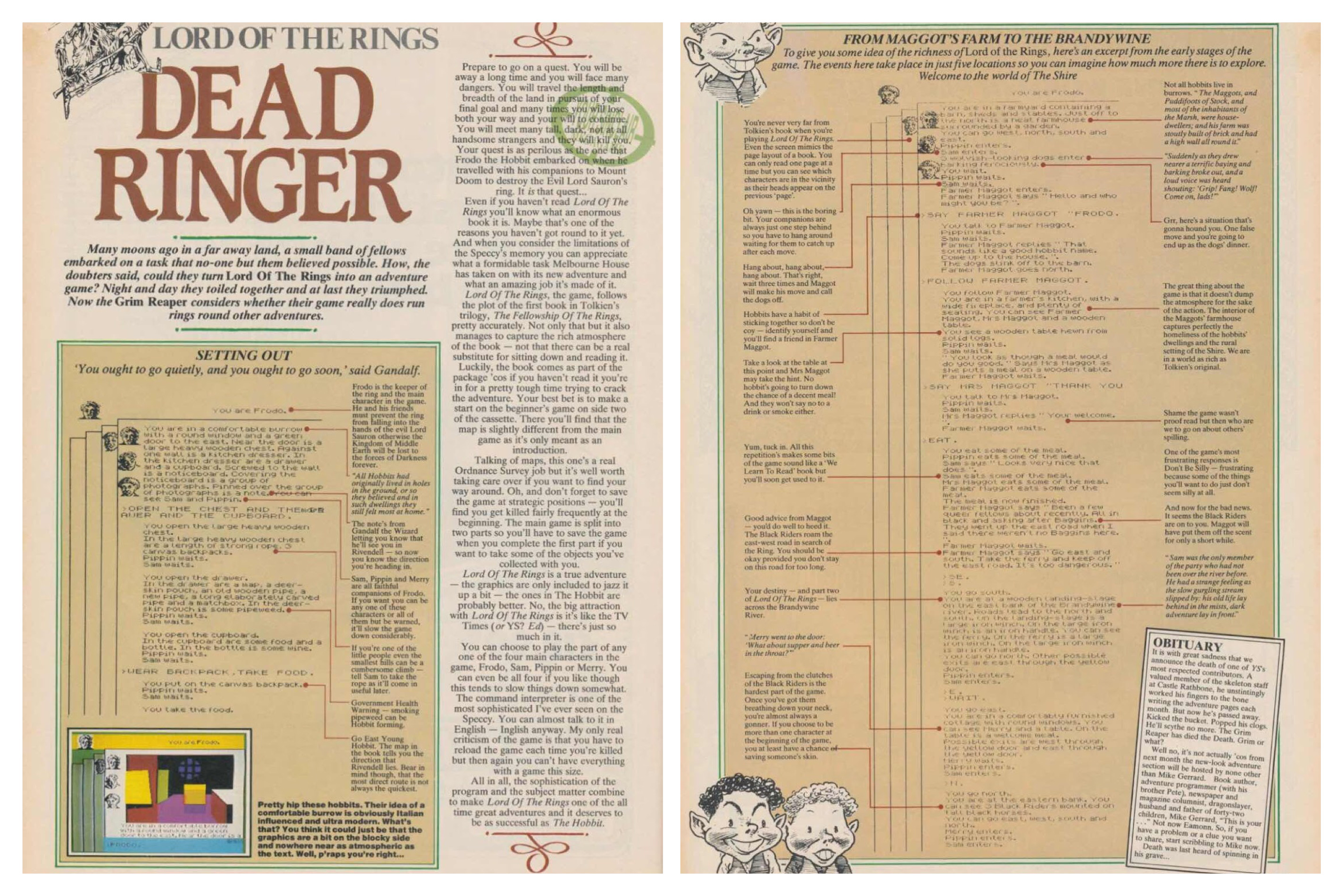 Amstrad Action No 6 March 1986 has a two page review.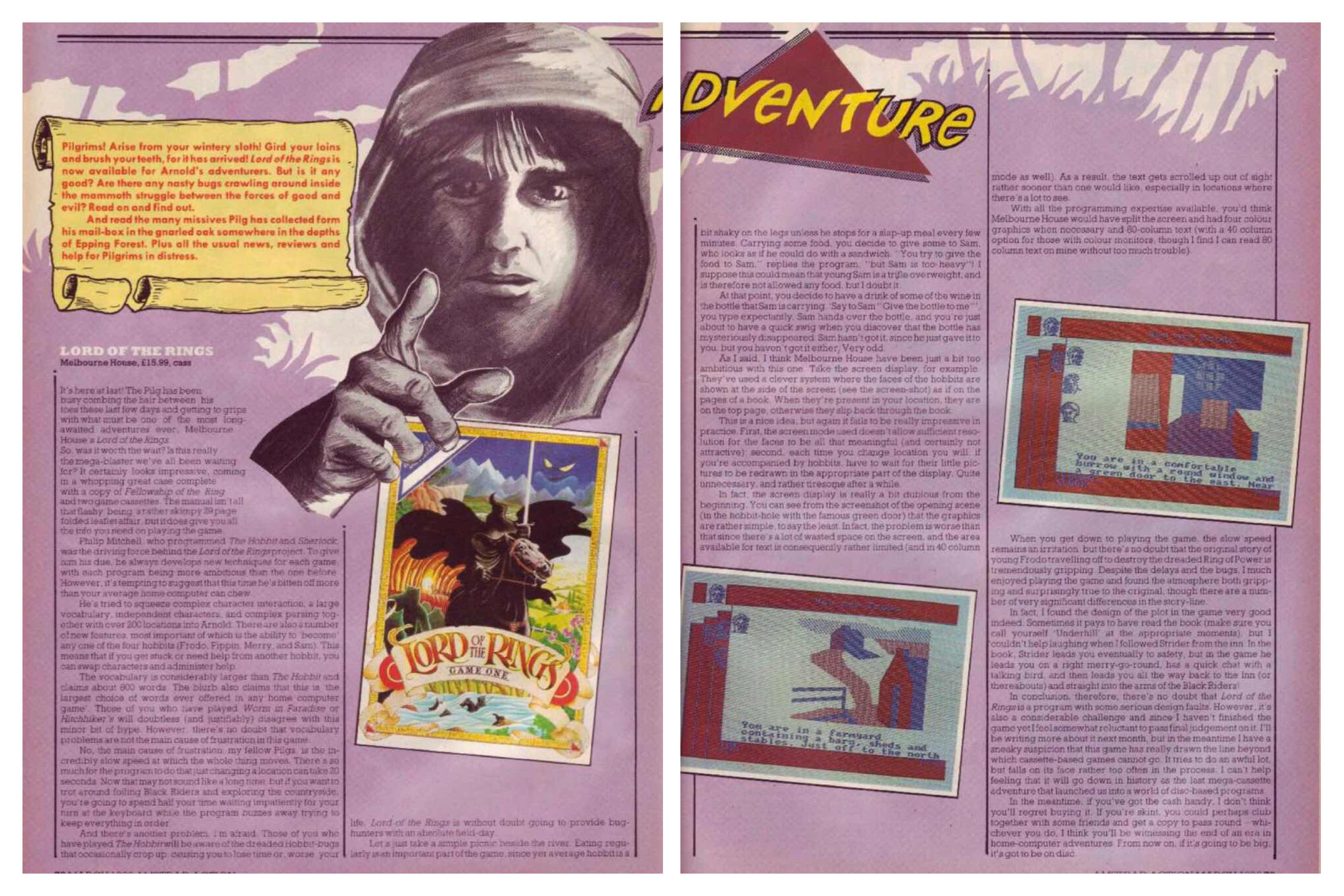 Commodore User March 1986 has a two page review.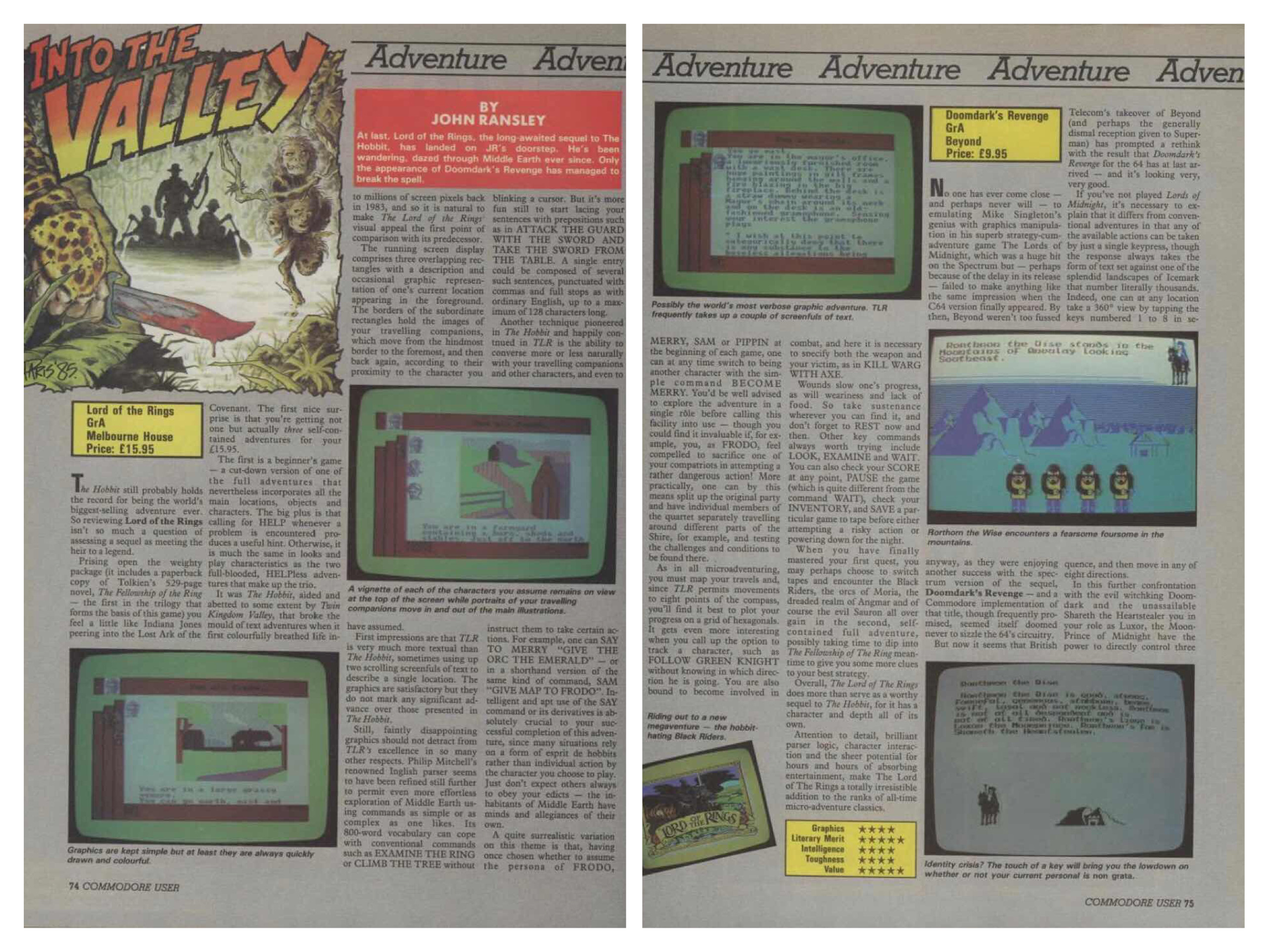 Amstrad Computer User April 1986 has a two page review.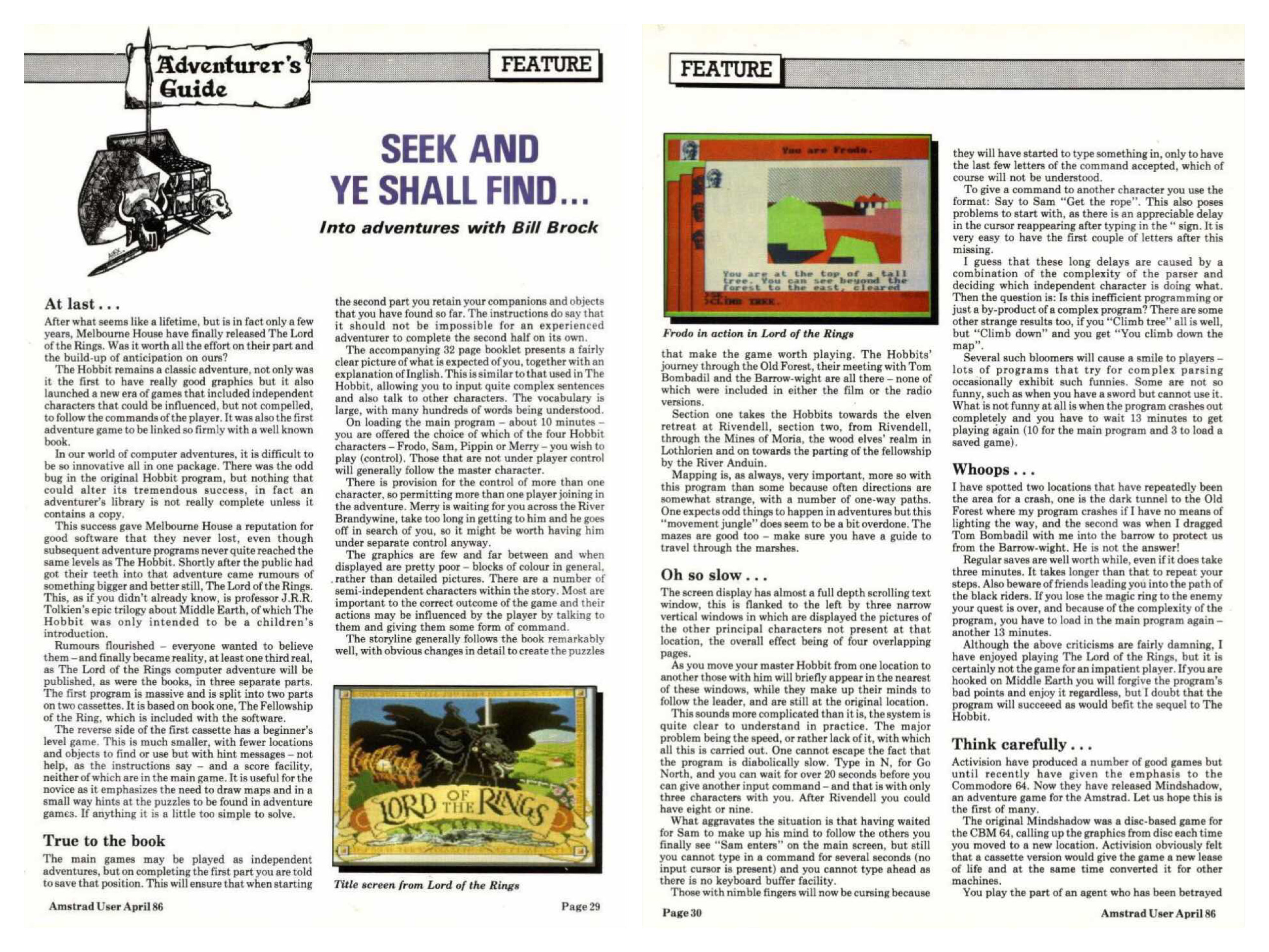 Please note that these are the magazine details I have identified, there may be more.
There is also an A2 sized poster of the iconic black rider packaging image. I am not sure how this was available, all the copies I have seen have been folded so I believe it was from a magazine however I have not been able to identify which.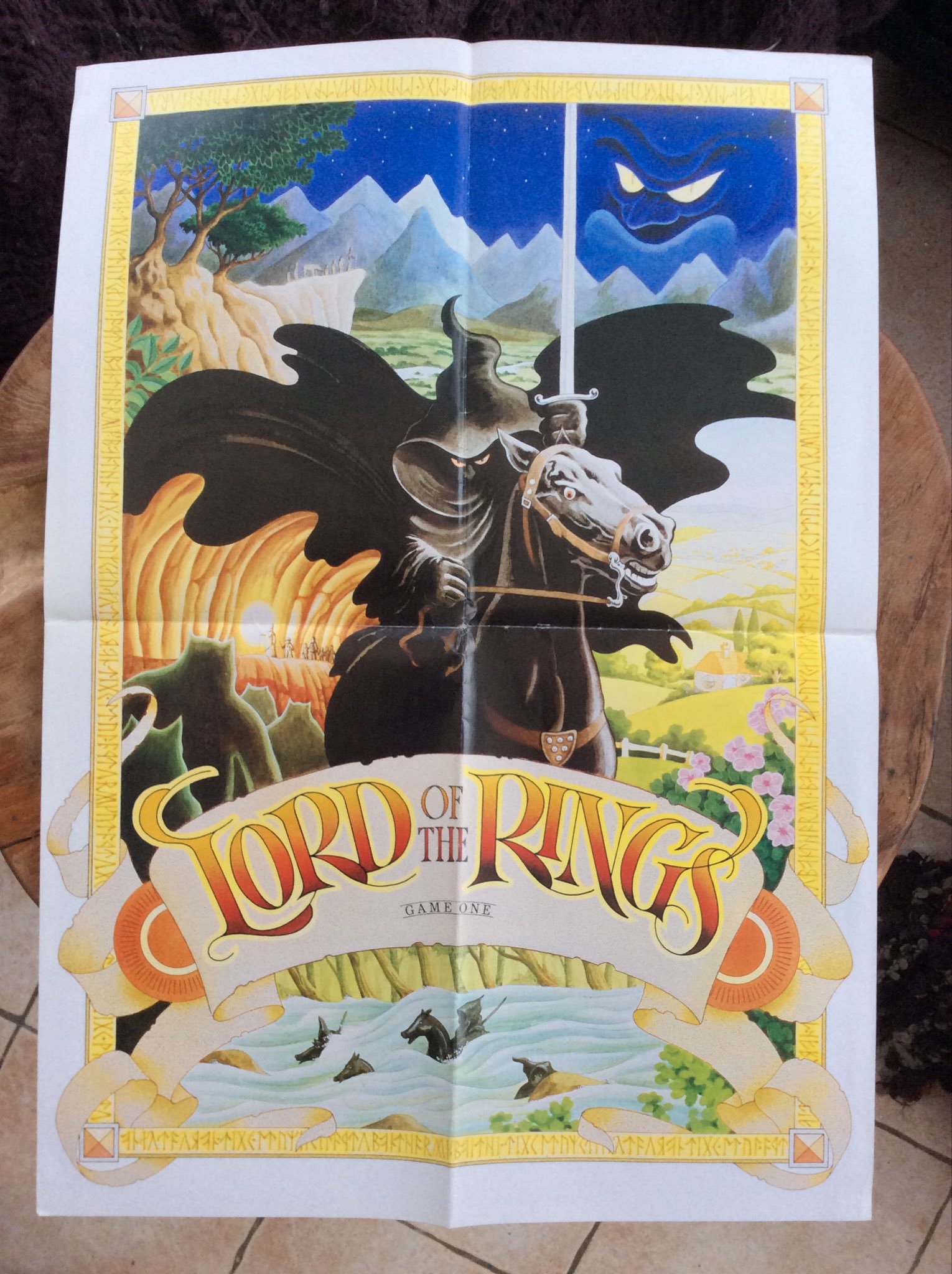 The only other promotional item I have found for the game is a Hologram picture of a Nazgul which was made by a company called Holographix. It was available to purchase from Melbourne House directly using an order form on the instruction booklet included with the game. There were 2 sizes of Hologram available.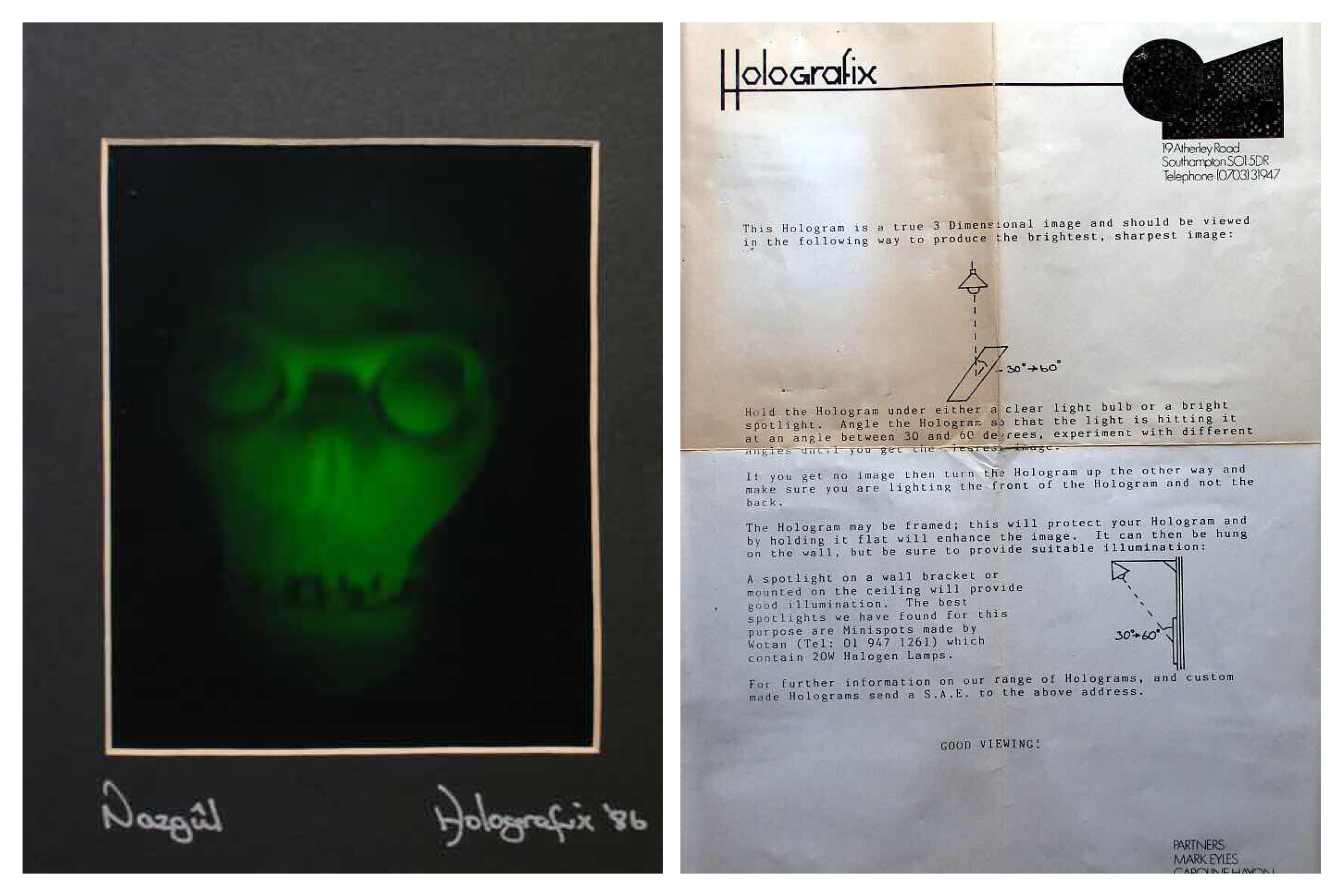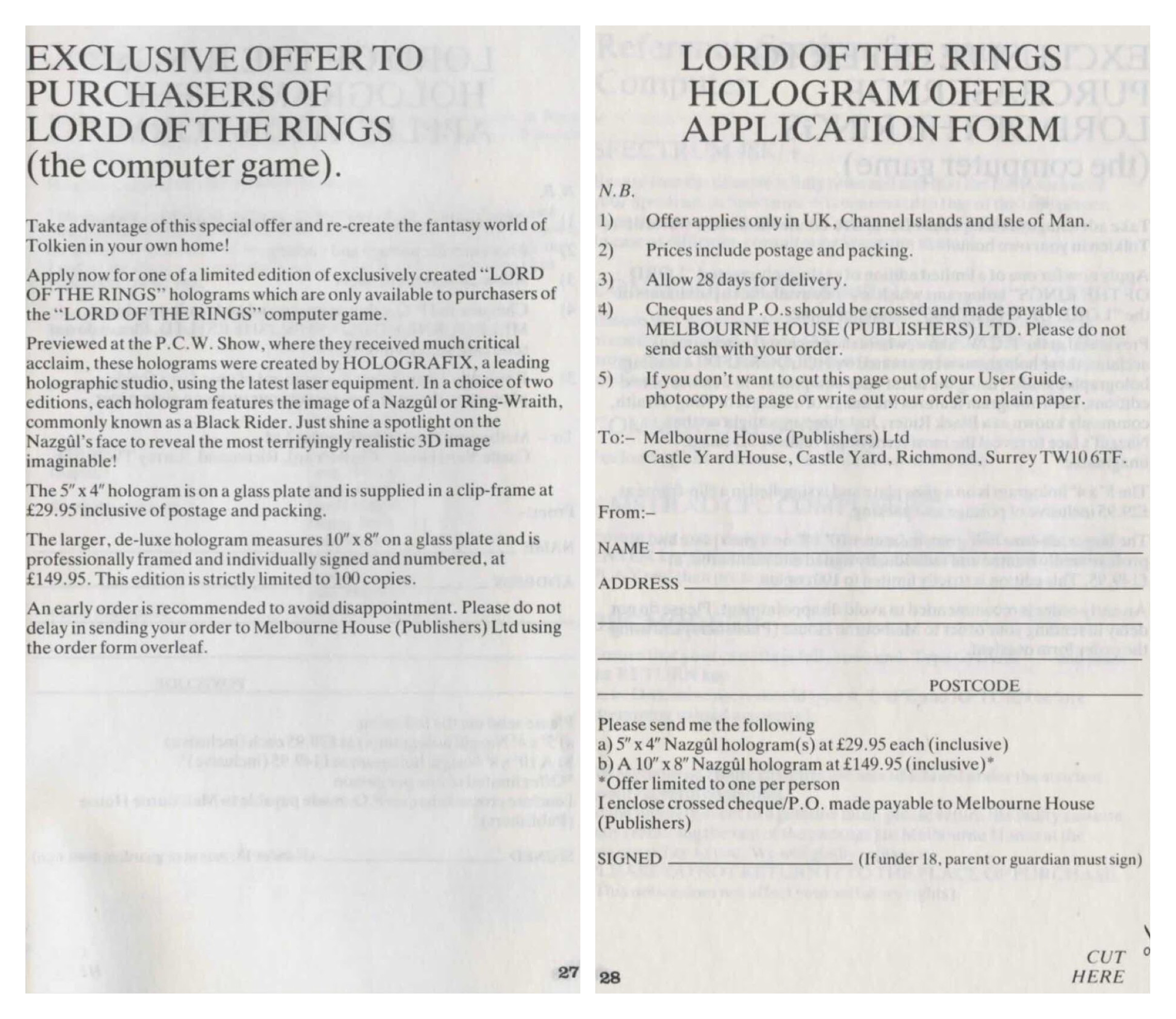 The Hologram was used to promote the game at the PCW show in 1985 and Crash magazine No 21 October 1985 featured a three page interview with the people that made it.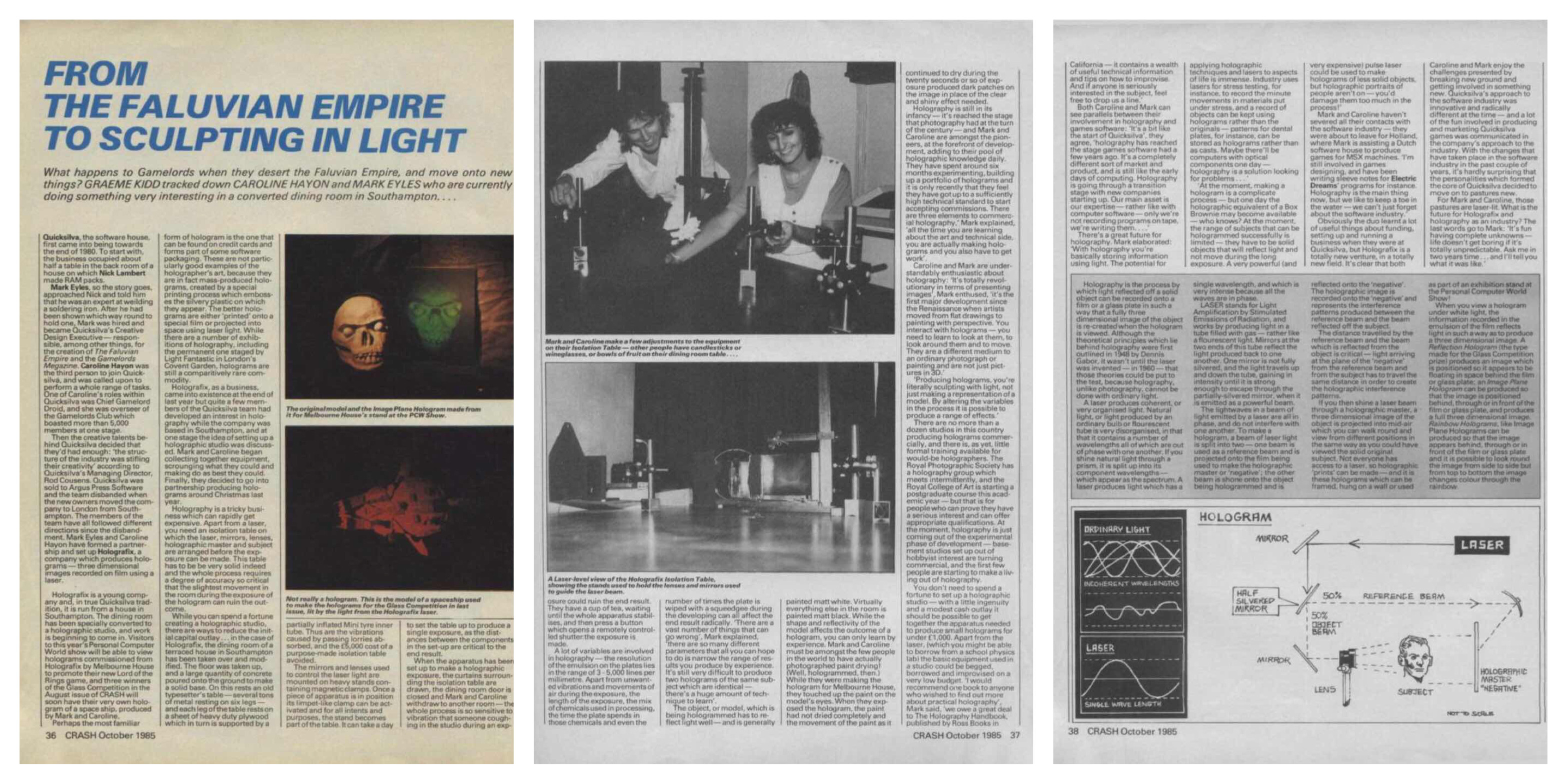 The Hologram was also used as a competition prize in various magazines to promote the game (Your Computer No 2 February 1986, ZZAP March 1986 and Amtix No 5 March 1986) and also to promote the re-release of the Hobbit game (Crash No 30 July 1986).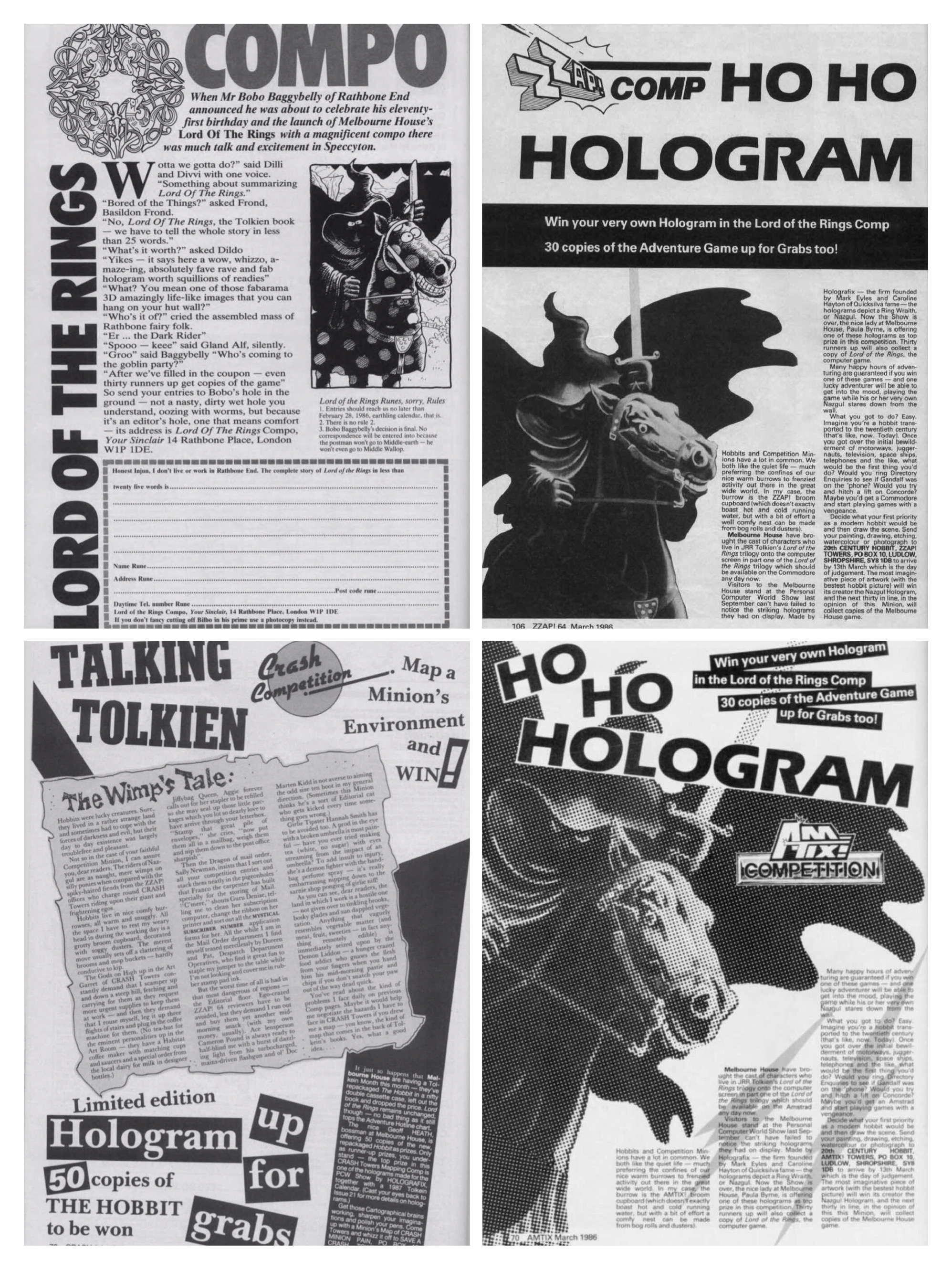 The game was also released with Melbourne Houses other Tolkien games, The Hobbit and Shadows of Mordor, in a Tolkien Trilogy boxed set. This was released for the Spectrum, Commodore 64 and Amstrad (with an Amstrad disk version also available).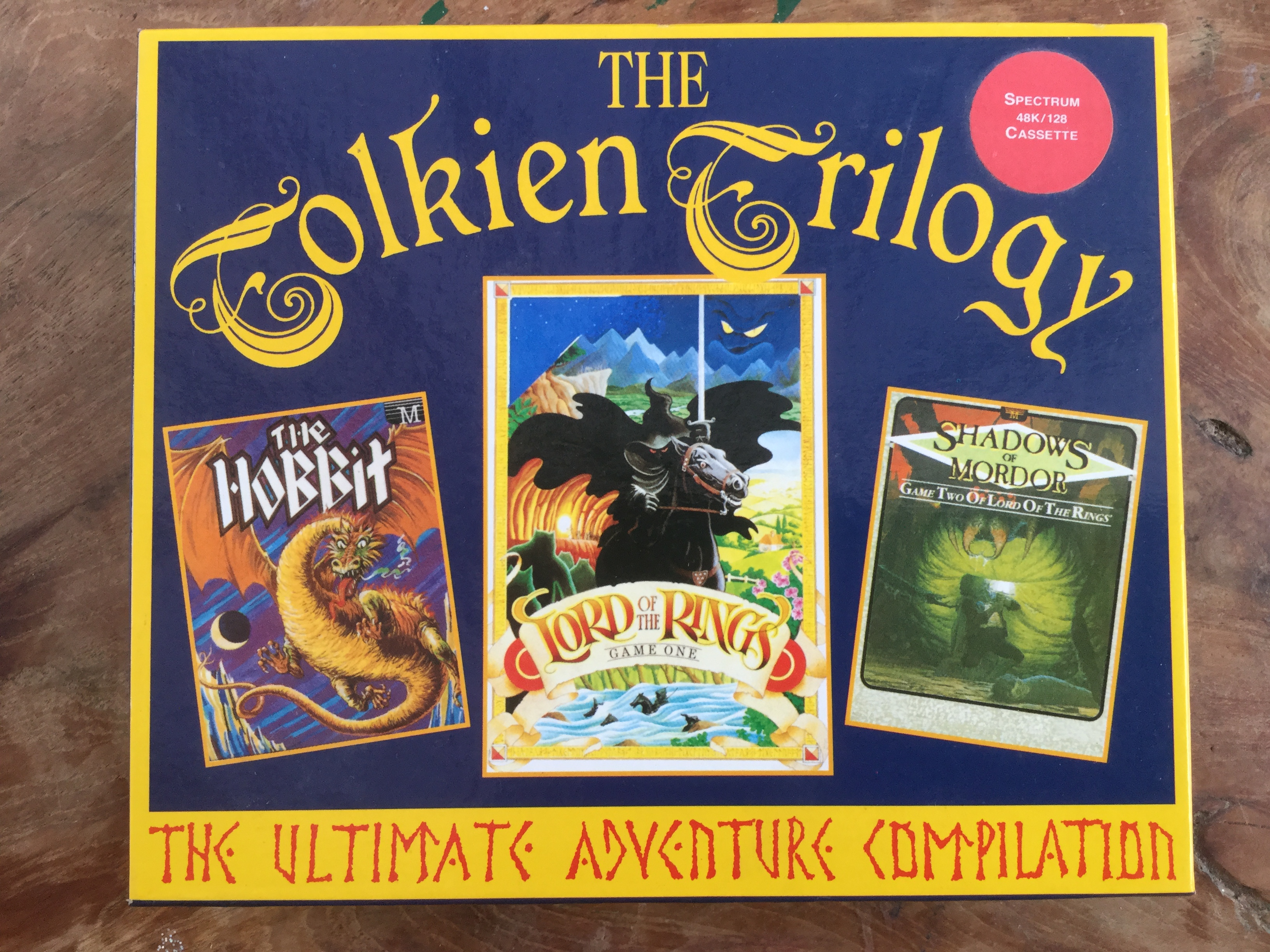 The game was also released in the US a few years later by Addison-Wesely. It was only released on disk in the US for the Commodore 64, PC, Apple II and Mac. The original release packaging was white and featured Tolkiens own The Hill Hobbiton Across the Water image and also included a copy of the Fellowship of the Ring book.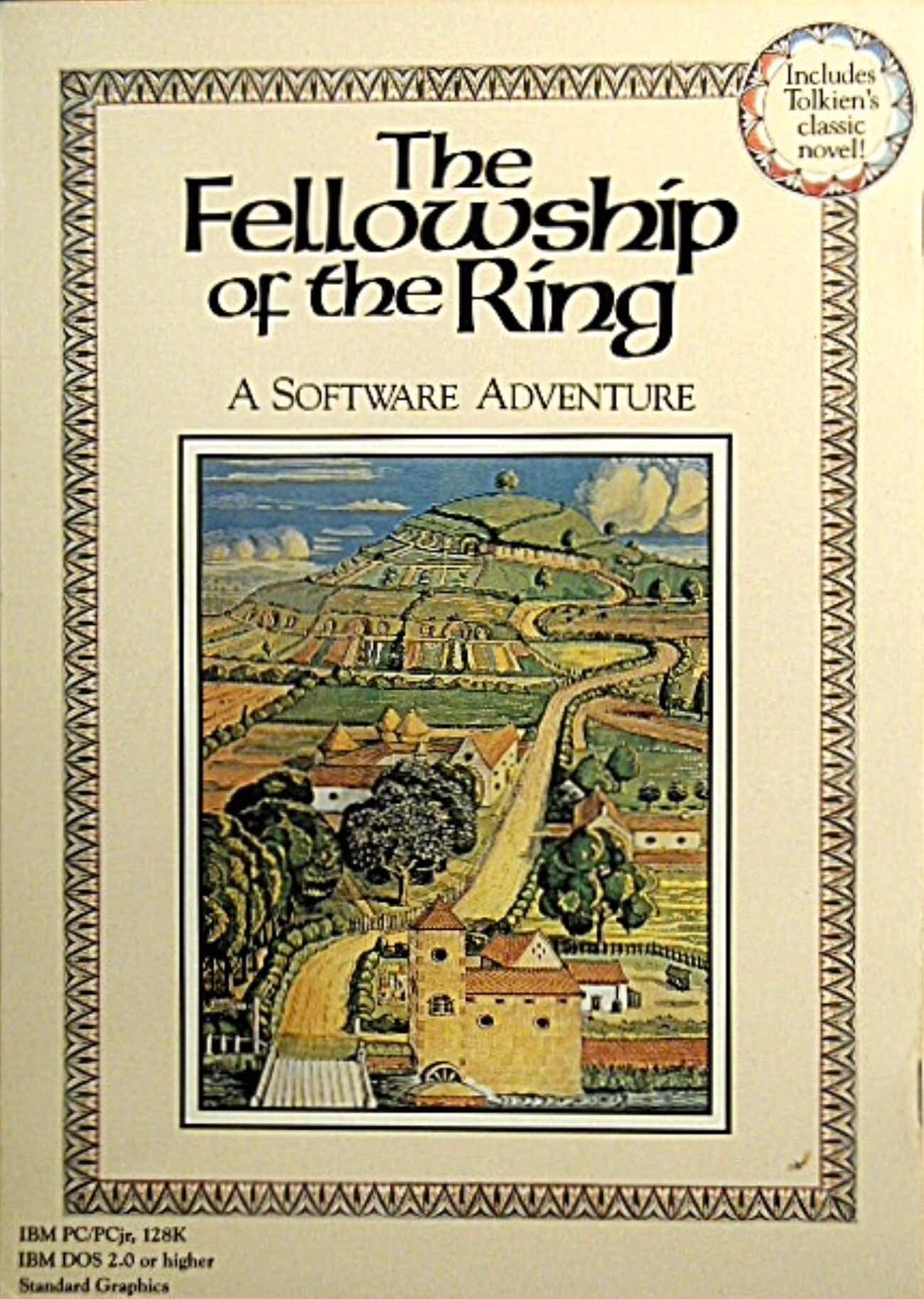 The re-release packaging was green and featured part of artist Douglas Beekman's The Siege of Gondor image, I believe it did not include a copy of the book.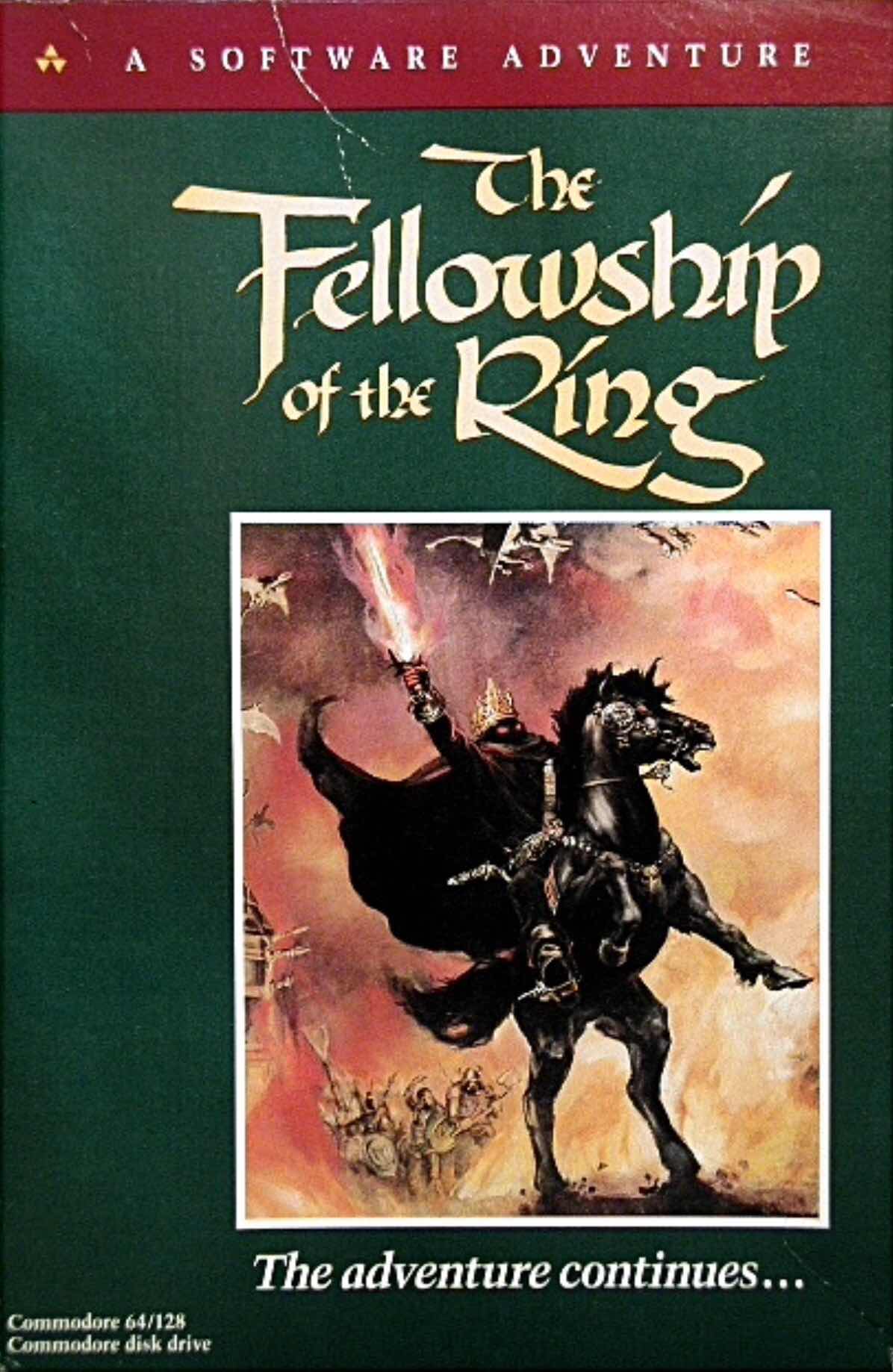 I do not have any details of US magazines featuring the game.
If anyone has any other details on this game then please let me know.